On Wednesday, the recent rout in gold continued. The precious metal slid under $1,600 for good, trading down about $40 at 4PM to $1,564. The last few months have not been good for gold, which has declined from nearly $1,800 in the beginning of October. While the fall in gold has been noticed by many, it is the gold miners that have really felt the pinch. Many of the miners have been absolutely crushed over the last couple of months. Today, I'll examine the recent fall in gold and the miners.
Gold's recent fall:
Gold has fallen more than $200 since its late September and early October highs, putting the metal at levels not seen since last July. What are the reasons for the most recent fall? Here are some:
U.S.

dollar strengthening. The Dollar Index was under 79 in September and is now pushing up towards 81 again.
Equity markets have been rallying. More on this later.
Big names are reducing their exposure to the metal.
The

U.S.

fiscal cliff issue could have been much worse.
Miners hit over building debt and production cost worries.
Onto the Miners:
To show how poorly this sector has done, I have a performance table later in this article. I compared the S&P 500 ETF (NYSEARCA:SPY) against the SPDR Gold Shares (NYSEARCA:GLD) and the Market Vectors Gold Miners ETF (NYSEARCA:GDX). I've also included a the performance of the current top 10 holdings in the GDX, which represent about two-thirds of the ETF's holdings a of Tuesday. You can view all of the holdings here. Obviously, all of the miners are hit by falling gold prices. Today, I'm only going to discuss three of the miners, the top three in terms of GDX holdings. The top three holdings, Barrick Gold (NYSE:ABX), Goldcorp (NYSE:GG), and Newmont Mining (NYSE:NEM), represent roughly 32.5% of the GDX. These three names along have roughly as much importance as numbers 4-10 in terms of weighting (which have 33.82% weight), or the bottom 21 holdings of the GDX (which have a 33.67% weight). The top three holdings are very crucial to the performance of the ETF.
I'll start with Barrick Gold, since it is the largest holding in the ETF, representing a 12.74% weight. When Barrick announced fourth quarter results, they guided to 2013 gold production of 7.0 to 7.4 million ounces, which would be down from 2012's 7.42 million ounces. At the same time, it stated that all-in sustaining cash costs would rise from $945 an ounce in 2012 to a range of $1,000 to $1,100 in 2013. Total cash costs, which were $584 an ounce in 2012, would also jump, to a range of $610 to $660 an ounce. With lower production volumes and higher costs, analysts have cut their estimates. 90 days ago, analysts were looking for $5.05 a share in 2013, and 30 days ago they were expecting $4.89. That number came down to $4.76 a week ago, and has plunged to the current estimate of $4.41.
Goldcorp is the second largest holding in the ETF, representing slightly more than 11%. Goldcorp did issue disappointing guidance for 2013 like Barrick Gold. Add in the lower price of gold, and shares will go lower. Another hit to the two companies was a fear of resource nationalism, as the Dominican Republic is looking for a more favorable contract on the Pueblo Viejo mine. Like Barrick, Goldcorp has seen its fair share of estimate cuts. In the last 60 days, 2013 estimates have been cut from $2.94 to $2.13.
Newmont is the third largest holding within the ETF, with a weight of approximately 8.74%. When Newmont provided its preliminary 2013 guidance, it guided to slightly lower production and higher production costs as well. Gold costs that ranged from $670 to $680 an ounce in 2012 are expected to rise to a range of $675 to $750 an ounce in 2013. As you might have guessed, Newmont's estimates have been cut like the other names. In the last 60 days, Newmont's 2013 estimates have been reduced from $4.98 to $4.36.
Performance table:
To show how bad things have been, I put together a performance table showing the performance of these names over the past week, during the month of February, year to date, and five months. The five month one goes back to late September, which is when most of these names peaked. In addition to the three ETFs I mentioned above and the top three holdings in the GDX, I've added the rest of the top ten GDX holdings, since the top ten count for two thirds of the fund. The rest of the names are Silver Wheaton (SLW), AngloGold Ashanti (NYSE:AU), Yamana Gold (NYSE:AUY), Gold Fields Limited (NYSE:GFI), Kinross Gold (NYSE:KGC), Rangold Resources (NASDAQ:GOLD), and Compaia de Minas Buenaventura SA (NYSE:BVN). In the table below, red indicates a negative number, and the yellow highlight represents a symbol that has underperformed the GDX for that time period.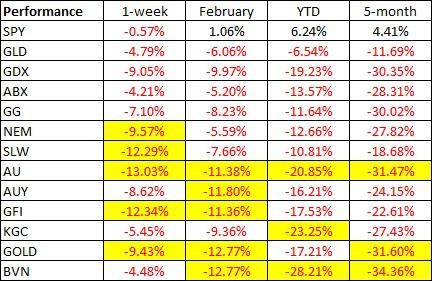 Over the last few months, money has cleared flowed into equities. Even after Wednesday's decline, the S&P 500 is up about 4.4% over the past five months. That money has come from somewhere, and from the table above, you can see it is coming from gold and the miners.
Final Thoughts:
It's not a good sign that the best performer of the top 10 miners is down almost 19% over the past five months. Gold miners have certainly struggled thanks to a recent fall in gold. For now, I don't see a reason to immediately jump into the miners. I see short-term support in gold at the $1,550 level, with long-term support around the more crucial $1,500 level. If gold trades down to that long-term support level, I think that the GDX probably heads to $35, which could mean a lot more pain for the ETF and individual miners.
Disclosure: I have no positions in any stocks mentioned, and no plans to initiate any positions within the next 72 hours. I wrote this article myself, and it expresses my own opinions. I am not receiving compensation for it (other than from Seeking Alpha). I have no business relationship with any company whose stock is mentioned in this article. Investors are always reminded that before making any investment, you should do your own proper due diligence on any name directly or indirectly mentioned in this article. Investors should also consider seeking advice from a broker or financial adviser before making any investment decisions. Any material in this article should be considered general information, and not relied on as a formal investment recommendation.