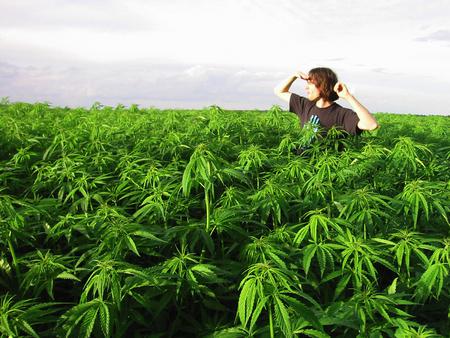 We've been here before: standing bewildered in the thicket of what the media touts as the next big revolution, imagination reeling at what highly lucrative investment possibilities might become of an entirely new market having sprung up, as it were, literally overnight.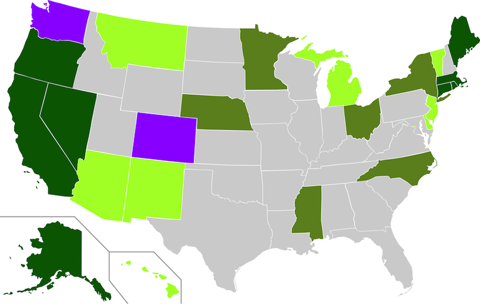 With new cannabis laws ranging from decriminalization to outright legalization of recreational use having taken root in more than 20 states, one can't help but feel the rush of enormous opportunity unfolding in this generation, one that will arguably be looked upon in time to come as tantamount to the 19th century Gold Rush: a phenomenon quaintly termed the "Green Rush."
Double entendres of the current highs aside, recent run-ups of the small number of cannabis-related publicly traded stocks is quickly drawing the attention of a larger audience: beyond the cadre of hardcore believers basking in their hard-earned and long-awaited validation, strong upsurges in recent daily turnover indicate a groundswell of mainstream investor interest in the budding industry that economist Stephen Easton of Businessweek speculates will explode into a hundred billion dollar bonanza when the federal government overturns existing laws that criminalize the cultivation, distribution and possession of the plant or any THC-infused products derived therefrom.
However, as with all nascent markets, there is no more necessary a time for caveat emptor than in the early growth stages of publicly traded participants in those markets.
In this article, I aim to weed through the thicket and hopefully provide both existing and potential investors alike a clear path of visibility through the admittedly confounding lack of transparency found in the growth of the cannabis investing scene.
The Market
By current estimates, the total US legal medical marijuana industry is valued at $1.7-$2 billion, but the numbers for the potential legal pot market overall are still largely a matter of conjecture. This being said, Washington State has released a study on the fiscal impact of legalized marijuana that values total retail sales of taxable marijuana in the state at slightly greater than $1B per annum, and these figures do not account for cannabinoid-based pharmaceuticals, hemp-derived supplements, cosmeceuticals/nutraceuticals, edibles, etc. I will leave it to the reader to extrapolate national figures, as there is far too little data available for accurately estimating the scale of this market - it is, however, safe to assume we are dealing with no small sums here.
OK, so we have a good idea about the potential, and it is salivatingly attractive; after all, this is why we are here, right? However, though the market is real, is being primed, and is poised for explosion, it is the investor's duty to understand where in the market can we expect to see the most growth, which segments are characterized as riskiest on a legal and competitive basis and which market participants are positioned to maximize the risk-reward equation for our portfolio.
The Industry
The overall cannabis industry is a mélange of diversity, comprised of segments at various levels of maturity and profitability. What follows is a list of the more visible segments:
Cannabinoid-derived pharmaceuticals, nutraceuticals, tinctures, etc.
Hemp-based cosmeceuticals, ointments and lotions.
Horticulture systems and products: growroom lighting, hydroponics and monitoring technologies, fertilizers, pesticides, etc.
Marijuana edibles: a category that includes baked goods, candies, beverages, THC-infused butters, etc.
Paraphernalia for more traditional pot consumption, with a specialty smoke-free alternative that has gained steam of late: the vaporizer.
Dispensaries, merchant shops and small take-out restaurants for distribution and administration of the cannabis products.
Institutionalized centers for marijuana education, tailored consulting services, etc.
And last but not least, the flower of the hour, itself.
I will not take time here to explain the compounds found in cannabis or the particular roles they play across the spectrum of applications, but as savvy investors, we must concern ourselves with the legal implications of each and how they may impact the businesses of the public companies we are interested in.
The Law
THC is a Schedule 1 drug as determined by the Controlled Substances Act enacted by Congress in 1970. Until THC is rescheduled, the cultivation, transfer and possession of the substance in any form is punishable by Federal law, and any business facilitating or carrying out these activities faces possible closure, seizure of funds and property and their owners and employees face the real and present risk of federal prosecution.
The Office of National Drug Control Policy have stood their ground as recently as June of 2011 by denying a petition to reschedule the substance. In fact, the current director of the office, Gil Kerlikowske, is a vocal opponent of the cannabis movement.
Many advocates of the anti-prohibition movement point to state legislature that legalized the recreational use of THC as a sign the country is moving in a favorable direction. However, as The New York Times explains, "senior White House and Justice Department officials were considering plans for legal action against Colorado and Washington that could undermine the voter-approved initiatives in those states," which means the path ahead may still be a long slog for many industry participants.
Specifically, any company with operations or subsidiaries involved in the dispensary, edibles, or THC-based pharmaceutical markets are at risk, and all equity positions in such would be rendered entirely worthless if the DOJ decides to take action.
This being said, there are marijuana stock plays that have no direct or indirect involvement with the substance, and it should be noted that other useful cannabinoids have not been classified as controlled substances. This means it is possible for the cautious investor to bet on the industry without facing the risk of a complete loss.[1]
Knowing the legal risks, let us now closely inspect the publicly traded entities that just may help us in realizing our goal of benefiting from portfolio exposure to the potentially highly lucrative marijuana revolution.
The Participants
Currently, there are around 16 publicly traded companies playing various roles in this grassroots movement. The companies range in function and service from bona fide pharmacological research to holding companies of groups of subsidiaries spanning a vast array of products and services for all aspects of the cannabis trade.
The majority of these organizations are represented by microcap companies that appear to have come to the markets for capitalization they could not otherwise secure through the more traditional means of bank loans or big-round venture capital.
Note that in this analysis, due to time constraints, I will only be able to cover the most publicized of the participant group. (Additional coverage will be provided in follow-on articles, so stay tuned.)
Without further adieu:

Hemp, Inc. (HEMP.PK)
From the OTC pink sheet site, Hemp, Inc. finds its origins in a reverse merger[2] IPO company by the name of Preachers Coffee, which was founded as a subsidiary of a Philippine coffee producer for the purpose of "marketing coffee from the Philippines around the world," per their initial disclosure.
In July of 2007, the company was renamed Marijuana, Inc., and about two years later made the General Manager, the notorious Bruce Perlowin (a name you will see again later), President, CEO and Chairman of the Board. In August of 2012, the company was renamed Hemp, Inc., and it was announced that the management was to refocus the company away from the controversial space of cannabis trade to the safer haven found in the hemp industry.
For those readers not in the know, Mr. Perlowin, affectionately known as the "King of Pot," was convicted and served a 9-year sentence in federal prison for illegally smuggling hundreds of millions of dollars of marijuana out of Columbia and Jamaica during the late 70's and early 80's.
This, I am sure, will be a touchy subject for some, and I have not honestly reached a conclusion myself as to whether or not this bodes well for the company. There are those in the pro-legalization camp that believe Mr. Perlowin was unjustly penalized in a system that criminalizes harmless personal choices, and there are yet others that find it difficult to look past the ethical dilemma presented by Mr. Perlowin's past involvement with the cartels, indicating a tacit acceptance of the countless casualties that resulted from the illegal drug trade.
A case could be legitimately made that the company and investors are exposed to an unusual risk in having an individual at the helm with a past of brazen disregard for the legal system - a man when asked in a nationally broadcast CNBC interview if given the chance would he make the same poor decisions, responded in the affirmative.
However, an equally strong case in his favor could be formulated around the fact that Mr. Perlowin has clearly evidenced to his fellow citizens a dedication to self betterment through healthy, ecological living and higher education.[3] As an entrepreneur, Mr. Perlowin has exemplified strong business acumen in several previously successful business ventures since his release from federal prison.[4]
As an investor, we must have strong confidence that the management of the companies we entrust with our hard-earned capital will carry out day-to-day operations with the utmost of integrity and ethics; for history has proven that without such a foundation, failure in some form or another is inevitable. I will refrain from publicly-voiced judgment calls on Mr. Perlowin and his team, but I do hope, for the sake of the investor community and the industry as a whole, all the best for them in their endeavors.
Business Analysis
From the company's proxy website, hemp.com, it has been understood that Hemp, Inc. was reconfigured with a vision to develop the industrial hemp market - though it is clear they have strong aspirations for a more diversified business model. It appears to be in the planning phases of a strategy that seeks to use the hemp.com domain as "the go-to" portal for "all things hemp." However, the site, in its current state, markets only a few lotions & soaps and a book that in my personal opinion distastefully glorifies the bygone drug trafficking days of the company's CEO.
As for this business venture, I am not convinced. Though the domain is a nice property to have, the company faces a slew of competitors in the space. In fact, Amazon already lists several similar products for far more competitive prices.
In addition to the commercial portal efforts, Hemp, Inc. has established a media production house (dubbed MarijuanaInc.TV) focused on pro-cannabis video content distribution. From a cursory view of the flagship site, I was left with the impression of a Vimeo for the cannabis subculture. Much remains to be seen as to how this will fare against YouTube or Vimeo, both of which have hosted material of this nature for several years and counting. Perhaps MarijuanaInc.TV is aspiring to become the porn distributor equivalent of the cannabis world? (Check out those nuggets!)
Further, Hemp, Inc. has other investments at various stages, ranging from a for-profit loyalty card program that aims to "give back" by donating portions of proceeds to "deserving charities" to the Herbagenix line of hemp supplements.
Financial Analysis
For the 3rd quarter, Hemp, Inc. reported an unaudited net income of $75.89K on sales of $3K. This compares to a net loss of $383K on sales of $1K for the prior period. The larger earnings figure in Q3 is due to a reported income on sale of stock for $179K. Some insight as to the source of this income is given by the QoQ drop in total value of marketable securities on the balance sheet from $95K in Q2 to only $5K in Q3. This source of income will no longer contribute to the bottom line going forward, so we may therefore witness a significant swing to losses in Q4.
Total expenses for the quarter were $100K, down from $355K in Q3. The large reduction appears to be due to website investments that were made in Q2.
It should also be noted that a "short-term loan" of $70K was provided to the CEO in the period, was booked as an asset, and that the company is running seriously low on cash.
With 1.4B outstanding shares, the market currently values the company at $113.2M, or 46X total assets. Additionally, the assets number is inflated by an item called "LPO Software," which the company valued at $1.8M. A search on Google reveals that LPO is an acronym for Legal Process Outsourcing, which has nothing to do with Hemp, Inc.'s core business. Minus this item, the company is trading at a 182 P/A. The reason I refer to assets here is because profits due to operating activities are essentially zero, and in the case of bankruptcy, assets are all the investor is left with.
The company has a registered authorized share base of 3 billion shares (yes, with a "b"), so with projected negative cash flows, going forward, the company may revisit the well, resulting in major dilution for current shareholders.
Recommended Investment Strategy (Avoid; Strong Sell)
Pink sheet stocks of this nature are literally a dime a dozen, but the market is exemplifying irrationality by pushing the valuation of this company to ludicrous highs. Even with a growth rate in sales of 300% over the next 3 quarters (given Q2 to Q3 growth), the company will report net-negative income.
Moreover, an unsuspecting investor could easily fall victim to a potentially disastrous scenario where the company unloads the rest of their shares on the market in an attempt to re-up operating cash. (Not in the least unlikely, given the fact these companies have a track record of issuing new shares for operating cash.)
As such, this stock remains a high risk investment without any convincing business model. For the average investor, I strongly recommend against taking a position if you do not have one, or exiting your position on the next bump. Closely watch earnings growth and cash flow over the following quarters to determine whether or not they have a winning story.
For the day trader, HEMP.PK is closely correlated with MJNA.PK and a few other penny stocks in the mix, so it may be possible to trade this stock purely on technicals. I also believe a strong correction is in order in light of their weak financial position, so shorting is a real option.
Growlife, Inc. (PHOT.OB)
Growlife, Inc. is a holding company of businesses engaged in the development and sale of various lines of "high end, progressive horticulture and lifestyle products" encompassing all aspects of the cannabis cultivation process: LED grow lighting, hydroponics and advanced grow room monitoring systems.
Beyond horticulture wares, Growlife, Inc. appears to be gearing up a media production and distribution business not too dissimilar from Hemp, Inc.
Business Analysis
Though the subsidiary lineup appears impressive, this particular market is saturated with other high-tech and well-capitalized rivals, and nothing could be found regarding any potential IP protecting Growlife's core technologies.
As a note, I have personally invested in and incubated a general lighting LED company and product line. As part of growing this company, I attended various industry trade shows around the world where these grow-room technologies have been on display for several years now, so there is nothing spectacularly unique in Growlife's proposition.
From a business stand point, I feel the company lacks a clear moat, and I would surmise their operations are capital-intensive at this stage. Let's see if this suspicion is justified.
Financial Analysis
Growlife, Inc. provides financials on an unaudited basis.
According to their most recent report, Growlife swung into single quarter profitability with $29K on revenues of $476K and a gross margin of 34%. These numbers alone look promising, but in Q3 (the last reported quarter) an income line item of $473K attributable to Change in Fair Value of Derivatives is the deciding factor in the net profitability figure; herein lies the trickiness of dealing with unaudited reporting.
With only consideration for income attributable to sales, the company booked an operating loss of $374K, more than double the previous quarter. The company also reports that due to issues with negative cash flow, as a going concern it "does not have sufficient resources to fund its operations for the next twelve months." Additionally, the report warns the investment community that the company will need to "raise additional funds in order to satisfy its future working capital requirements."
All this serves as a red flag to the potential investor that at worst the company faces insolvency and at best dilution is in order.
Recommended Investment Strategy (Avoid; Sell)
With delayed Q4 numbers and without any explanation as to the nature of the "Derivatives" income, I am forced to conclude this company ranks in the higher-risk category of a group already sufficiently portending dangerous levels of volatility.
Without such explanation and given the current bloated share price in the face of expanding losses, I recommend against entering a position or selling on the next jump.
Interested parties should observe a couple quarters of results to insure they are exhibiting a strong and sustained growth trajectory in core sales before considering investing.
With this said, I do estimate that this area of the market will experience tremendous growth in the new states that have brought about legal reform regarding recreational use of cannabis, so upside gains may prove attractive for players in the horticulture space. Whether or not Growlife is a strong contender remains to be seen.
MediSwipe, Inc. (MWIP.OB)
Another company with a long list of name changes, reverse splits and share issues, MediSwipe, Inc. is a B2B play that markets merchant payment solutions and digital patient identification and loyalty card systems (sound familiar?) tailored to the MMJ business.
Business Analysis
If the company introduction seems terse, it is not without reason. Based on what very limited information MediSwipe's site provides, it appears they have developed a patient identification and loyalty card system, but it is not possible to conclude if they fulfill any function beyond a mere reseller when it comes to merchant transaction solutions for the MMJ dispensary market. No detail is given by way of technology or platform overview, so we are left to draw the conclusion that they either have nothing truly distinctive in nature on offer or they haven't taken the time to develop a more instructive website.
It should be emphasized here that MMJ dispensaries face difficulties other traditional business do not in that it is difficult for them to find merchant transaction facilitators that will service their businesses. This is due in large part to the current circumstance of a non-trivial conflict between local state and federal laws. Unfortunately, it appears not even MediSwipe is impervious to such conflict.
According to the company's 10-Q, MediSwipe's Electronic Merchant System (EMS) alliance partner has "advised all medical dispensaries that they will no longer accept their Visa or MasterCard transactions," and that "this change will have a material adverse effect on [their] business."
Based on an analysis of MediSwipe's core competencies, I feel the merchant transaction market could eventually prove a fleeting ship for the company, as larger players with national distribution capabilities could pounce as soon as congress passes a bill that removes cannabis from the list of Schedule 1 controlled substances.
Moreover, and this may be a matter of taste on my part, the IR section of their site seems more developed than their actual business presentation, and there are areas of the site where they refer to themselves by their ticker, as opposed to company name.
Let's see if their financials allay these concerns.
Financial Analysis
Like most of the other microcaps in the group, MediSwipe issues quarterly financial reports on an unaudited basis.
In the latest quarter, MediSwipe reported a net loss of $247K on $781 (yes, dollars) of revenue. This represents a YoY plummet in turnover of 96%. It is clear that the above mentioned change in MediSwipe's EMS partner's capability to handle Visa and MasterCard transactions has had a very "material effect," indeed.
Additionally, it is understood that MediSwipe is compensating their executive team through generous convertible preferred share issues. In April of last year, MediSwipe issued 550,000 preferred shares to "officers and consultants" of the company.
It should also be noted that losses would have been magnified were it not for a proceed of $62,636 realized from the divestiture of their 800 Commerce holdings.
Recommended Investment Strategy (Avoid; Strong Sell)
Keep in mind, MediSwipe is bleeding cash, has net-negative assets on the balance sheet and has lost a major revenue source on the transactions services side, yet somehow the market believes it is worth $54M. I do not see it, and as such strongly recommend against buying until they have demonstrated they have a winning business model.
For those who have the stomach for shorting high volatility issues, MWIP may represent a very good opportunity for booking a quick profit; however, one must be unwaveringly mindful that a rising tide lifts all boats, and when it comes to the marijuana microcaps, emotion has more often than not proven to trump reason with many a fool piling in on the slightest of even remotely related news.
Cannabis Science, Inc. (CBIS.OB)
Cannabis Science, Inc. is a Colorado based pharmaceutical research company focused on the lofty and commendable goal of developing, producing and commercializing cannabinoid-based treatments for cancer and HIV. As recent as January, the company underwent a reorganization to refocus efforts primarily on formal development of their CS-TATI-1 (Kaposi Sarcoma treatment) and CS-S/BCC-1 (Basal and Squamous Cell Carcinoma treatments) drugs. Before the reorganization, Cannabis Science had a division that was engaged in the development of hemp-based nutraceutical and cosmeceutical products under the Phytiva brand. This business unit has been fully taken over by X-Change Corp. (XCHC), with CBIS maintaining an undisclosed equity stake.
Business Analysis
Without a doubt, Cannabis Science, Inc. is in a league of its own when it comes to the available selection of publicly-traded marijuana stocks. The company is run by a world-class team of scientists out of Colorado University who represent the foremost authorities on cannabinoids (such as cannabidiol), the endocannabinoid system and potential applications of cannabinoids in the treatment of various diseases.
It has been shown in laboratory settings that cannabinoids induce programmed cell death in breast cancers and inhibit cell growth, tumor angiogenesis and metastasis of various other cancers in mice and rats. In layman's terms, science may have discovered in cannabis a cure for some of the most prevalent cancers plaguing our kind.
In fact, according to CBIS's own preclinical investigations, 4 patients with basal or squamous cell carcinomas have exhibited either a reduction or complete necrosis of tumors after applying the CS-S/BCC-1 ointment for an unspecified period of time. It would not be going too far to conclude this represents fantastic news!
In addition to anti-cancer therapies, Cannabis Science is pursuing federal grants for research aimed at drug-resistant strains of HIV and the treatment of Kaposi's Sarcoma.
As is the case with all preclinical-stage pharmaceutical research, we can only guess what, if any, material impact these efforts will have on future earnings.
It bears noting that CBIS are not the only research organization looking to capitalize on the medical applications of cannabis, and whole plant extraction of cannabinoids is a patented process that is not owned by the company, so it is not clear what strengths by way of IP they currently possess: a glaring weakness for a purely research-oriented company.
Financial Analysis
According to the 10-Q filing, Cannabis Science presently faces the threat of a rapidly dwindling operating capital base and a 2M dollar-per-quarter burn rate. Cash on hand is a mere $9,492 and total liabilities double assets at over $3M.
What's more, it is apparent the company went on a buying spree last quarter, acquiring or entering into joint ventures with no less than 5 companies involved in businesses entirely unrelated to CBIS's core focus. These ventures were funded exclusively via new share issues, which can be interpreted problematic due to the fact current shareholders are footing the bill by dint of share value dilution - not to mention the significant downside exposure to the real threat that any of these companies could liquidate their holdings to secure working capital or, in the worst case scenario, at the behest of bankruptcy court.
From this activity, and assuming these companies are cash flow positive, it appears CBIS are relying on share issues as a method of sourcing much-needed operating funds. We can only hope management is as good at investing as they are science.
Which begs the question: if Cannabis Science is truly on a path to discovering the holy grail of treatments, why haven't large industry suitors, private equity or VC firms come running with blank checks in hand? The answer to this may be found in the aforementioned quasi-legal status of cannabis, but this is highly doubtful given their research surrounds applications of CBD.
Recommended Investment Strategy (Minimal Buy on Dip; Hold)
I like the potential of Cannabis Science more than almost all of the other marijuana plays, but I am concerned with the sky-high valuation on negative cash flows from operations and a board that issues "management bonuses" of $300K at a time when they need cash most.
This being said, if their CS-S/BCC-1 trials pan out, this could literally turn into a gold mine for early investors, so it may be worth parking a small amount of funds here on a major dip (preferably $0.03~0.04 range), but do not hold your breath for positive returns.
Medbox, Inc. (MDBX.PK)
Medbox, Inc. develops and distributes a patented and highly secure, fully automated medicine dispensing and POS systems. In this regard, Medbox is not strictly a marijuana-only play, but has received a lot of press attention this past year over the possibility of a strong presence in medical marijuana dispensaries.
Recognizing that the MMJ industry is full of regulatory pitfalls, Medbox - operating through subsidiaries - offers consultancy services and licensing assistance to people or groups looking to enter the "alternative medicine" dispensary business with their turn-key solutions; necessary when promoting a relatively high cost-of-entry system like the Medbox OTC Machine.
Business Analysis
Medbox, Inc. is the real deal. This company has developed a line of vending machine-like automated dispensary and lock-box products designed from the outset with convenience, security and legal compliance in mind - and best of all, they are generating revenue! Medbox have been at this since 2006 and have expanded their reach to a global scale with their patent-protected solutions.
Though I believe Medbox's unique approach situates them nicely to take advantage of the quickly growing number of dispensaries in states where marijuana has been legalized, especially when taking into consideration the legal quagmires hidden about the industry, one cannot ignore the fact that a number of strong competitors exist in this space. However, one should also note these rivals lack the integrated biometrics and user database system Medbox merchants enjoy by way of strong IP protection.
This being said, I must admit a concern over the price of entry: it may simply be too high for the demographic of the average shop owner. Nonetheless, I will be the first to admit my assumptions can fall short, and in the case of Medbox, I may just be wrong.
Financial Analysis
Medbox, Inc. is yet another OTC practitioner of unaudited reporting; however, their filings of quarterly and annual reports and supplementals provide a very admirable level of visibility I feel all the other contenders would do well to learn from.
The following are noted profit centers of their business:
Unit sales of the dispensary box and POS line.
Monthly maintenance fees of $495 for machines placed in service at customer sites.
Consulting services to the alternative medicine industry.
According to their most recent report, each MDS machine costs Medbox around $10K to manufacture and retails for $25K. They also market a smaller MDS machine for refrigerated products that sells for $12.5K with a cost just a little over half that. The POS sells as an add-on to the main system and retails for around $2.5K. Medbox has managed to sell over 140 MDS machines and/or POS systems since their inception.
Revenue for the full year of 2012 was $4.54M, representing a 32% YoY growth rate, with net income reaching $1M. This gives Medbox a net profit margin of 22%. At the current stock price, $1M in earnings puts MDBX's P/E at a 813 multiple. As it stands, the market is pricing in an assumption that Medbox will grow earnings about 2308% (11 years of 32% compounded growth) to hit a more realistic moderate growth-stock multiple of 30. Keep in mind that this pink sheet spiked to $200 a share as recent as November of last year and made a downward tumble to the current price over a relatively short time.
Recommended Investment Strategy (Watch; Sell)
Another fact that lends credibility to the company is the CEO on national television openly admitted (at around $100 PPS) the stock was way overvalued. To be honest, it may continue its downward trend in a retracement to sanity over the comings weeks/months; however, I'm simply afraid it may never come down to what it is really worth.
Medbox's EPS (TTM) is $0.05778, and giving even an extremely generous P/E of 200 (a high reward for 32% top-line growth), the target PPS would still only register at $11.50. I would not pay more than this for the stock before the next earnings release.
Medical Marijuana, Inc. (MJNA.PK)
By far the most publicized and media-hyped of the publicly-traded cannabis companies, Medical Marijuana, Inc. claims to be the first in the industry to float shares on the open market. Though mysteriously nothing is mentioned on the website, the company was founded by Bruce Perlowin and Don Steinberg (which can be understood from Mr. Perlowin's biographical timeline and a comment he made here).
Moreover, according to Hemp, Inc.'s disclosure statement, Mr. Perlowin's company is significant shareholder in MJNA.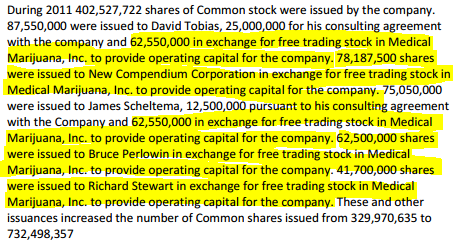 It is not clear if and how these gentlemen are currently connected to the company (i.e. if they remain shareholders, are helping manage operations, etc.), and I will not venture any speculation, but I believe the founder and Hemp, Inc. connections alone are important facts the investment community should be aware of.
---
Update since writing: It has been pointed out in a rather scathing attack on MJNA that a Director with controlling interest in MJNA via his ownership of the company's majority stakeholder Hemp Deposit and Distribution Company (HDDC) has been indicted by the United States Attorney's Office of the Eastern District of California in a case involving 19 counts of Mail Fraud and 31 counts of Wire Fraud. It should be noted, however, that the article itself is problematic and has since been edited to remove false accusations against the Chairman due to an apparent mistake in identifying her as a different individual with a criminal record.
It was further pointed out in the article that the independent auditor of the company is not qualified to audit SEC reporting companies owing to a lack of PCAOB registration; however, this is not an SEC reporting company, so this claim as well lacks relevancy.
Other members of management and the company's very active CEO, Tripp Keber, were not mentioned in the controversial exposé.
Additionally, the contributor of the article disclosed a short position in MJNA, and the article itself incited a sell-off of the company's shares, resulting in an intraday bottoming out at -30%.
---
Now that we have gotten that out of the way, a formal introduction is in order: Medical Marijuana, Inc. is a holding company of a fairly diverse portfolio of cannabis businesses. The subsidiaries' involvement in the industry range from large-scale horticulture systems to gum-based cannabinoid delivery products. The full list is available on their site.
A few highlights of the company's portfolio are:
MJNA's majority (60%) stake in Red Dice Holdings means it will benefit from the popularity of the Dixie Elixirs & Edibles brand, which has found shelf space in more than 400 dispensaries in Colorado and is poised to quickly expand its reach into the other cannabis-sympathetic states.
According to the most recent quarterly earnings report, the company has sold $35M of "inventory," defined therein as Cannabinoid Oil, or Cannabidiol. It was not revealed in the report which of the subsidiaries is responsible for the revenue contribution. However, in a shareholder report the company released on Feb. 18, MJNA disclosed that this customer was a company by the name of CannaVEST (FCLS). (More will be discussed about this transaction in the following section.)
The company announced April of last year that its wholly-owned subsidiary Wellness Managed Services is experiencing significant top-line growth. If executed well, this business has the potential to become the CVS of marijuana dispensaries, and represents a real opportunity for investors to benefit handsomely from exposure to this segment of the burgeoning industry. Additionally, I believe this is a smart strategy in that these "clinics" and "cooperatives" will serve as additional outlets for the portfolio companies' products.
Business Analysis
Medical Marijuana, Inc., through its subsidiaries, is without at doubt attempting to position itself in the MMJ market as the de-facto standard when it comes to seed-to-shelf product development and cannabinoid-based medical alternatives: according to their site, MJNA are currently in the process of implementing a strategy focused on the production of anti-cancer pharmaceuticals and analgesics.
In 2011, the company went on a marketing blitz to spread the word about a CBD extraction patent application that was filed (in partnership with CannaBANK) with the USPTO, but the provided link in one version of the PR message yielded a patent that was filed in 2001 and mentions nothing of the actual extraction process. Furthermore, the Assignee of the patent is The United States of America as represented by the Department of Health and Human Services, so this must be inaccurate.
According to the USPTO FAQ site, most patent applications are published 18 months after filing (the press release was published on Sept. 2, 2011), so it may very well be a matter of timing. I did manage to find two additional patents (the first linked to above) that cover 1) a method of preparing cannabidiol from plant material and 2) a method for producing an extract from cannabis plant matter, containing a tetrahydrocannabinol and a cannabidiol and cannabis extracts; however, the list of British inventors of the first method and the German scientist of the second have no connection with either Medical Marijuana, Inc. or CannaBANK, and it is not clear who the assignee will be either case. What we can take away from this is even if a patent application was filed by MJNA, there is no guarantee the patent will be granted or will be proved unique enough to keep competitors from using similar methods.
A line item for "patent" is present in their financial report, but the value attributed to the item is insignificant. Without more detail, the investor community is left to gamble on this one.
Intellectual property confusion aside, there are undeniable bright spots in the Medical Marijuana. Inc. portfolio that manifestly contribute to a profitable business model, so indications are strong that the company is on a potential path of growth and marked profitability.
Financial Analysis
The author believes there is a conflict between the company's audited quarterly report narrative of the $35M transaction and CannaVEST's own version of the same deal.
First, note that CannaVEST is yet another result of a reverse merger into a company by the name of Foreclosure Solutions, Inc. and the ticker of the company will be changed to an unspecified identifier come Feb. 26. Additionally, the 8-K discloses that the company's
Chief Executive Officer and sole member of our Board of Directors, Michael Mona, Jr., owns and/or controls approximately 37,337,000 shares of common stock of Medical Marijuana, Inc., which represents approximately 4% of the issued and outstanding shares of the capital stock of Medical Marijuana, Inc. as of February 11, 2013.
It is further revealed that CannaVEST entered into an agreement, where they
acquired from PhytoSPHERE (i) an exclusive license to use the names "PhytoSPHERE" and "PhytoSPHERE Systems" in the development and commercialization of hemp-based products including CBD, (ii) inventory of PhytoSPHERE including 460 kg of CBD, (iii) tangible equipment, (iv) cash-on-hand of $50,774.55, (NYSE:V) all URLs and domain names of PhytoSPHERE, and (vi) all landline telephone numbers and postal addresses. all web domain names and URLs affiliated with PhytoSPHERE. The foregoing summary description of the terms of the Agreement for Purchase and Sale of Assets may not contain all information that is of interest to the reader.
This is a rather round-about way of reporting they bought the company outright, and nothing of this nature is mentioned in the MJNA version of the transaction.
What is of particular interest to the investor is how they paid for the purchase, which is outlined in the following:
The Purchase Agreement requires payment as follows: (a) $4,500,000 on or before January 31, 2013; (b) $6,000,000 on or before March 30, 2013; (c) $8,000,000 on or before June 30, 2013; (d) $10,000,000 on or before September 30, 2013; and $6,500,000 on or before December 31, 2013. For any installments paid by the issuance of stock, the number of shares of stock issuable by the Company is determined by reference the closing price of our common stock on the day prior to issuance. The price is subject to a "collar", whereby in no event will the shares issuable pursuant to the Purchase Agreement be priced at more than $6.00 per share, and in no event will the shares be priced at less than $4.50 per share...

On January 29, 2013, the Company issued to PhytoSPHERE 900,000 shares of the Company's common stock in satisfaction of its first payment obligation due under the Purchase Agreement. The shares represented 11.4% of the issued and outstanding share of the Company's common stock as of February 11, 2013, and were calculated based on a price per share of the Company's common stock of $5.00 pursuant to the terms of the Purchase Agreement.
So why does this matter?
We need to pay very close attention to the wording of the MJNA shareholder report to get a better understanding of how MJNA is declaring the proceeds from CannaVEST. According to the report,
The terms of the licensing agreement and inventory sale call for payment by CannaVEST to the Company of $35 million in cash and stock. This cash flow will enable the Company to focus on building its core business
The issue would be rather obvious to any accountant. MJNA are valuing the shares acquired from CannaVEST at $35M based on a current market price of $5. However, one only need to pull up the chart for FCLS to understand that the company was trading only for $2 a share only 25 days prior to the 8-K filing.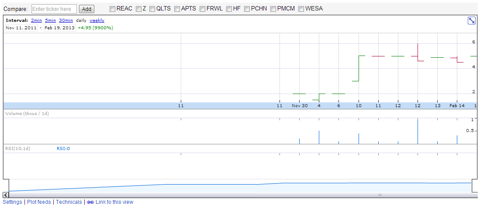 Further, CannaVEST reports it has "no revenues and [their] sole assets consist of the assets purchased on December 31, 2012 from PhytoSPHERE Systems, LLC." It also mentions they have "no customers" and that they have "incurred losses since inception." It is impossible for MJNA to declare "cash flow" of $35M on stock in a completely illiquid company (the avg. daily transaction volume is a mere 138 shares). I am not a securities lawyer, so I cannot comment on the actual legality of such a setup, but I know this completely lacks legitimacy from an accounting perspective.
So, we now understand the nature of this "subsequent event," the first $4.5M installment of which was made purely in stock of a worthless company, with the remaining balance to be settled throughout 2013 - presumably in stock, as CannaVEST has no customers to speak of. This is what much of the recent furor over the stock owes itself to, and I think MJNA owes its investors more clarification than has been given.
Outside of this transaction, the quarterly report does not paint a very attractive picture of MJNA's cash flow for the period. In fact, despite the upswing of net profit in the quarter ($3.23M), and notwithstanding yet another round of market capitalization ($2.35M), the company suffered net-negative cash flow (-$1.27M), reducing overall cash-on-hand to $1.42M.
On a more positive note, the company managed astoundingly low operating expenses for the period ($694,151), placing net profit (yes, profit) margin at a whopping 62%.
I would also like to express one issue I have with the filing: a line item in the Assets section is given to "Research & Development," which violates FASB accounting rules. Perhaps this is one reason the credibility of the auditor has been elsewhere drawn into question.
Recommended Investment Strategy (Wait for Clarification; Possibly Sell)
Regardless of current valuation, considering MJNA are steeped at the moment in a controversy that could in the worst scenario prove true, exposing the company as a vehicle for securities fraud, or in the best possible outcome bring to light only a questionable past, I would advise the average investor to stay away from this stock for now.
If the company successfully dispels the most damning of the criticisms leveled against it and can evidence a few quarters of consistent growth, then and only then would I feel comfortable recommending a position in MJNA.
For the more seasoned trader, MJNA's volatility is of late virtually unequaled in the market, and much can be gained by nimble movements in and out of the stock as the extremes of irrational exuberance and trepidation continue to drive the needle in wild vertical swings.
If MJNA prove to investors they are a legitimate organization, it should come about early enough in this budding market for the wise investor to enter a very lucrative position on any strong future dip. In a world clamoring for early-bird worms, it behooves us to remain acutely visioned falcons ready to dive in with the greatest of precision and timing.
Conclusion
With clear signs, a sociopolitical shift is underway that is leading us ever closer to a more cannabis-friendly environment, one cannot overstate the potential that lies within the marijuana industry. From the increasing demand for medical-grade horticulture systems brought on by new state legislature to the possible holy grail of anti-cancer pharmaceuticals, the opportunities are truly endless, and with only the sky as the limit, one simply cannot help but feel the overwhelming allure of this new frontier and its promises of cashing in big.
Sadly, for every speculator-turned-millionaire during the Gold Rush, countless were left destitute in their wake. Reasons for such had just as much to do with the wild-west swindlers as with the ignorant masses so willingly giving themselves over to folly. The Green Rush will most definitely prove no different, so it is particularly imperative that investors looking to capitalize on this great opportunity remain circumspect, alert, educated, and constantly in tune with the fast changing landscape this market represents.
Closing Word:
I appreciate everyone taking time to read this rather lengthy article and hope that many great discussions are generated herefrom. I will be actively following the comment section, so if you have any questions, corrections or would like to voice concerns with the material, I am most open to your input.
Also, as mentioned earlier in the article, I will be releasing analyses of the remaining cannabis companies over the next couple weeks, so stay tuned!
Happy seeking alpha!
Article Notes:
Though this is true, there is still risk in the strong correlations between marijuana stocks. If the DOJ cracked down on any one public company, investors should in the very least expect temporary, yet significant, downward pressure on their shares.
This is a common practice in the industry, with many of the companies in the list of publicly-traded marijuana stocks having "gone public" via this means.
According to his biographical timeline, whilst in prison, Mr. Perlowin received 6 undergraduate degrees, one masters and began work towards a PhD.
I have not personally researched these claims.
Disclosure: I have no positions in any stocks mentioned, but may initiate a short position in OTCPK:HEMP, MWIP.OB, OTCPK:MJNA over the next 72 hours. I wrote this article myself, and it expresses my own opinions. I am not receiving compensation for it (other than from Seeking Alpha). I have no business relationship with any company whose stock is mentioned in this article.