As I mentioned earlier, gold has had a tremendous run lately. The main force behind the gold rally is the deterioration of economies around world. Despite the passage of the $789 billion economic stimulus package over the weekend, gold price has continued to climb since the holiday.
Currently, spot gold is traded at $967 an ounce, up more than $10 from last Friday's close, breaking the key $950/ounce level. That's the seven-month high for gold. Also, major stock benchmarks are likely to test the November lows amid jitters in the financial sector.
Even though there are predictions that gold could back fall after the stimulus plan became a law, that hasn't happened. In contrast, investors are increasing their holdings of gold as a safe haven to preserve their wealth while the stock market continues to decline. Right now, gold is trading well above its 50- and 200-day moving averages, a clear indication of the uptrend of gold. ()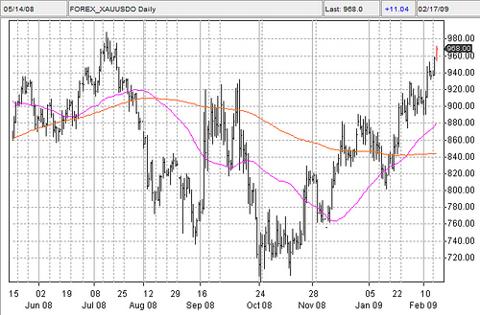 Investors' appetite for physical gold, such as bars and coins, has driven up share prices of exchange-traded funds (ETFs) specializing in precious metal as well. For instance, take a look at SPDR Gold Trust Shares (NYSEARCA:GLD), the world's largest gold-backed ETF. GLD gained 3% in 2008 and 6.9% so far in 2009.
The reason investors are also chasing GLD is that it offers investors an easy way to invest in the bullion without having to hold the metal themselves (you will have many more things to consider, such as storage and insurance, if you want to hold physical gold yourself). If you invest in GLD instead, your investment will reflect directly the price of gold because GLD's share price is determined based on 1/10th of an ounce of gold. SPDR Gold Trust buys and stores physical gold to back GLD prices. In fact by tracking holdings of SPDR Gold Trust, you can get a sense of the demand for gold. Currently holding 985.86 tonnes of gold, a record level for GLD, the indication is that demand is strong.
If you are interested in investing in precious metal ETFs, check out these funds in gold and silver:
SPDR Gold Shares
iShares COMEX Gold Trust (NYSEARCA:IAU)
Market Vectors Gold Miners ETF (NYSEARCA:GDX)
PowerShares DB Gold (NYSEARCA:DGL)
iShares Silver Trust (NYSEARCA:SLV)
PowerShares DB Gold Double Long ETN (NYSEARCA:DGP)
PowerShares DB Precious Metals (NYSEARCA:DBP)
PowerShares DB Silver (NYSEARCA:DBS)
Among them, GLD has the largest daily trading volume according to Morningstar data, followed GDX and SLV. Remember, volume matters when trading an ETF. Not only because of the bid/ask spread, but also for the survival of the fund.
Stock chart from INO Stock Analysis