On a day (Tuesday) when the Dow was down over 250 points and worry about the banking sector was increasing, Lexington Realty Trust (NYSE:LXP) announced that the company has secured financing for close to $200 million in debt maturing in 2009. As of last quarter, Lexington reported that the company had $267 million in maturities for 2009.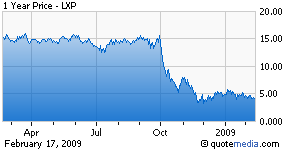 The terms appear favorable. They are priced at 285 basis points over LIBOR, with capacity up to $250 million on the two facilities combined, and there is the option to increase the facilities up to $500 million by adding additional properties to the borrowing base. The lines mature in 2011, but Lexington has the option to extend the loans to February 2012.
The financing is very good news for Lexington as this was one of the major risks to the company that I noted in a recent article. The company still faces risks due to exposure to certain tenants including Dana Corp., Chrysler, and the now defunct Circuit City. Look for occupancy rates to continue to decline, but debt coverage to remain healthy.
Disclosure: No position.