Is there a place in the resource sector that is more hated than Uranium? We very much doubt it and that is precisely the reason why we have spent some time looking for Uranium plays worthy of closer consideration by contrarian investors who believe that Uranium is on its way out of the hole it has spent the last couple of years in. Yes, it's almost two years since the world watched the footage of the exploding reactor buildings in Fukushima. And it might just be the case that finally the Uranium producers are seeing some light at the end of the tunnel they have been traveling through since then.
Here are all the well-known and publicized fundamentals supporting this view: termination of the HEU agreement later this year; construction of new reactors in China, India, Saudi Arabia and elsewhere; election by a pro-nuclear government in Japan towards the end of 2012, etc. Details are summarized very well in this article.
There are various ways to play this opportunity, if you believe it is one. There is the Global X Uranium ETF (NYSEARCA:URA) which tracks the share price performance of a bundle of Uranium mining companies. Then there is Uranium Participation Corp (OTCPK:URPTF) that purchases Uranium products with the goal of realizing a profit through price appreciation. If direct exposure to uranium producers is sought then it's difficult to look past dividend paying CAMECO (NYSE:CCJ) as one of the world's largest Uranium mining companies.
However, in the present article we would like to introduce two higher-risk/rewards plays. Both our picks are near-term producers based in Wyoming, not far from each other with market capitalizations of just over $100M. Both are currently constructing mines with the goal to go into production during 2013. And both are planning to use in-situ recovery methods to extract Uranium. One of the two will become the first Uranium mine to be commissioned in Wyoming since 1996.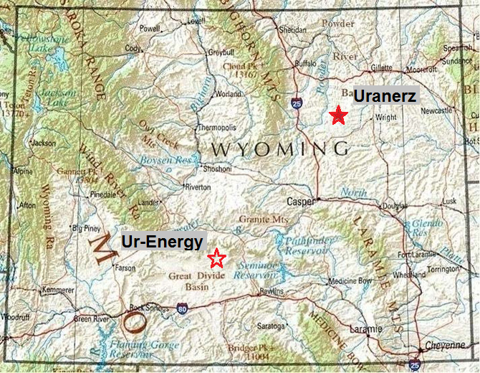 First up is Uranerz Energy Corporation (NYSEMKT:URZ) which controls a sizable land position in the Powder River Basin with a total measured and indicated resource of 15.1M lb U3O8 derived from only 7 of their 30 properties in the area.
They have received all necessary permits for uranium production at Nichols Ranch and has started mine construction in August 2011. The fully licensed properties include measured and indicated resources of 5.2M lb U3O8 at an average grade of 0.118%. At this stage Uranerz is licensed to produce up to 2M lb/year of yellowcake targeting production costs of $24/lb or $35/lb including taxes and royalties.
Analysts predict initial production of 400,000 lb/year ramping up to 1M lb/year within two years. Uranerz count CAMECO and Uranium One amongst its neighbors and has a toll treatment agreement in place with the former. Close ties to CAMECO give rise to speculation of a possible takeover down the road. Two major US-based nuclear operators including Exelon Corporation (NYSE:EXC) have already signed off-take agreements, both of them long-term contracts. With production scheduled to start later in 2013 some major catalysts are imminent and a re-rate of the beaten down share price should be no surprise.
Ur-Energy (NYSEMKT:URG) is in the process of moving flagship property Lost Creek into production, possibly as early as by mid-year. The project is fully licensed for production, however, there is still a judicial review of the BLM permit pending.
The measured and indicated resource at Lost Creek currently stands at 8.35M lb U3O8 with an additional inferred resource of 2.87M lb U3O8. The average grade of the resource is 0.053%. According to a PEA released in April 2012 production costs at Lost Creek could be as low as $16.12/lb. The same PEA suggests an IRR of 87% and a mine life of 8-10 years.
Ur-Energy has signed agreements to purchase Pathfinder Mines Corporation which are expected to close in H1 2013. This acquisition will add landholdings with substantial historic resources, a comprehensive data base and an ISR by-product disposal facility to the company's assets. The fully licensed ISR by-product disposal facility is one of only four such plants in the US and it is generating cash for the company.
Ur-Energy is represented by NuCore for all off-take negotiations and has already secured four term contracts with North American utilities.
As always when investing in the resource sector, there are certain sector-specific risks involved. With the two picks presented in this article these risks also include possible events that may occur during construction and ramp-up. Adequate analysis and risk assessment is encouraged before investing.
Disclosure: I have no positions in any stocks mentioned, and no plans to initiate any positions within the next 72 hours. I wrote this article myself, and it expresses my own opinions. I am not receiving compensation for it (other than from Seeking Alpha). I have no business relationship with any company whose stock is mentioned in this article.