Just a decade ago, touch screen devices seemed futuristic and almost impossible to comprehend. Today, they are part of what is known as an 'adaptive system', a design philosophy that aims to make technology as unobtrusive and integral to our lives as possible. Touch screens became popular after Apple (NASDAQ:AAPL) launched its first iPhone in June 2007. Today, most of the tablets and smartphones from the world's major smartphone and tablet manufacturers utilize touch screens.
Touch screen market trends, including advances in technology, along with shifts in supply and demand, have played a big part in the past stock performance of all companies involved in this space, and will continue to do so going forward. Global trends surrounding touch screen technology are beginning to force companies like BlackBerry (BBRY) to change their ways, while putting Apple in its current position as smartphone leader. At the same time, touch screen demand is presenting a big opportunity for manufacturers of touch screens and components like 3M (NYSE:MMM) and Sollensys (OTCPK:SOLS). Below, I will discuss how investors can benefit from both mobile device makers and touch screen suppliers by understanding how they are positioned in the touch screen market currently.
BlackBerry Changes Its Ways
BlackBerry recently unveiled its new BlackBerry 10 operating system, at the same time showcasing the first two handsets that will be available on this new platform. The BlackBerry Q10 and the Z10 boast full touch screens versus the physical QWERTY keyboard found on its previous handsets. The company has been suffering ever since the introduction of the iPhone, when the market immediately shifted toward touch screen enabled devices. As a result, BlackBerry is shifting away from physical keyboards and more toward touch screen keyboards.
According to a poll conducted by Nokia, the U.S. is the only country to prefer touch screens over all other forms of input. 47% of mobile phone users would rather type on a screen compared to 33% who prefer a hardware keyboard.
This reinforces why BlackBerry sales have declined in the U.S over the past several years. BlackBerry shipped 6.9 million smartphones in the third quarter of 2012, a significant decline of 51% from the same period in 2011. Likewise, BlackBerry's subscriber base declined from 80 million in the second quarter of 2012 to 79 million in the third quarter of 2012.
BlackBerry's sales and subscriber base are not the only metrics that have taken a hit from its position in the touch screen market. Earnings per share (EPS) has been following suit, primarily due to poor future earnings growth expectations and lackluster consumer and investor sentiment.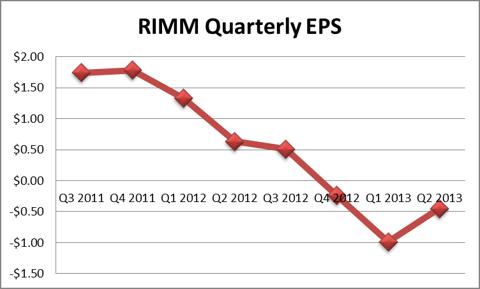 Once a key competitive advantage for BlackBerry, physical keyboards are no longer as desirable as they once were. Consumers have been increasingly turning their focus to touch screens in order to simplify complex handset activities. BlackBerry's recent shift toward touch screen keyboards makes the company attractive to its original subscriber base while also reaching out to users looking for an interactive human interface. Market research firm DisplaySearch predicts that touch screen demand will grow by 90% within the next four years and exceed $24 billion in sales by 2017 and the mobile and technology markets will be the primary drivers of this growth. If BlackBerry can capitalize on this growth with its push toward touch controlled keyboards, it could improve its future earnings expectations and get back into the smartphone race.
Apple Controls 60% Of Global Touch Screen Supply
Apple has benefited greatly from the growth of the touch screen market. All of this success has enabled the company to maintain a tight grip on suppliers. According to the most recent data available, Apple controls somewhere around 60 percent of the world's supply of touch screen panels. This is putting heavy pressure on competing makers of touch screen devices makers, putting them at a major disadvantage in terms of pricing.
Apple iPhone 5 thin display drove its supplier LG into a supply shortfall in September 2012.
Keeping up with Apple's manufacturing demands has been challenging for its suppliers, including LG. According to Barclays analyst Ben Reitzes, "Apple is facing significant production constraints due to a move toward in-cell display technology. Apple is struggling to keep up with demand."
According to Tom Dinges, senior principal analyst at IHS iSuppli, "Because of the large sums Apple spends on components, the iPhone and iPad maker will be the first in line for parts". Apple is in a strong position to benefit from touch screen market growth. However, this example illustrates Apple is in an even more lucrative position because of its dominant grip on suppliers.
Now consider the following. The bulk of Apple's revenues have come from iPhone sales. While this chart shows quarterly revenue by product segment going back to the first quarter of 2009, iPhone sales have made up the bulk of quarterly revenues since the first iPhone was rolled out in 2007. Apple has been growing along with the touch screen market, which saw total market revenue jump from $3 billion in 2007 to $9 billion in 2012.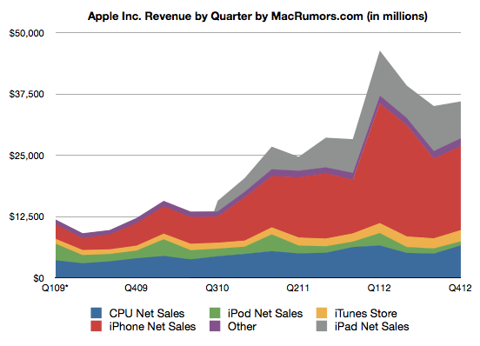 Touch Screen Manufacturers
Sollensys has been buzzing with activity lately. The company caught my eye with heavy trading volume after completing its acquisition of South Korea based touch screen maker Sollensys. Sollensys manufactures multi-touch sensor modules, multi-layer capacitive sensors and controller options. The company also manufactures single touch display panels which are in high demand among touch screen device makers. Sollensys aims to be a global provider of small to medium sized capacity touch sensors for use in the high quality and advanced technology spectrum of the touch screen market.
Sollensys' core expertise is in capacitive touch technology. Capacitive touch technology is overtaking resistive touch technology in the touch screen market. Sollensys could potentially become a supplier for Apple, BlackBerry, Samsung, LG and Nokia, though no agreements have been made yet. Sollensys is well positioned to benefit from both Apple's dominant position and BlackBerry's shift in strategy.
With over 150 patents in touch technologies, 3M has significant expertise in the touch screen industry. 3M manufactures touch screen accessories, screen protectors, and also makes privacy filters for the iPad and iPad mini.
3M is known for making products such as adhesives, laminates, dental products and medical products, but is often overlooked in the touch screen category. 3M manufactures touch screen enabled kiosks for browsing titles and Microtouch Touch Screens. The company's touch screen panels are often used in cataloging and public installations, including libraries. In 3M's favor, Sharp and LG Display were not able to meet the demands of Apple and its need for touch screen displays. Apple may soon begin to eye manufacturers like 3M and Sollensys.
3M has a significant growth opportunity in touch screen films for tablets and e-book readers. As a component supplier to Apple, Intel (NASDAQ:INTC), Nokia and Samsung, 3M is in an excellent position to benefit from the touch screen materials market, which is currently estimated to have a value of $2 billion. 3M's electronics unit reported $1 billion in sales for 2012. The company has been experiencing a compound annual growth of 24% for its electronics markets materials unit, and the company estimates that sales could potentially triple by 2016 to $3 billion.
Summary
The touch screen market is expected to grow significantly over the next several years. BlackBerry has pivoted itself to benefit from this growth. Apple's heavy focus on touch screens over the past six years has put it in a much better position than its peers. Because Apple controls 60% of the world's supply of touch screen panels, the company has a huge supply and pricing advantage. Manufacturers like Sollensys and 3M could potentially help fill this gap in the future. Investors that believe in the future of the touch screen market should give BlackBerry a second chance. The company is putting itself in a much better position to benefit from the trends surrounding the touch screen market going forward. Those looking at Apple should closely monitor the supply side of the touch screen market. Investors looking for exposure to the touch screen market should consider Sollensys and 3M as a way to play market growth.
Disclosure: I have no positions in any stocks mentioned, and no plans to initiate any positions within the next 72 hours. I wrote this article myself, and it expresses my own opinions. I am not receiving compensation for it (other than from Seeking Alpha). I have no business relationship with any company whose stock is mentioned in this article.