"Work is hard. Distractions are plentiful. And time is short." - Adam Hochschild
The correction I have been arguing for over the past three weeks now seems to be underway. Fed minutes spooked U.S. money on Wednesday given what appears to be the first stages of an exit plan and end to bond buying, but this is not the only story. While the focus may be on the Dow being below 14,000 and the S&P 500 below 1,500, few seem to be focusing on what's happening over in Italy given upcoming elections and the very real possibility that Berlusconi will take power once again. We appear to be in another Europe-driven deflationary scare, which our ATAC models used for managing our mutual fund and separate accounts have picked up on.
Take a look below at the price ratio of the iShares Italy ETF (NYSEARCA:EWI) relative to the MSCI All Country World Index Fund (NASDAQ:ACWI). As a reminder, a rising price ratio means the numerator/EWI is outperforming (up more/down less) the denominator/ACWI. A falling ratio means the opposite.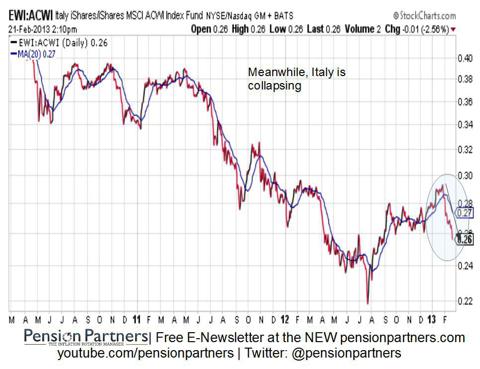 Note the extremely sharp decline in Italian shares. Concerns over an anti-austerity Berlusconi return, alongside very poor manufacturing data in the Eurozone more generally are escalating. It seems entirely plausible that another deflation pulse beats across the region, making it hard for Nouveaux Bulls to bet on rising prices in the here and now.
Does this guarantee that we are in a correction or that we will have a sharp decline in risk assets? Absolutely not, but intermarket trends have been sensing something off with the macro picture for a few weeks. This, combined with the looming sequester, and Fed doubts over QE might be just what the market needs to refresh the fear. For those wanting to get long, there can be a nice trading opportunity as things resolve themselves internally, but for now caution remains warranted.
Disclosure: I have no positions in any stocks mentioned, and no plans to initiate any positions within the next 72 hours. I wrote this article myself, and it expresses my own opinions. I am not receiving compensation for it (other than from Seeking Alpha). I have no business relationship with any company whose stock is mentioned in this article.
Additional disclosure: This writing is for informational purposes only and does not constitute an offer to sell, a solicitation to buy, or a recommendation regarding any securities transaction, or as an offer to provide advisory or other services by Pension Partners, LLC in any jurisdiction in which such offer, solicitation, purchase or sale would be unlawful under the securities laws of such jurisdiction. The information contained in this writing should not be construed as financial or investment advice on any subject matter. Pension Partners, LLC expressly disclaims all liability in respect to actions taken based on any or all of the information on this writing.