Most investors are surely now considering that the housing market has entered into a long-term recovery mode. The reality is that the U.S. housing market is one of the bright spots when looking at sources of global economic growth.
Therefore it is no surprise to see companies tied to the housing market do well in the equity markets. These often become story stocks that are bought as ways to benefit from certain trends such as the aforementioned housing market recovery. It is questionable how much attention is actually paid towards valuation or fundamentals in these situations. In our universe of companies that fall into the "high quality" realm as rated by Standard & Poor's - Sherwin-Williams (NYSE:SHW) is one of those companies.
We have passed on Sherwin-Williams as an investment opportunity based on valuation. This is one of those cases where the story stock has gotten ahead of reality. And reality is not all bad, which makes the story even easier to buy into.
Sherwin-Williams based on consensus estimates is expected to grow earnings 20.3% and 19.3% in 2013 and 2014, respectively. Revenue is expected to grow 10.1% and 7.7% in 2013 and 2014, respectively. Therefore part of the growth is margin improvement along with top-line revenue. The announced acquisition of Comex highlights the challenge management has in growing company sales fast enough organically.
While expectations are positive, this is still a cyclical company tied to the business cycle. And while the housing recovery is keeping the U.S. business cycle in a positive trajectory, we are closer to the end of the cycle than the beginning. Peak operating margins are a clear hallmark that we are getting to the late part of the cycle. While Sherwin-Williams has some history of higher operating margins, any additional margin improvement is likely more to do with the business cycle than any material change in the business model.
One of the positive factors of owning Sherwin-Williams is the recessionary-resistant nature of the company's business model. During the 2007-2009 market decline - the company's earnings only declined modestly in 2009 before rebounding in 2010. Still, the safety largely disappears if the company's valuation declines back to what we believe are more normalized levels.
For instance, the average trailing PE for Sherwin over the past 5 years was 18.2X and the current Trailing EPS is 24.6X. The company is currently valued at 17.1X 2014 earnings. At a firm level, Sherwin-William's Enterprise Value is ~4.9X its Invested Capital (EV/IC). Based on a 5-year normalized ROIC estimate of 16.3%, the implied value of Sherwin-William should be closer to 2.0X. Even if we assume a peak ROIC of 20%, the implied value is 2.4X Invested Capital, which happens to be just under its trailing 20 quarter average of 2.5X. Based on a 2.5X EV/IC multiple, Sherwin-Williams should be valued closer to $90, which is a level the company traded at just over a year ago.
Figure 1: 5 Year Enterprise Value for Sherwin-Williams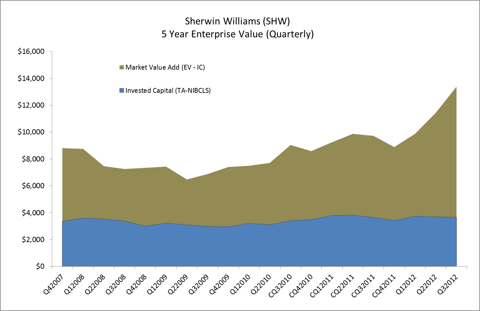 Source: Yahoo!Finance, Advfn, Author's Calculations
In our opinion, invested capital growth is clearly missing from this story. Invested capital is a long-term growth lever in our opinion. We will see some increase when Comex is consolidated onto the Sherwin-Williams books. In fairness, if we capitalized operating leases, the invested capital would expand by just under $1.0 billion (based on the 2011 annual report). The caveat is that the increase in invested capital would be offset by a lower ROIC calculation. Asset efficiency and share buybacks can clearly support valuations, but invested capital growth is a primary indicator of a growing business and deserving of higher valuation multiples.
In addition to benefiting from being a story stock for the housing market recovery play, we also believe the company has benefited from momentum in the equity market. Sherwin-Williams has outperformed its Sector ETF (NYSEARCA:XLB) since approximately August of 2011 and had similar performance against the broader market as measured by the S&P 500 (NYSEARCA:SPY). However momentum has slowed since last fall and 50-day moving average is converging onto the 200-day average. If the relative trend turns negative, this could provide another source of pressure on the company's market valuation as momentum could turn negative.
Figure 2: Sherwin-Williams Relative to the Material Sector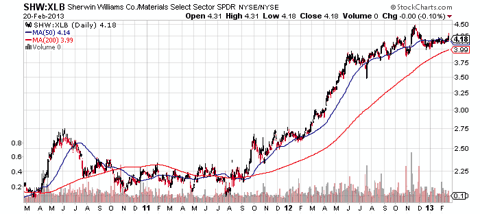 Figure 3: Sherwin-Williams Relative to the S&P 500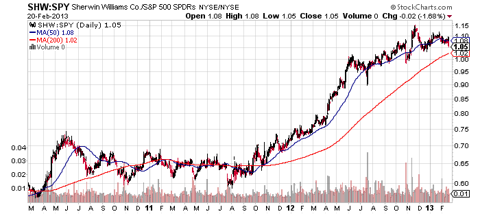 Conclusion
Sherwin-Williams is on our radar of quality companies that we would invest in at a fair price. Currently we believe the company is benefiting from being a recession-resistant, safe story stock that is participating in the U.S. housing market recovery. However, there is too much expectation built into the valuation even with relatively attractive projected earnings growth. Furthermore the potential impact of slowing momentum could be a catalyst to a valuation that we believe is more in-line for the company based on more normalized valuation metrics.
Disclosure: I have no positions in any stocks mentioned, and no plans to initiate any positions within the next 72 hours. I wrote this article myself, and it expresses my own opinions. I am not receiving compensation for it (other than from Seeking Alpha). I have no business relationship with any company whose stock is mentioned in this article.