An equal-weight semiconductor sector exchange traded fund has been outperforming its market-capitalization-weighted counterparts as smaller companies sprint ahead of bulkier, established firms in the recent rally.
SPDR S&P Semiconductor ETF (NYSEARCA:XSD) is up 26.3% over the past three months.
In comparison, the market capitalization weighted ETFs iShares PHLX SOX Semiconductor Sector (NASDAQ:SOXX) is up 20.7% over the last three months, PowerShares Dynamic Semiconductors (NYSEARCA:PSI) is 18.7% higher and Market Vectors Semiconductor ETF (NYSEARCA:SMH) added 18.9%.
XSD's market capitalization breakdown includes giants 2.4%, large 10.2%, medium 37.2%, small 39.7% and micro 10.5%.
Smaller companies tend to outperform during the initial stages of a bull market run after taking the brunt of the beating during market turns.
According to the nonprofit organization World Semiconductor Trade Statistics, the semiconductor sector will rebound this year after a slowdown in 2012 on higher sales and new computing devices, reports Agam Shah for PCWorld. The Semiconductor Industry Association, though, expects the sector to recover by next year.
Semiconductor revenue is projected to expand 4.5% for 2013 year-over-year.
"Semiconductor firms are more cyclical than other kinds of tech companies," according to Morningstar analyst Robert Goldsborough. "The sector continually faces high research-and-development expenses and capital costs for manufacturing facilities, short product cycles, and cyclical end-user demand."
IC Insights' McClean Report calculated that spending on research and development by semiconductor companies expanded 7% in 2012 while the overall sector declined 1%, ElectroIQ reports.
Given that U.S. consumers and business return to normal demand, Linx Consulting expects growth to increase at a modest pace over 2013 and average slightly less than 6% for the full year, ElectroIQ added in a separate article. The consulting firm projects recovered growth to average 7% per year by 2014 as semiconductors continue to meet the demand for flash memories and advanced foundry logic devices used in tablets and phones.
SPDR S&P Semiconductor ETF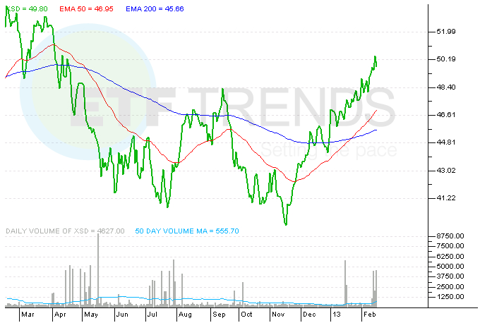 Max Chen contributed to this article.
Disclosure: I have no positions in any stocks mentioned, and no plans to initiate any positions within the next 72 hours. I wrote this article myself, and it expresses my own opinions. I am not receiving compensation for it. I have no business relationship with any company whose stock is mentioned in this article.