The buy thesis for MHI Hospitality (MDH) is both simple and powerful: if it can meet or beat its guidance for 2013, it will massively outperform the market. Guided FFO per share of $0.55-$0.72 would represent a price/FFO of 5.10-6.67. As such, for every dollar invested capital would earn in the market's average stock, MHI Hospitality would produce nearly $3. In this article, we will delve deep into its fundamentals to demonstrate the likelihood of such earning actually manifesting. Here is MDH's full guidance for 2013.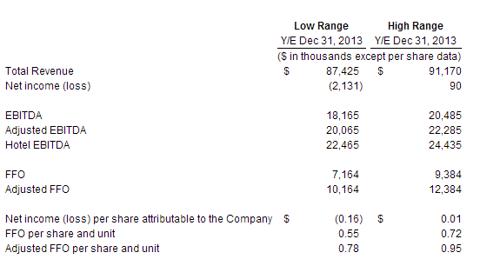 Discussed below is how it is going to meet or exceed that guidance.
Earnings catalyst # 1: lodging sector fundamentals
Lodging demand is most accurately measured as RevPAR, which is the product of ADR and occupancy. Ordinarily these metrics move together, but in this particular cycle, occupancy growth has plateaued while ADR is expected to continue to rise.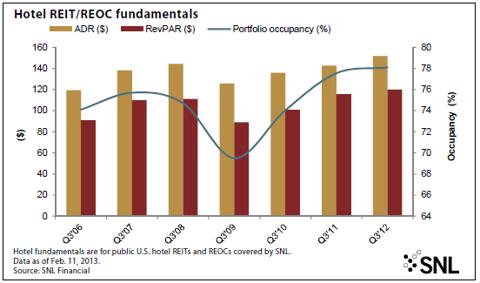 From the chart, we can see that the ADR driven RevPAR growth began around Q311 and continued through 2012. I believe such a pattern will continue through at least 2014. This prediction is not based on charting nonsense, but rather the complete absence of new supply.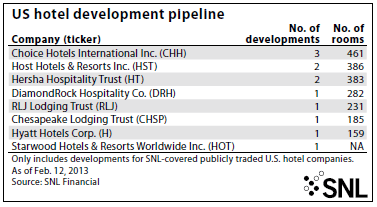 12 developments, for a total of just over 2000 rooms, are nearly irrelevant to the overall domestic industry.
As businesses unleash the cash piles that were built up in the recent economic uncertainty, the lodging industry expects a revival of conference bookings. The outlook for transient guests is along the same lines. With no new supply to absorb the increasing demand, hoteliers will have the power to aggressively drive room rates.
Independent hospitality sector analysts, PKF Hospitality and Smith Travel Research, have similar outlooks with estimates for 2013 RevPAR growth of 7% and 6% respectively. PKF Hospitality went further by suggesting RevPAR growth would be 85% consequent to ADR. This brings us to catalyst # 2.
Earnings catalyst # 2: Amplified effect of ADR growth
The effect of ADR growth is the most potent portion of the buy thesis, so we will be very diligent in detailing each step. We will begin with a fairly conservative estimate of ADR growth and apply it directly to the numbers MDH published in its latest earnings report. This will allow us to calculate just how large of an impact it will have on 2013 earnings. For added precision, we will demonstrate that such ADR growth is very plausible specifically for MDH's portfolio of hotels.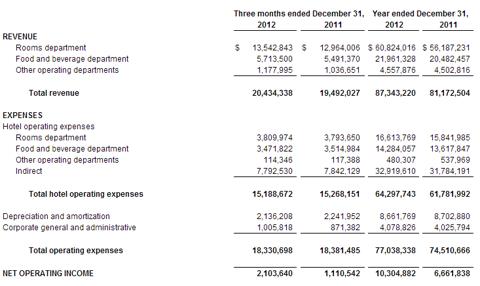 We will use 5.1% as the ADR growth. This number will be justified later.
$13.5mm of MDH's quarterly revenue comes from room rental and ADR (unlike occupancy) has no impact on cost. New revenues would be ($13,542,843) X (105.1%) = 14,233,527. As expenses would not be impacted, the $690,683 would transfer directly to the bottom line. New FFO would be 4.165mm+ $690,683 = $4,855,683. This is an FFO boost of 16.58%. Clearly all of these numbers will be different for 2013, but this shows how massive of an impact ADR growth can have.
Justification for the use of 5.1% ADR growth: This is the figure PKF Hospitality suggested for 2013, so it makes sense as a baseline, but could it be possible for MDH? Well, its 2012 ADR was $112.46 so a 5.1% increase would be $118.20. We know MHI Hospitality's hotels are capable of charging this much as the exact same portfolio was able to pull in an ADR of $123.55 in the much weaker economy of 2008. If anything, 5.1% growth is vastly understating the potential.
Earnings catalyst # 3: Increasing NAV will pave the way for cheaper debt
While nearly every other industry is experiencing a tightening of cap rates, hotels still exchange hands for very cheap prices.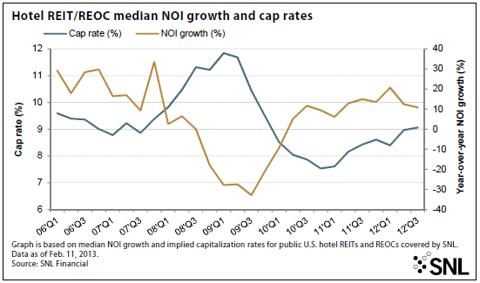 Hotels in general are undervalued by NAV, but MDH's hotels are even more so.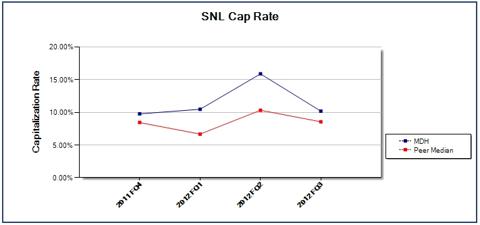 Given the 5%-7% cap rates that are prevalent in the rest of the REIT world, it seems very plausible that hotels will get to 7.5% in 2013. If this does occur, it would represent a 33.3% increase in MDH's NAV. Such an increase to equity would potentially grant superior access to the debt markets and allow for refinancing.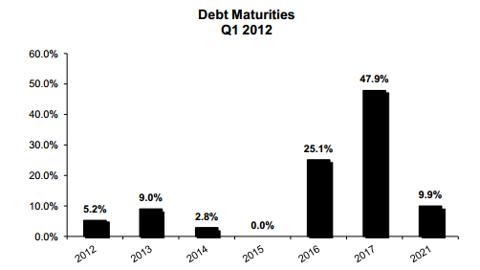 MHI hospitality has plenty of utility for refinancing as approximately 9% of its debt comes due in 2013 and it still has some shares of its expensive 12% Preferred A outstanding. Full redemption of its $14.156mm of Preferred A refinanced to 5% debt would yield an annual savings of over $990,000. For a company with a market cap under $40mm, that is huge.
How the opportunity came about
Why would a company with such a strong outlook trade at a forward price/FFO around 6? Well, there are a few reasons the market has ignored it.
Its tiny size: very few investors know about it, and many of those who do dismiss it as a "penny stock".
It is highly levered which falsely deters investors. MDH's leverage is actually one of the primary drivers of its organic growth. As it pays down debt and/or refinances it will further increase earnings.
Illiquidity: A small stock naturally comes with a low trading volume. Successfully investing in MDH requires patiently picking up shares in small portions.
A perceived excess of G&A: While MDH's G&A expenses are large as a portion of revenue, this is inevitable for such a small company. Officer compensation is quite reasonable (under $500k for CEO and less for the rest) and insider ownership greater than 10% ensures alignment.
In an inflated REIT market, MHI Hospitality is outrageously cheap and its fundamentals are superb. It is a clear opportunity, but no buy thesis is complete without covering the counter-argument
Risks and concerns
The risks for MDH are very much in line with those of the rest of its sector; hotel performance is closely linked with the economy as a whole so these companies are really banking on a sustained recovery. Additionally, keep an eye on MDH's debt as they are more levered than most of the sector.
Aside from the general risks of investment, there is a concern that is more unique to MHI Hospitality. Following and investing in it requires an enormous time investment. Few analysts follow such a small company, so there is very little information floating around. Researching it entails digging though SEC filings for even small bits of pertinent information. Before we close, there is one more aspect to MDH to tantalize investors.
Another potential way to unlock value
This tiny and undervalued company seems to be a likely candidate for a takeover. Its properties are desirable, as they are of upscale/upper-upscale caliber, and are located in prime locations along the East Coast. Many of them are even waterfront.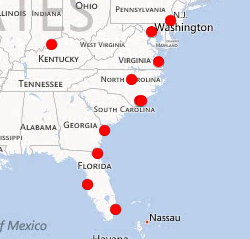 Despite the quality, these hotels are really cheap. MHI Hospitality has an enterprise value per key of only $80,445. As a basis of comparison we can look at Ashford Hospitality Trust (NYSE:AHT) with an EV/key of $125,806 or Host Hotels (NYSE:HST) with $259,391 EV/key. Even if acquired well above market price, either of these bigger companies could accretively buy out MDH.
Conclusion
MHI Hospitality issued impressively high guidance for 2013 that would produce nearly 3 times as much earnings return on invested capital as the REIT average. There is sufficient evidence to show that meeting its lofty earnings goal is reasonable. Any investor who takes the time to research and opportunistically buy MDH will be rewarded with the potential for significant outperformance.
Disclosure: I am long MDH, AHT. I wrote this article myself, and it expresses my own opinions. I am not receiving compensation for it (other than from Seeking Alpha). I have no business relationship with any company whose stock is mentioned in this article.
Additional Disclosure: 2nd Market Capital and its affiliated accounts are long MDH and AHT. This article is for informational purposes only. It is not a recommendation to buy or sell any security and is strictly the opinion of the writer.