There was at least one positive financial indicator last year: the number of financial restatements by US companies fell by almost a third from 2007, according to Audit Analytics.
The Audit Analytics Financial Restatement Report for 2008 covers eight years of financial restatements and examines 9,000 restatement filings disclosed by public registrants since January 1, 2001.
One noteworthy surprise was that for the first time ever, over 50% of all restatements filed were stealth restatements.
A stealth restatement is defined as a restatement contained in a periodic report without a prior disclosure in Item 4.02 of an 8K. Although the number of stealth restatements decreased since 2006, the percentage of such restatements increased to about 51% in 2008.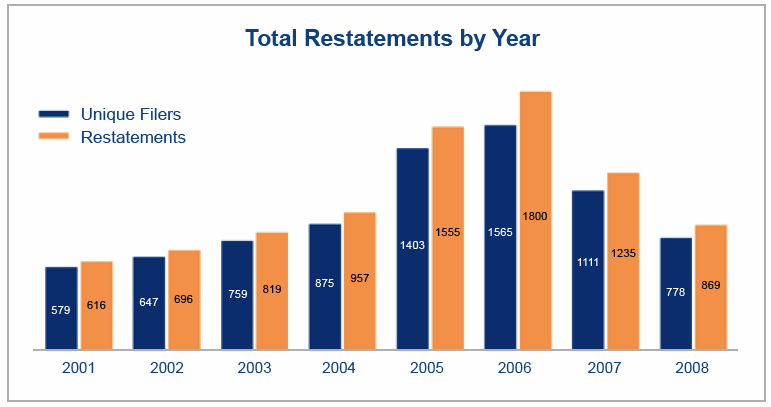 Other key findings indicate a drop in restatement severity and include:
A relatively low negative impact of restatements on net income for the second year in a row.
An increase in the percentage of restatements with no impact on income.
A continuation of the steady decline since 2005 of the average number of accounting issues implicated per restatement.
The average cumulative impact of restatements on net income fell again in year 2008.
A decrease in the average number of days restated.