A cup of coffee is a cup of coffee, or isn't it? On Tuesday Starbucks Corp. (NASDAQ:SBUX) announced a new product to help them compete better in the market. As this article reports, "Starbucks unveils Via instant coffee", it is entering the instant coffee arena.
This move represents a marked departure from Starbucks' established brand, but MSSI data on customer spending at the retailer shows that perhaps its revenues are not suffering as much as one would think. Although there have been declines with spending down 4.85% compared to October '08 statistics, 2008 taken on a whole, however, shows increases in the three customer categories it tracks.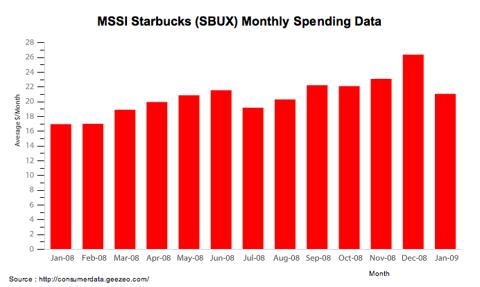 Average monthly spending has increased by Geezeo users at Starbucks by 24% January '09 on January '08 numbers and 27.53% over all of 2008. The figures show that consumers are not as worried about overpaying for their coffee fix as has been supposed.
Starbucks' move highlights the economic doubts that a lot of retailers are entering 2009 with and that perhaps is the real conclusion to take away from this news. The year started by spending dropping rather steeply after year highs in December, however, the spending average was more than 150 basis points above the average 2008-month.
This new product Via, Latin for 'street', might indeed represent Starbucks' path through these uncertain times shaped by overall consumer skepticism. While it has been reported that instant coffee represents a small demographic within the United States, the firm is thinking globally, which should enable it to stick around for some time to come.
This data was compiled by the Geezeo Main Street Spending Index (MSSI).