Comparing oil companies: Oil stocks are indispensable in any stock portfolio. These companies literally pump money from underground wells generating stable large free cash flows from stable incomes. Furthermore oil companies are relatively cheap to other industries. Below is a peer analysis based on data from different investor sites. Based on this data my preference goes to Total SA (TOT) and Royal Dutch Shell A (RDS.A). Compared to key fundamental ratios of their American peers they both have an upward potential of at least 12-15%. The second part of the article will focus on technical aspects of these two companies.
| | | | | | |
| --- | --- | --- | --- | --- | --- |
| Company | Financial market | EV/EBITDA | P/E | P/E | Div Yield (%) |
| Source | | Infinancials | Reuters | Bloomb. | Bloomb. |
| | | | | | |
| | CAC40 (France) or NYSE (US) | 3.01 | 7.99 | 7.14 | 6.45 |
| | US | 4.87 | 9.12 | 11.20 | 2.58 |
| Royal Dutch Shell Plc (RDS-A) | AEX (Netherlands) / NYSE (US) | 3.75 | 7.71 | 7.72 | 5.25 |
| | US | 3.80 | 8.63 | 9.44 | 3.13 |
| | LSE (NASDAQ:UK) / NYSE (US) | 4.27 | 11.52 | 8.11 | 5.15 |
Tax regimes for foreign investors: Most of the companies stated above pay a dividend quarterly. Therefore stock price is relatively unaffected by dividends. In addition stock prices of oil companies are less volatile so a lot of your investment return is dependent on dividend payments. If you are a value investor seeking for nice yields you should also consider the tax withholding regime. Therefore country of origin can influence your investment decision. American investors can avoid double dividend taxes by purchasing its US equivalent on the NYSE. Here are the tax regimes for foreign investors in respective countries:
| | |
| --- | --- |
| Country | Withholding tax |
| | |
| France | 30% |
| Netherlands | 15% |
| UK | 20% |
| US | 30% |
Crude oil price evolution: Evolution of crude oil prices is evidently an important driver for stock prices of oil companies. Consumer price at the end of the supply chain, crude oil price and margins are evidently linked. Graph below shows that oil price is at a turning point. Most likely scenario is top forming this week at $98 per barrel. Consequently it will cool down to about $90 - $88 per barrel.
(Chart below shows Chart of Crude oil price per barrel)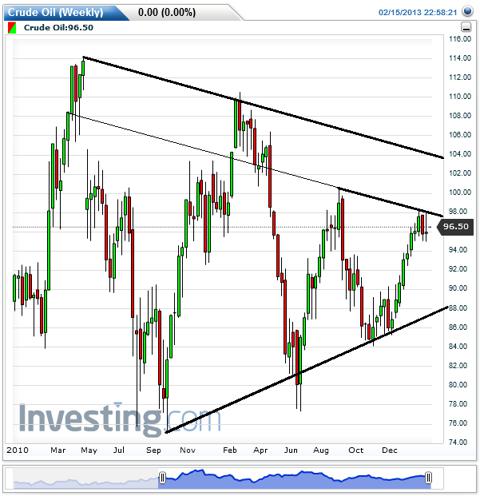 Technical analysis: From a technical perspective both Royal Dutch Shell and Total are at an interesting point for initiating positions.
Shell is in a long term uptrend since 2009 and is now touching the bottom of its trend channel. RSI is at its lowest point since September 2011. Price is also playing with the bottom of the Bollinger bands.
(Chart below shows Chart of Royal Dutch Shell A stock quote on AEX)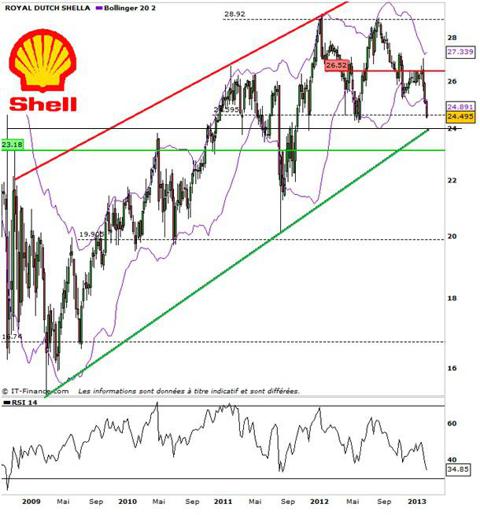 It's equivalent on the NYSE looks a little less appealing on a technical basis. A strong downward resistance line is blocking the uptrend in the short term. An investor can chose to wait for the outbreak or to buy on the green support line.
(Chart below shows Chart of Royal Dutch Shell A stock quote on NYSE)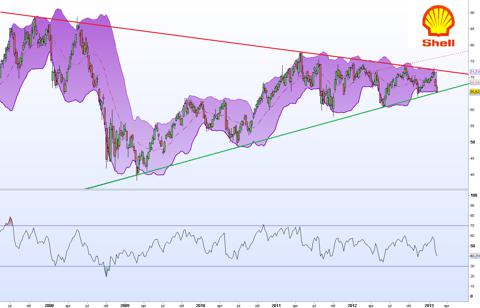 Total is in a long sideward trend since 2009. Tops were formed lower and lower since 2009 (red resistance line). This while bottoms are forming higher and higher in a mid-term perspective (turquoise upward line). Stock is testing the bottom of the trend channel and the bottom of the Bollinger Bands. It seems wise to wait until next week to take positions in order to verify if support line will break or not. (Certainly if crude oil price is about to take a drop). As the long term outlook is looking positive and fundamentals are lagging peers, the stock should be ready for a break-out!
(Chart below shows Chart of Total SA stock quote on CAC40)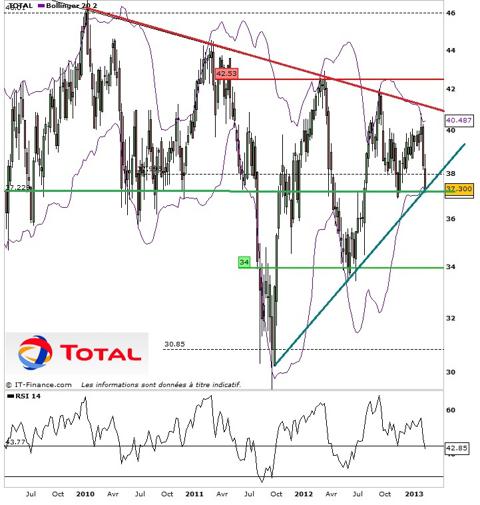 Conclusion: When looking for a solid investment oil companies are indispensable in a well diversified portfolio. When taking a closer look in the sector both Shell and Total are lagging their peers on a fundamental basis. As crude oil price is at a turning point, it seems wise to wait until next week before taking positions in both companies.
Disclosure: I have no positions in any stocks mentioned, but may initiate a long position in RDS.A, TOT over the next 72 hours. I wrote this article myself, and it expresses my own opinions. I am not receiving compensation for it (other than from Seeking Alpha). I have no business relationship with any company whose stock is mentioned in this article.