Although we have been skeptical about the prospects of Tesla Motors (NASDAQ:TSLA) due to its track record of losses and its significant level of cash burn, we approached our analysis of the company in a fair and objective manner. We can see that our analysis has received critical acclaim by the investment community which manifested itself in our firm conducting an interview with the Wall Street Journal about Tesla. We felt that this quarter would be an important barometer in order to evaluate Tesla's future performance prospects. It was important for Tesla to show progress in its production and revenue generation in order to show that it had the ability to survive as an independent going concern. We believe that the reason why Tesla's stock sold off by nearly 9% on Thursday, February 21st 2013 was due to a trio of factors:
Tesla's share price increased by 40% from its September 25th 2012 low of $27.53/share to $38.54/share on February 20th 2013.
Although Tesla met its revenue and production targets, TSLA's adjusted EPS missed consensus estimates by $.12/share
Tesla burned through $101.5M worth of cash, which was nearly half of the $222.1M raised in October.
Tesla was in serious need of funds when it announced its secondary offering. The company incurred a loss of $111M and negative operating cash flows of $95M in Q3 2012. This was compounded by the company's need to spend $68.5M in capital expenditures and other business investment related expenditures. The company covered this quarterly cash burn through existing cash holdings as well as $40M in new financing cash inflows. Tesla had a negative book value of $27M as of Q3 2012 and it received $222M net of underwriting discount in the secondary offering. Tesla burned through $28.8M in operating cash flows and incurred $72.7M in capital expenditures resulting in book value of $124.7M ($1.10/share) and liquidity holdings of $226M. Tesla's share price of $35.16 means that the company is still trading at 32X book value.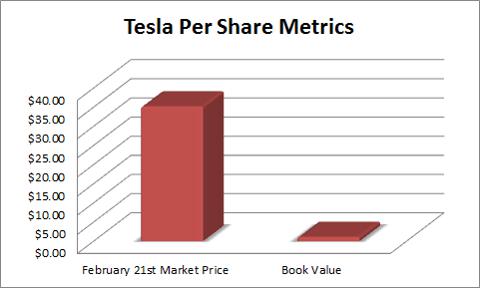 Source: Morningstar Direct and Tesla's Q4 2012 Report
When Tesla announced its secondary offering near the end of September, it also announced that it was cutting its revenue target from $560M-$600M to $400M-$440M for the 2012 fiscal year and that it was taking longer than it anticipated with regards to delivering on its target of 5,000 vehicle deliveries to customers. Tesla originally anticipated delivering 500 Model S vehicles in Q3 2012 and it ended up producing 350 and delivering 255. The good news is that it is expecting to produce and deliver between 2,500 and 3,000 Model S vehicles in Q4 2012 and it was able to produce 2,700 Model S vehicles while delivering 2,400. This will enable investors to have confidence that Tesla may reach its projected production of 4,500 in Q1 2013 and 20,000 in FY 2013.
At first, we were surprised that respected media outlets like TIME Magazine, AUTOMOBILE Magazine, Motor Trend and Yahoo! Autos would name the Model S as the car of the year or an invention of the year. However, after going back in time and finding out that the Corvair won Motor Trend's Car of the Year award in 1960, the Chevy Vega was Motor Trend's 1971 Car of the Year and the Chevy Volt was the 2011 winner of Motor Trend's Car of the Year, maybe winning Motor Trend's Car of the Year isn't exactly something to crow about. It remains to be seen if the Tesla Model S test drive that was conducted by John Broder of The New York Times will have a negative impact on Tesla's sales volumes in 2013.
Tesla's reservations management was a case of good news and bad news. The good news is that Tesla's gross reservations of 6,000 were higher than the 2,900 achieved in Q3 2012. Tesla's net reservation holder base increased to over 15,000 as of Q4 2012, up from about 13,000 in Q3 2012. The bad news is that Tesla saw 1,600 reservation holders cancel their reservations. Tesla's reservation balance outstanding was $138.8M in Q4 2012, which was comparable to the $138.3M as of Q3 2012. Based on Tesla's target product levels and reservation backlog, a person who places a reservation today for a Tesla can expect a maximum wait time of 9 months in order to take delivery of their car assuming no one cancels their reservation.
The Model S requires a $5,000 deposit and customers would have to wait at least six months to get their Model S. When they are able to finally purchase the car and take delivery, they have to pay another $47,400 (net of federal tax credits) on top of the $5,000 reservation deposit. Considering that the global economy is facing significant headwinds due to the slowdown in the emerging markets, the eurozone debt crisis and the potential recession in the US, we are not that optimistic about customers plunking down $52.4K to wait 9 months for a car.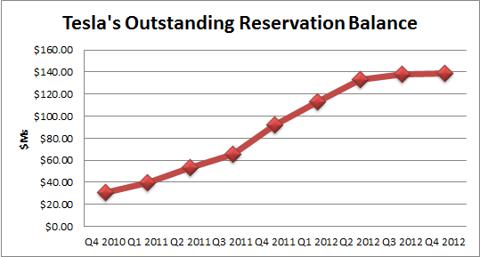 Source: Morningstar Direct
According to Tesla CEO Elon Musk, Tesla was free cash flow positive in December due to sales growth and working capital management. Musk projects that Tesla improve its manufacturing processes in order to project a 25% gross margin in H2 2013 without the benefit of high-margin regulatory credit revenues. That's a pretty audacious goal when we consider that BMW Group's (BAMXY.PK) (OTCPK:BAMXF) YTD 2012 automotive division gross margin was only 18% and its consolidated corporate gross margin was 20%.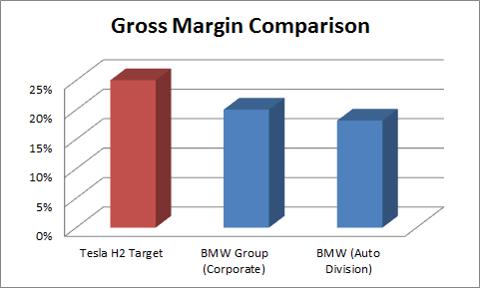 Source: Morningstar Direct and Tesla's Q4 2012 Report
Tesla operated 32 Tesla stores and galleries around the world as of the end of FY 2012. Tesla opened 8 new stores and galleries during Q4 2012 and saw 1.6M people visit its stores during the quarter. This traffic level was comparable to the combined level of Tesla's traffic during the first nine months of 2012. Tesla plans to open 15 to 20 more stores and galleries this year with about half the openings in Europe and Asia to support our expansion into these regions during the second half of 2013.
Tesla started construction of its first store in Beijing, China to prepare for its opening this spring. Tesla also opened eight new service locations during the quarter, for a total of 29 locations at the end of Q4 and plans to double this number by the end of 2013 to keep pace with the growing fleet of customer cars. Tesla also opened the first two Superchargers on the east coast in Q4 2012 (Milford, CT and Newark, DE)
Tesla is expecting to generate a slight profit in Q1 2013 excluding non-cash expenses associated with its equity plans. Tesla is expecting to break even on an operating cash flow basis through improving its gross margin and reducing its R&D expenses. Tesla will be spending less on its CapEx in 2013 as it has concluded its investment in the Tesla Factory and has begun producing the Model S but it will continue to invest in expanding its service and store footprint.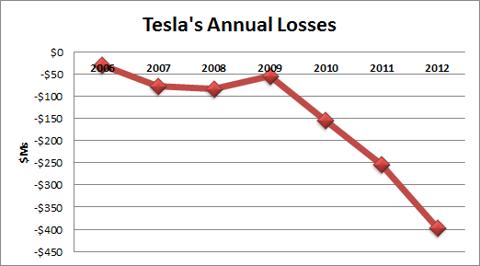 Source: Morningstar Direct
In conclusion, we're still not fans of Tesla. However, we took note of its increased production and revenue for Q4 2012 as well as its optimistic projections for FY 2013. We are also pleased that Tesla paid back $12.7M of its DoE loan during the quarter and has $19.1M available for its Q1 2013 payment. While we don't think that Tesla will generate as much profit as the CEO is projecting, we believed that this quarter would be important in gauging Tesla's ability to survive as an independent going concern.
We do believe that Tesla may have to issue one more secondary offering of securities in 2013 in order to bolster its cash position; in cash its lofty projections do not work out because we believe that economic weakness may potentially generate negative headwinds in the automotive industry and may result in reservation holders declining the opportunity to formally configure and order their car(s).
Disclosure: I have no positions in any stocks mentioned, and no plans to initiate any positions within the next 72 hours. I wrote this article myself, and it expresses my own opinions. I am not receiving compensation for it (other than from Seeking Alpha). I have no business relationship with any company whose stock is mentioned in this article.
Additional disclosure: This article was written by an analyst at Saibus Research. Saibus Research has not received compensation directly or indirectly for expressing the recommendation in this article. We have no business relationship with any company whose stock is mentioned in this article. Under no circumstances must this report be considered an offer to buy, sell, subscribe for or trade securities or other instruments.