Since sparring on CNBC last month, hedge-fund legends Carl Icahn and Bill Ackman have stolen headlines, and the battle has moved on to Herbalife (NYSE:HLF). With claims of a Ponzi scheme on one side of the battle countered by claims on the other side of selling the American dream and enabling entrepreneurs, the battle between Ackman and Icahn has resulted in a wild ride in shares of Herbalife. Still, with all the noise, we're sticking to the fundamentals.
On Tuesday, Herbalife reported that fourth quarter revenue rose 20% year-over-year to $1.1 billion, significantly higher than consensus estimates. Earnings jumped 22% year-over-year to $1.05 per share, easily exceeding consensus expectations. For the full year, the company grew sales 18% to $4.1 billion, while earnings were 23% higher at $4.05 per share. The company generated $445 million in free cash flow, which the company has used to repurchase 4 million shares since December 31.
| | | | |
| --- | --- | --- | --- |
| Revenue | 2011 | 2012 | YoY |
| North America | $698,631 | $ 841,243 | 20% |
| Mexico | $436,930 | $ 496,101 | 14% |
| South and Central America | $554,439 | $ 688,799 | 24% |
| EMEA | $615,180 | $ 627,801 | 2% |
| Asia Pacific | $938,590 | $ 1,139,867 | 21% |
| China | $210,767 | $ 278,519 | 32% |
Revenue growth was strong across the board, particularly in China, where sales jumped 32% compared to the prior year. Sales in the broader Asia-Pacific market increased 21%, exceeding $1 billion. If we assume the legitimacy of the financial results, it's clear that Herbalife's business model is working exceptionally well at this time (Image Source: HLF).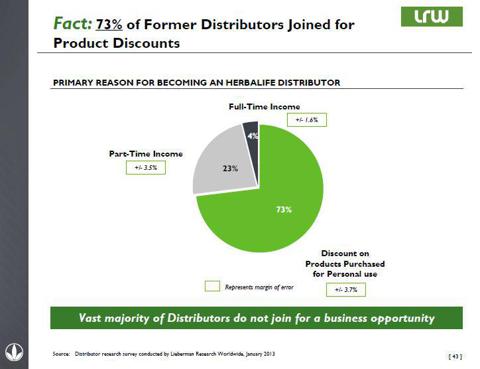 In fact, one of the major complaints Ackman has against Herbalife is that its revenue growth is driven by distributors purchasing the product - something Herbalife doesn't dispute (shown above). Of course, if that is the case, and "distributors" are signing up for discounts, it speaks to the quality of the product, which the bears tend to think is not high.
Still, that doesn't mean that we totally buy the bull case for Herbalife. Ackman publishes an entire website stating his bear argument, most of which centers on the fact that Herbalife inappropriately delivers delusions of grandeur when people sign up to become distributors. It is also curious, to us, that Herbalife does minimal advertising and compares itself to the likes of Disney (NYSE:DIS) and Nike (NYSE:NKE), as shown below.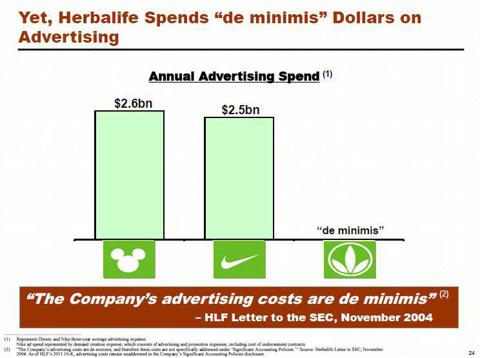 We also agree with Ackman that Herbalife is in the business of selling commodity products. However, that doesn't mean that industry-wide margins for these commodity products can't be fantastic for the foreseeable future. Both GNC (NYSE:GNC) and the Vitamin Shoppe (NYSE:VSI) earn strong gross margins on their generic vitamins and powders; in fact, it may just be that the business is bursting with near-term economic profits (ROIC less WACC).
Herbalife provides a defense against Ackman's allegations (click here), and the company has shown no real material weakness in accounting. The business has been running a fairly uninterrupted growth tract for the past 30 years, and we do not believe the business is prone to collapse overnight. We think Ackman sees this battle in a moral light rather than in an investment framework, believing that his accusations against the company will result in some sort of action against the multi-level marketing industry.
The short case rests on the premise that regulatory action will take the stock to zero. Realistically, if current trends remain intact, the company anticipates it will generate revenue growth of 12%-14% in 2013, leading to earnings per share of $4.45-$4.65 for the year. Plus, Herbalife can use new cash to bolster its share repurchase program, and we could see earnings for the year even exceed the firm's forecast. And as the percentage of the float sold short increases, making the financing of short sales more expensive, Herbalife's buyback program could pave the way for a powerful move to the upside.
Though we have a slight bias toward the long side in this situation, we don't think it's wise to follow Icahn into the position or to join Ackman on the short side. In a situation so public and so volatile, we'd rather stay on the sidelines and look for situations with less downside risk. Herbalife won't be joining the Valuentum portfolio.
Disclosure: I have no positions in any stocks mentioned, and no plans to initiate any positions within the next 72 hours. I wrote this article myself, and it expresses my own opinions. I am not receiving compensation for it (other than from Seeking Alpha). I have no business relationship with any company whose stock is mentioned in this article.