In late 2010 when I was researching China's rise as an economic superpower, I was intrigued by its Diaoyu Islands Dispute with Japan. China was so perturbed over Japan's refusal to release a Chinese fisherman picked up in the disputed waters that it retaliated by denying rare minerals to Japan. The embargo led other countries to seek out other rare earth suppliers to lessen their dependence on China. As a result, Molycorp (MCP) and its Mountain Pass mine became key to U.S. national security interests. Mountain Pass had been closed a decade earlier due to a sharp deterioration in rare earth prices; backed by $1 billion from private equity investor, Resource Capital Funds, the mine was reopened again to take advantage of the dislocation in supplies. I also became enamored with Molycorp's mercurial CEO, Mark Smith, who had spent a quarter of a century working at Mountain Pass. Smith and Resource Capital invested time, energy and capital into Molycorp after it was nearly left for dead. They took the company public in 2010; Molycorp's meteoric rise to $77 per share made it the best performing IPO of 2010. According to the Forbes article "Molycorp's $1 billion rare-earth gamble":
After the Chinese flooded the market with cheap rare-earth minerals, forcing Molycorp to close its mine, Chevron (NYSE:CVX) acquired the property in its takeover of Unocal in 2005. Three years later Resource Capital Funds, led by Ross Bhappu, the former head of business development at mining giant Newmont (NYSE:NEM), bought the mine, invested $1 billion, and hired Smith to lead the re-formed Molycorp. Their foresight was admirable: By 2009 plenty of people who months earlier wouldn't have known a lanthanide from a Land Rover were sounding alarms about the rare-earth shortage as the Chinese tightened exports.
Smith and Molycorp was a story made for Hollywood, so I thought. Since, the rare earth crisis has led to a gold rush as competitors like Lynas Corporation (OTCPK:LYSDY), Avalon Rare Metals (NYSEMKT:AVL), Rare Element Resources (NYSEMKT:REE), Arafura Resources (OTCPK:ARAFF), Quest Rare Metals (NYSEMKT:QRM), Great Western Minerals (OTCPK:GWMGF), Tasman Metals (NYSEMKT:TAS), and Ucore Rare Metals (OTCQX:UURAF) announced plans to bring new supplies to market. Meanwhile, demand and prices for rare earths have deteriorated. Through six months ended June 2012, Molycorp suffered a $51 million operating loss and experienced a decline in pricing of as much as 40%. In November 2012 the SEC began investigating the accuracy of Molycorp's public disclosures. In December 2012 Mark Smith resigned unexpectedly and Constantine Karayannopoulos, board vice chairman, was named interim president and CEO.
Done In By $1.2 Billion Neo Acquisition?
The market assumed the embarrassing SEC investigation led to Smith's departure; however, his resignation also came merely six months after Molycorp acquired Neo Materials Technology for $1.2 billion. Management claimed that Neo, affectionately renamed "Molycorp Canada," gave Molycorp new processing technologies in powders used in sophisticated high-performance bonded magnets, expanded production capacity and expanded its customer base. Financially, however, the Neo transaction has been underwhelming. According to the article "Are Molycorp's $1 Billion Intangibles Impaired?":
The Neo acquisition was made when rare-earth prices were more buoyant than they are today, created a higher expense burden at Molycorp, and created nearly $1 billion in intangible assets, including over $500 million in goodwill. That said, given that the company's operating losses may not abate any time soon, a portion of those intangible assets may be impaired ... Through nine months ended September 30, 2012, Magnetic Material and Alloys, the division where Molycorp Canada's financial results are reported, recorded a pretax loss (prior to intercompany eliminations and corporate overhead) of $2.4 million.
Rare Earth Price Deterioration Returns
The rare earth price deterioration that led to Mountain Pass's previous closing seems to have returned. In its January 23rd 8-K pursuant to its capital raise, management implied that fourth quarter 2012 revenue could be as much as 30% less than the previous quarter's: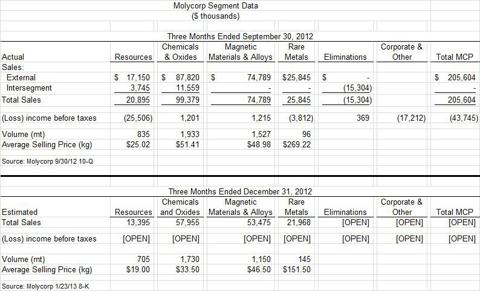 For the three months ended September 30, 2012, the company achieved revenues (prior to eliminations and corporate allocations) of $205.6 million and a pretax loss of $26.9 million.
For the three months ended December 31, 2012, volume, prices, and ultimately revenue were derived by taking the mid-point of management's estimates for volume and price per segment. The estimates were provided in Molycorp's January 23, 2013 8-K pursuant to its common stock offering.
That said, estimated revenue for the fourth quarter is $146.8 million, or about 29% less than the third quarter's. The pretax loss would also widen under such revenue decline.
Will Constantine Karayannopoulos Remove The "Interim" Tag?
Given Molycorp's current financial straits, the burning question is, "When will Mr. Karayannopoulos remove the 'Interim tag' from his CEO title?" If Mr. Karayannopoulos, who was CEO of Neo at the time of its purchase, refuses to become permanent CEO, then who will be his replacement? At the end of the day, the problems that Molycorp currently faces are strikingly similar to the ones that Mark Smith previously shepherded the company through. Whether Mr. Karayannopoulos or the next CEO has Mr. Smith's mettle, vision or willingness to invest substantial time and energy into the company remains to be seen. Given that many of Molycorp's competitors are still in the exploration phase and have yet to come to market, I believe the company is one of the few junior minors who will survive the coming rare earth shakeout. That said, the company's earnings release on February 28th and eventual earnings call will give management a chance to answer the CEO question, as well as shore up its estimates of 2013 revenues and cash flows. For those still on the sidelines, I recommend that you wait for further guidance from management in order to decide the appropriate entry point for the stock.
Disclosure: I have no positions in any stocks mentioned, and no plans to initiate any positions within the next 72 hours. I wrote this article myself, and it expresses my own opinions. I am not receiving compensation for it (other than from Seeking Alpha). I have no business relationship with any company whose stock is mentioned in this article.