Apollo Group (NASDAQ:APOL), more commonly known as the company that operates the University of Phoenix, is one of the largest for-profit education companies in the world. With over 300,000 students, the University of Phoenix is the largest private university in the United States. With a market capitalization over $2B and all these students, Apollo is certainly one big company worth looking at. So what else should you know about it as an investor?
Industry Outlook
For-profit education has been the second worst performing industry in the stock universe in the past year.

An industry's aggregate price does not fall 40% in a year without serious reasons. After performing exceptionally well during the years following the financial collapse of 2008 due to an influx of adult learners and returning soldiers desiring a job or promotion, times have changed. President Obama is committed to rooting out the unethical practices that plague the industry. A Congressional Report was released in late July, claiming that for-profits were wasting taxpayer money by deriving over 90% of their revenues from government subsidies and robbing students of an education by spending more on marketing than educational costs. The report includes an in-depth analysis of every company including Apollo. I highly recommending reading this before taking any action.
Many players in the industry including Apollo also face accreditation reviews and sanctions and could lose accreditation if they don't improve educational quality and reduce marketing expense. If the schools lose accreditation they may continue to operate without accreditation but will lose access to federal funding and likely lose most of their students. They could appeal the decision or seek accreditation from another accreditor as there are quite a few in the US.
Enrollment declines are really a result of the federal pressures and accreditation risks, but this is what is hurting for-profits right now. It is tough for them to improve educational quality by spending more when they have already lost a good deal of revenues due to loss of students.
Apollo - The Good

Obviously there must be some good things about Apollo or it wouldn't have been worth my research to even look into. The company is cheap right now at a P/E of 6.21 with a strong balance sheet. I valued the company assuming -5% revenues every year and still found stock to be worth $57 per share.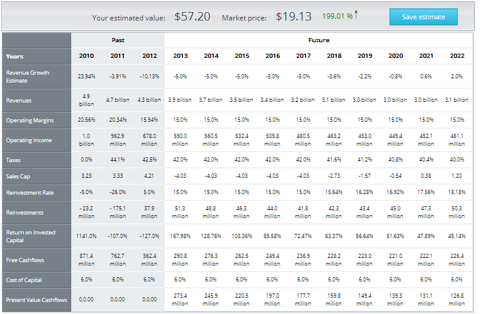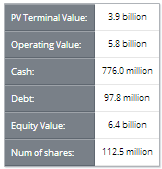 I know from a friend who is an analyst and spoke to the company's CEO and CFO that the company has serious plans of going overseas in a few years and is very enthusiastic about the plan. Now obviously a company will tell analysts anything to get a 'buy' rating, but I think overseas expansion would work out well for most for-profits. Overseas, they wouldn't receive US federal subsidies on their operations but the education quality outside of the United States is so much lower that they would have much less competition and could continue to keep the 'marketing first' business model. Chinese expansion seems especially appealing.
The company has a solid brand name in the University of Phoenix. I think everyone has heard of the college already so even if forced to market less the brand probably remains in tact.
The company also has shown a commitment to buying back shares, roughly 18 million shares per year or about 16% of total current shares outstanding.

What bothers me is that the buybacks were before the price dropped to current levels, at an average price of $42 per share. To me, this means the company didn't anticipate the disappointing results and obvious price drop that would ensue. A company that is surprised by how poorly it performs rather than anticipating and preparing for the results is not very appealing to me as an investor. Buybacks are a wonderful thing though, especially for Apollo which has a low ROA at 14%, so not much incentive to reinvest.
The company recently closed nearly half its ground locations and investors took the news as very bad, but I think the initiative is great. It plans to save $300M per year by 2014 by doing so and apparently the closures will only impact 4% of its students. Seems like a nice tradeoff to me.
The Bad
After presenting a company that's 66% undervalued based on conservative estimates, there must be good reasons why this company is so cheap.
The biggest things weighing down company right now are falling enrollments, which have dropped 15% in the last year, and accreditation sanctions. The Higher Learning Commission, Apollo's accreditor, has placed the company on sanctions and is reviewing the University of Phoenix's accreditation status. If U of Phoenix loses accreditation, I don't think Apollo will be able to survive.
I mentioned before that the company has a strong balance sheet with $800M in cash. This is true but there are claims on nearly all of this cash.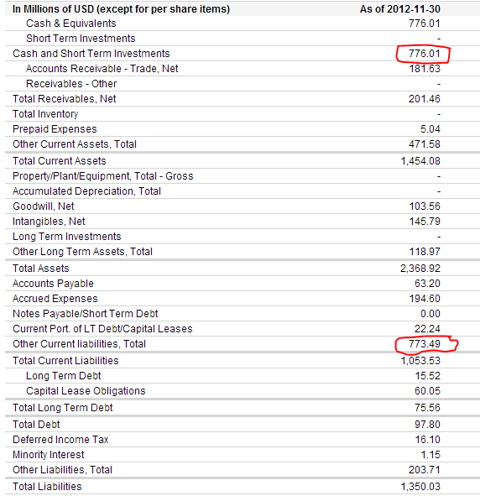 The company also isn't undervalued at all if valued by comparing P/E and earnings growth as Peter Lynch tells us to do. Annual EPS growth in the past 5 years was 6% and I don't expect much more than that (probably less) in the next 5 years considering the enrollment declines. Compare 6% growth to a P/E of 6.21 and the company is actually overvalued.
The company will suffer when the government changes the 90-10 rule, which limits for-profit revenue from government subsidies to 90% of total revenues. The likely case is that it will be changed to 85-15 but a more harsh change is possible. The company currently derives 88.7% from the federal government and so 3.7% of revenues will be lost from that alone. They will also suffer from the increases in educational spending they will have to institute to maintain accreditation, if they even manage to maintain it.
Besides the obvious negatives like poor growth and declining enrollments, I'm really just not impressed with the company overall. There are other for-profits with virtually the same risk situation as Apollo but much better balance sheets, past performance, and considerably less enrollment loss. The first company that comes to mind is Bridgepoint Education (NYSE:BPI). ITT Educational Services (NYSE:ESI) also has plenty of potential despite a recent price jump. I always think of investment opportunities in terms of opportunity cost. What's the next best company I could have my money in? Here, the opportunity cost of investing in Apollo makes it seem like a bad move. I don't think this company is terribly overvalued, in fact it probably is 30-40% undervalued, but I don't like the risk-reward, especially when there are better alternatives, even within the for-profit industry. I say its a value trap but you may think differently. Beauty lies in the eye of the beholder.
Disclosure: I have no positions in any stocks mentioned, and no plans to initiate any positions within the next 72 hours. I wrote this article myself, and it expresses my own opinions. I am not receiving compensation for it (other than from Seeking Alpha). I have no business relationship with any company whose stock is mentioned in this article.