Yesterday we did not initiate our trade in Silver Wheaton and that is why there was no comment either here or via our twitter feed (@theinvestar). When a stock opens up higher like that we are not buyers in the early morning and if it comes back down to our initial interest price near the close, we are once again not buyers. It is best not to buy a stock which has experienced weakness on weakness, nor on a lot of strength in a trading session when the rest of the market is facing headwinds. It is something that we have learned over the years and a strategy which we find ourselves deploying more often than not.
Commodity prices this morning are as follows:
Gold: $1579.60/ounce down by $1.00/ounce
Silver: $28.775/ounce down by $0.076/ounce
Oil: $93.16/barrel down by $0.32/barrel
RBOB Gas: $3.061/gallon down by $0.0245/gallon
Natural Gas: $3.253/MMbtu up by $0.007/MMbtu
Oil & Natural Gas
One of our cardinal rules has always been to ride our winners and pare back on our losers. From time to time we break that particular rule and justify it with another one of the cardinal rules that you never lose money by taking profits. Obviously there is the opportunity cost of not getting those profits and not being able to redeploy that capital into an investment with comparable returns. This is the situation with PDC Energy (NASDAQ:PDCE) which rose after we sold and each time it has fallen below the level at which we sold has rallied strongly. Such was the case yesterday as the shares fell through the $40/share level as we watched our trading screen and we thought, "well, that is that," and moved on. When we checked back in we noticed that the shares had reversed only shortly after that and rallied from $39.92/share (the low for the day) and actually finished at $42.66/share. We have to give credit where credit is due and recognize the strength here at this time. We are still of the opinion that PDC has a higher valuation than other players and faces headwinds which will cause a correction in the future, but right now as it stands we were wrong (even though the shares are only a 1/2% higher than where we sold, we admittedly were wrong about the top by 5-7%).
Also in the oil patch yesterday was news that Linn Energy (LINE) would be purchasing Berry Petroleum (BRY) in a deal valued at $4.3 billion, including the assumption of debt. Volume in the shares shot up on the news as is customary, and Berry closed at $46.02/share after having risen $7.43, or 19.25%, on the session. This is big news as it represents the first acquisition of a C-Corp by an upstream LLC or MLP, as the parties were quick to point out. This transaction will add to cash flow and allow the combined entity to increase its distribution to shareholders by almost 10%.
We noticed on our trading screen yesterday that Magnum Hunter Resources (MHR) was green all day, even when the rest of its peers within the oil and natural gas sector were red. We could only find an article discussing Jim Cramer's take on the company so we figure that must have been it. We bring this up this morning because Magnum Hunter will be reporting earnings on Monday and based off of the recent news releases and results from the company it appears that this should be a good conference call for investors to listen to. Our opinion is that readers should mark their calendars and block off some time to either listen to it or read the transcript.
Precious Metals
Yamana Gold (NYSE:AUY) finally rebounded yesterday after their results came out and it gave us reason to be optimistic of the precious metals, as readers know we are at these prices. This is one of our favorite gold plays and lately it has performed poorly, but so too has the entire industry and this is normal for commodity stocks to trade in tandem with their underlying commodity. When the rebound comes we would expect to see Yamana pop, and once again become a leader as they are one of the better run gold companies, in our opinion. For those who did not have a chance to listen to the company's conference call, the transcript is located here.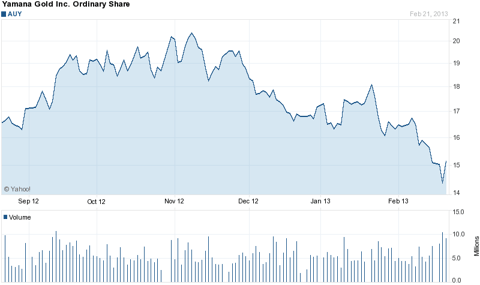 Chart courtesy of Yahoo Finance.
Gold Fields (NYSE:GFI) fell $1.54 (14.94%) yesterday on volume of 9.1 million shares. They have spun off Sibanye Gold and are no longer the same gold company they were before. It is not one we follow closely, but we just wanted to point this out as we did receive an email from a reader who was unaware of the recent spin-off.
Disclosure: I have no positions in any stocks mentioned, and no plans to initiate any positions within the next 72 hours. I wrote this article myself, and it expresses my own opinions. I am not receiving compensation for it (other than from Seeking Alpha). I have no business relationship with any company whose stock is mentioned in this article.