Global emerging market (NYSEARCA:GEM) dividend ETFs are a unique category of funds. Firstly, the indexes all differ. Secondly, why would we invest in emerging markets for dividends in the first place? We can debate the merits of a dividend-oriented strategy (in emerging markets) for hours so perhaps the best approach to evaluating the funds is to take a look at them.
GEM Dividend/Income ETFs

Index construction varies
There are three GEM dividend ETFs. WisdomTree's Emerging Markets Equity Income (NYSEARCA:DEM) ETF dominates the segment and is the 5th-largest emerging market equity ETF. WisdomTree is a self-indexed ETF provider that indexes DEM's portfolio according to valuation (preferring value), dividend contribution and demonstrated growth of dividends. The current portfolio over-weights Taiwan and Russia and sectors like financials, energy and materials. DEM also has more exposure to China than its peers.
Morningstar recently expressed its concern about DEM's exposure to state-owned enterprises in China and Russia. It is right. A look at DEM's top-10 holdings shows positions in three Chinese state-owned banks (China Construction Bank, ICBC and Bank of China) as well as a 6% position in Gazprom, Russia's state-controlled gas monopoly. These companies are cheap and pay dividends. They are also directed by social policies instead of run for shareholder returns. We could go on about the quality of 'management' at these companies but the point is these companies and markets look increasingly like value traps.
SPDRs S&P Emerging Market Dividend (NYSEARCA:EDIV) uses a simpler methodology that favors more pure high-dividend yielding companies with large free-floats. As a result it has higher utilities sector exposure and over-weights in Brazil (24% of current assets) and South Africa. EDIV has the highest trailing dividend yield of the group, which is in part a testament to how unloved the stocks in its portfolio are.
iShares Emerging Markets Dividend (NYSEARCA:DVYE) is the lowest-cost fund of the group and the newest entry. The fund follows the Dow Jones Index, which results in relatively broad sector diversification and a high exposure to Taiwan (26%) and Brazil. The fund has little exposure to energy and Russia, and relatively low exposure to China and state-directed enterprises.
Yields are unexciting
What may surprise readers are the unexciting dividend yields of the GEM dividend ETFs, which range from 3.5% - 5.4%. These yields are lower than emerging market debt funds like Powershares Emerging Markets Sovereign Debt (NYSEARCA:PCY) and WisdomTree's Emerging Market Local Debt (NYSEARCA:ELD), which carry lower risk. The yields are slightly higher than broad benchmark ETFs like Vanguard FTSE Emerging Markets (NYSEARCA:VWO) and SPDRS S&P 500 (NYSEARCA:SPY) but hardly exciting.

Lackluster performance recently
A look at returns shows that DVYE has outperformed the peers and benchmark iShares MSCI Emerging Markets (NYSEARCA:EEM). SPDRs S&P EDIV has been the laggard due in part to its overweight in Brazil and the relatively weak performance of emerging market utility stocks. As governments seek more populist policies, tariff increases on essential utilities tend to get pushed back to the detriment of shareholders. Did I say that before?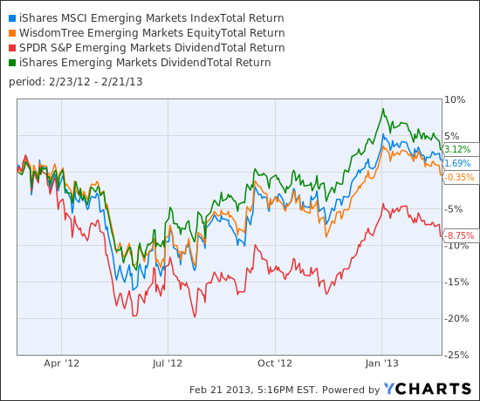 Liquidity is good. DEM trades nearly $40m/day while EDIV trades around $6m/day and DVYE trades close to $1m/day. Larger institutions will prefer the larger funds but smaller investors can still find liquidity in DVYE.
Yields do not justify risk
It's hard to make a case for investing in GEM dividend ETFs. Yields are unappealing in comparison with broader equity markets and emerging market debt. Some portfolios are weighted toward state-directed industries like utilities, resources and banking. Finally exposure to cyclically driven markets like Taiwan, China, Brazil, and Russia, is high.
For investors with a disposition toward a dividend strategy, iShares DVYE gets my nod as offering the best value proposition of the group. It has more diversified sector exposure and lower exposure to riskier and more cyclical markets like China and Russia. Its track record out of the gate is also good and it offers the lowest expense fee.
Disclosure: I am long ELD. I wrote this article myself, and it expresses my own opinions. I am not receiving compensation for it (other than from Seeking Alpha). I have no business relationship with any company whose stock is mentioned in this article.