In a previous article, I discussed one of the most important metrics to analyze the silver industry, the actual cost of mining an ounce of silver, which can help an investor figure out whether it is time to buy SLV and/or the silver miners. In that analysis I used the 3Q 2012 financials to calculate the combined results of Coeur d'Alene Mines (NYSE:CDE), Hecla Mining (NYSE:HL), Pan American Silver (NASDAQ:PAAS), Endeavour Silver (NYSE:EXK), First Majestic (NYSE:AG), Silver Standard Resources (NASDAQ:SSRI), and Gold Resource Corporation (NYSEMKT:GORO) and come up with the average cost it takes to mine each ounce of silver.
It is an exciting time (well for me it is!) because now the silver miners are starting to report their earnings and we can get a feel for how costs are changing for the miners in the most recent quarter. That will also let us know if silver (and thus SLV) is a buy as it gets closer and closer to the true costs of production.
Real Costs of Production for PAAS - 4Q 2012
I'm not going to go over my complete methodology of determining these costs (you can read about it in my earlier post), but we do have an interesting development in PAAS's last quarters that will add a little bit of a complication for our true silver cost calculations - the dreaded write-down.
With write-downs, most companies play the "this is not the droid you are looking for" game and mention the expense but then ignore it for any meaningful calculations (e.g. If you ignore the $250 million we lost on our acquisition we had our best quarter ever!). I believe this is a very wrong way to look at total expenses and investors should use write-downs in assessing the miner's true costs of silver production.
We have to be careful because a write-down taken during one quarter (and expensed only during that quarter), may give us an inaccurate estimate of the costs of production. Though not perfect, one remedy to this issue that I like to employ is to amortize the expense for the year and only attribute 25% to the current quarter.
In the most recent quarter, PAAS had to write-down a chunky $100 million related to its Navidad project, which is reflected in the write-downs section. I understand that each investor may have their own opinions in regards to including or not including write-downs in the cost of production, so I have included a price that corresponds to each approach below. Choose whichever one you prefer, but my preference is the highlighted items which I believe most accurately reflect the total costs of production.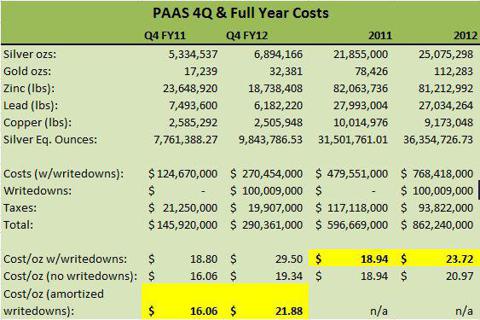 For Q4 2012 PAAS's amortized silver production costs rose to $21.88, which is 30% higher on a year over year (YoY) basis, it is actually lower than the 2012 yearly average cost of $23.72. What this means is that PAAS is actually doing a good job of controlling costs because you usually see costs rising over the year, not falling, so the fact that the latest quarter has a lower average than the total annual average is a good sign.
Conclusion
The whole silver mining industry is seeing its costs rise, but other than its $100 million write-down, PAAS's performance in terms of cost per ounce was pretty good. The company seems to be getting costs under control as evidenced by its 4Q costs being less than its yearly average. Also, when compared to last quarter's average silver miner costs (around $26/oz), PAAS is looking to be on the lower end with an average cost of $21.88 /oz for the 4Q and $23.72 for the year. I cannot say I'm surprised because PAAS tends to be a lower cost producer compared to the rest of the industry, but it is nice for PAAS investors to see that they are still maintaining themselves as one of the lowest cost primary silver miners.
Finally, for SLV investors who are more interested in the general costs it takes to produce an ounce of silver, PAAS's report is an early season indicator that silver mining costs are still rising. As more silver miner earnings reports come in, investors can start getting a better idea what the 4Q and FY2012 average costs are and how to position their portfolio accordingly.
Disclosure: I am long PAAS, EXK, SLV, HL, GORO, AG. I wrote this article myself, and it expresses my own opinions. I am not receiving compensation for it (other than from Seeking Alpha). I have no business relationship with any company whose stock is mentioned in this article.