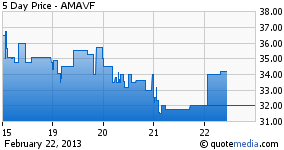 The February 22 announcement by Arcam (OTCPK:AMAVF) that they have formed a strategic alliance with DiSanto Technology, a privately-held U.S. manufacturer of implantable medical devices, represents both an expansion of Arcam's existing position in orthopedic device manufacture and a new foray into the selling of manufactured product. This has some positive short-term implications for Arcam, in that it includes sale of two EBM machines, but has potentially huge long-term ramifications for Arcam: Arcam seems positioned to become a manufacturer of implantable orthopedic and spinal devices, a potential billion dollar plus opportunity.
The Strategic Alliance
Arcam is a Swedish-based manufacturer of 3D printing equipment that produces products in metals such as titanium and cobalt chrome. The two largest sectors purchasing Arcam's machines have been the aerospace and medical technologies industries. Arcam machines have already been used to manufacture more than 30,000 orthopedic implants.
The new alliance is with DiSanto Technology, based in Shelton, Connecticut. DiSanto has been in business since 1967 and specializes in the manufacture of orthopedic and spine implants and instruments. DiSanto's financials are not public, but it is categorized as a business with 51 to 200 employees. DiSanto describes itself as a major supplier to U.S. orthopedic companies of complex implants and tools made with titanium and cobalt chrome.
Specific details of the strategic alliance will be described in a document to be released prior to an extraordinary general shareholders meeting that will be called for the purpose of approving this transaction. The February 22 announcement makes it clear, however, that in exchange for DiSanto receiving financing to purchase Arcam equipment, Arcam will initially receive a minority ownership in DiSanto as well as a two year option to purchase DiSanto in its entirety.
Arcam and DiSanto have already announced that their alliance will have booths at the American Academy of Orthopedic Surgeons (AAOS) annual meeting in March, and at the Orthopedic Manufacturing Technology Conference (OMTEC) in June (both in Chicago, IL, USA). I believe this indicates that they will be prepared to sell product almost immediately.
The Orthopedic and Spinal Implant Market
The good news is that the overall market for orthopedic and spinal implants is large and growing. A cautionary note is that the business of manufacturing implants is distributed between many companies with little apparent competitive differentiation.
Bone and joint disorders are the leading cause of disability in the United States, leading to market growth for orthopedic and spinal implants. There are dozens of types of orthopedic and spinal implants. The size of the global market for orthopedic implants is variously estimated to be about $20 billion currently, to be growing at an annual rate of about 8%, and has the potential to more than double in the next five years. Knee and hip implants, a major part of this market, is expected to grow long-term due to rising awareness of the procedures, surgeons being trained in the procedures, increased ability to customize implants, growing use by younger patients, and expansion to new international markets (especially India, China, Latin America, Russia and Eastern Europe). The U.S. is currently the largest market for orthopedic and spinal implants.
Yet orthopedic and spinal implant products are increasingly viewed as commodities, with little differentiation seen between the products of the fifteen largest companies that comprised 95% of the 2009 market. In recent years, innovations have been incremental. Nevertheless, prices for implants remain high. As a result of large and growing demand, as well as strong pricing, the largest orthopedic implant makers each generate annual sales of several billions dollars.
Opportunities and Risks for Arcam
The opportunities for Arcam created by the strategic alliance with DiSanto are huge, but the risks are also significant.
As a seller of 3D printing technology to orthopedic and spinal implant manufacturers, Arcam's opportunity was selling maybe dozens of printers over several years, each at a million dollars, along with support services and consumables - perhaps $50 million spread over five years. As a part- or full-owner of a an orthopedic and spinal implant manufacturer, Arcam might sell fewer 3D printers, but now has the potential to build a business worth hundreds of millions or even billions of dollars.
The crux of whether this is a good bet for Arcam rests on whether its new strategic alliance can manufacture implants at a competitive cost and to what extent the flexibility and customization enabled by 3D technology creates a differentiable advantage over competitors using traditional subtractive manufacturing capabilities. It is conceivable that this alliance could attain a significant competitive advantage that could lead to billions of dollars of annual revenues, but this seems to be a long shot due to the commoditization of the implants market and the lack of price competition. We will have to stay tuned.
Implications for Arcam's Valuation
With Arcam's stock trading at about $34, the market value of Arcam is about $125 million. I estimate that their 2013 EPS will be $1.08 which translates to a forward p/e of 31.5. The strategic alliance with DiSanto is unlikely to have a material impact on 2013 financial performance. However, it is one more reason to believe that Arcam's future value may be far greater than its current value.
Disclosure: I am long OTCPK:AMAVF. I wrote this article myself, and it expresses my own opinions. I am not receiving compensation for it (other than from Seeking Alpha). I have no business relationship with any company whose stock is mentioned in this article.