Copper Predicted to Rebound in 2013
Although copper prices hit a one-month low this week, we believe the broader global trend bodes well for copper prices to rebound through the remainder of 2013. The convergence of emerging market demand, a global boom in infrastructure development and a constraint on new supplies of copper will push copper prices higher.
Prices will be influenced by demand from China and emerging markets, economic activity in the U.S. and other industrialized countries and especially a renewed international and U.S. push to rebuild global infrastructure.
Limited New Supplies of Copper
A major factor will be the timing of new supplies of copper and production levels of mines and copper smelters. Companies that have a high leverage to copper prices will benefit immensely from the potential demand for the metal in the developing markets. We believe that a slowdown in developing new copper supplies presents a major investment opportunity. Copper mining stocks that are well positioned to capitalize on this slowdown and poised to quickly develop new supplies of copper represent a significant investment opportunity.
Temporary Weakness, but Strong Outlook
Weaker-than-expected U.S. housing construction data and worries about China's real estate market fueled concerns about future demand for copper. China accounts for 40% of global copper usage. And real estate construction is a major drive of copper demand. This week's $3.63 per pound price on the Comex division of the New York Mercantile Exchange is the lowest traded price since January 17.
Traders still see positive signs in the U.S. housing report, however. Compared with a year ago, new U.S. home sales were up 23.6%. Investors follow construction data closely for clues about future demand for copper. Analysts at Goldman Sachs said in a report, "The ongoing structural recovery in U.S. housing activity is set to be an important contributor to global copper demand growth (as well as market sentiment) in 2013, and should be a bullish drive of copper prices." Goldman reiterated its forecast for copper prices to reach $4.08 per pound within the next six months.
Talk that China might introduce new restrictions for its property market also drove copper prices lower. Some local Chinese governments set limits on mortgage lending to dampen speculation as property prices in major Chinese cities rose for the first time since 2011.
Copper Prices Correlate Strongly to Economic Outlooks
Copper ranks third after iron and aluminum in terms of consumption of industrial metals. It is particularly important for infrastructure development. Construction comprises the single-largest market for copper, followed by electronics, transportation, industrial machinery and consumer products. We witnessed record high prices for copper from 2006 to 2008 as growing demand from emerging economies and, in particular, China powered a surge in prices and very low inventory levels. Then prices dipped in December 2007 to a low of $1.26 per pound due to the U.S. financial market crisis, concerns about the global economy and reduced consumption. However, Copper prices bounced back to an average of $4.00 per pound in 2011 and averaged $3.61 per pound in 2012 - a drop of 10% from 2011. This drop reflected concerns about China's slowdown, the European sovereign debt crisis and a sluggish U.S. economy.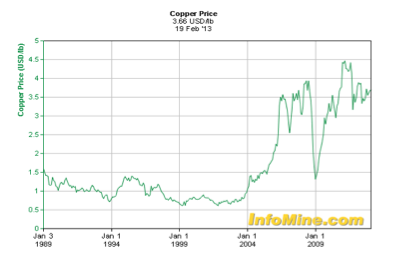 The drop in price has hurt the results of major copper producers like Freeport-McMoRan Copper & Gold (NYSE:FCX), Southern Copper (NYSE:SCCO) and Newmont Mining (NYSE:NEM) - all of which suffered in 2012.
Long-term Bullish View on Copper
Nevertheless, in spite of its volatility, we have a long-term bullish view on copper. Our perspective is supported by copper's widespread use in construction, limited supplies from existing mines and especially the absence of major new development projects.
Zack's Industry Outlook (Feb. 14, 2013) stated that all signs point to a recovery in copper prices driven, in part, by accelerated production among Chinese manufacturers. Morgan Stanley predicts copper prices will rise 7.6% in 2013 to $3.88 per pound or $8,554 per metric ton [MT], up from $7,952 in 2012. HSBC's chief economist, Hongbin Qu, said last week that, "Despite the still tepid external demand, the domestic-driven restocking process is likely to add steam to China's ongoing recovery in the coming months." And Bloomberg reported that the forecast for rising copper prices is based on anticipated demand increases from China, the U.S. and even Europe.
Global Infrastructure Investments will drive Copper Higher
The push to expand global infrastructure is a key indicator in our belief that copper prices will continue to push higher through the remainder of 2013. Consider these key indicators driving global infrastructure investments:
Emerging Markets. Growth in the emerging markets, particularly China and India, was a major driver of copper demand over the last few years. However, of late, demand in China has slowed down. China's recent $150 billion infrastructure stimulus has helped improve the sentiment somewhat and holds promise for the metals and mining industry going forward, as we note below. This global economic slowdown is the biggest headwind for the metals space overall at present. Nevertheless, the long-term picture remains a lot more promising as the emerging market economies are expected to get back in shape with the help of expected fiscal and monetary stimuli.
China's Infrastructure Expansion. China's economy is beginning to rebound even though the pace of the recovery will be slower than previous periods. China's new leadership recently announced fresh stimulus measures that will likely bolster demand for copper. Although Chinese exports remain weak, the good news is that home prices and homes sales in China are rebounding. The new Chinese leadership has reiterated its support for a conventional mix of proactive fiscal policy and many analysts believe it will be successful in boosting growth from +7.8% in 2012 to +8.0% in 2013 and +8.3% in 2014. The implication for the construction market is that growth will continue. The stabilization in investment since mid-2012 has prevented China's slip toward a feared hard landing, supported by a V-shaped recovery in infrastructure, which hit a trough with a -4% contraction in the first two months of 2012, but is now increasing by nearly +15% year-on-year.
The main construction driver in China will continue to be infrastructure. Although the heyday of growth for China's construction market may be over, the sheer size of the market will keep it among the most attractive in the world for the foreseeable future. China's new leaders are pushing a new type of urbanization that has major implications for the construction sector and, in turn, for copper prices. In particular, their "intelligent city drive," which relies on modern information technologies such as telecommunications and cloud computing, will involved the building of intelligent systems serving a wide range of sectors from public security, healthcare, transportation and the power grid.
Group 20 Global Infrastructure Push. A hot topic this week in Moscow at the The Group of 20 agenda is an issue that has long affected emerging markets' economic growth plans: weak infrastructure. India has called for better infrastructure funding. Russia has made investment financing a priority on how to kick-start global growth. In emerging Asia, much-needed infrastructure projects fall through as a result of funding problems. The World Bank estimates that countries in the East Asia Pacific region need $400 billion of investment in infrastructure annually, while South Asia needs around $200 billion. Infrastructure spending will remain a key issue throughout 2013. This focus on construction will only serve to drive global demand for copper.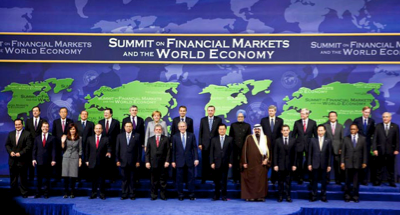 Obama's "Fix it First" Policy. President Obama's recent State of the Union plan to repair the nation's ailing infrastructure should not be overlooked. His "fix it first" policy calls for investing $50 billion in transportation infrastructure. Obama also called for the creation of a National Infrastructure Bank to bring public and private financing together to plan projects. Coupled with the U.S. housing recovery we touched on earlier, we believe the U.S. will certainly contribute to what we believe will be a growing demand for copper in 2013.
Bottom Line: The bottom line here is that the global push to rebuild infrastructure will almost certainly create a knock-on effect that will drive the prices of industrial metals higher. Copper promises to be at the forefront of that trend.
Supply Constraints will Drive Demand Higher
Copper prices will be heavily influenced by the timing of new supplies of copper and the production levels of mines and copper smelters. Companies that have a high leverage to copper prices will benefit immensely from the potential demand for the metal in the developing markets. Cost inflation in the sector is also expected to be a headwind for metal and mining companies over the next several years, driven by a number of factors such as labor, energy, ore grades, currencies, supply constraints and taxes. Plus, global economic uncertainties, softening commodity prices and higher input costs are increasing the pressure on company margins.
To counter all this, mining and metals companies must constantly review their portfolios to identify underperforming assets and shut down or divest high cost and non-core assets. Industry consolidation, automation technology, owner-operated mines and investment in energy assets are some of the steps that companies can take to offset to the impact of rising costs.
Production drops for World's Largest Copper Company
Expanding copper mining production continues to be a challenge for Chile's Codelco, the largest copper producing company in the world. Codelco (the National Copper Corporation of Chile) is the Chilean state-owned copper mining company, formed in 1976 from the foreign-owned copper companies that were nationalized in 1971. Codelco produced 1.66 million tons in 2007 - 11% of the world total. It controls about 20% the total global copper reserves. It recently reported that its own production dropped in 2012 to the lowest level in four years. And figures from the last monthly newsletter issued by Cochilco (Chilean Copper Commission) show that the state-owned copper company produced a 5.1% less copper in 2012 if compared against 2011. According to CEO, Thomas Keller, Codelco's 2012 production was down primarily due to "dwindling ore grades" in all its deposits. BHP executive, Peter Beaven, recently told an industry gathering in Santiago, "Mining in Chile is at a turning point as the industry requires large expenditures just to maintain throughput."
Copper miners across the globe continue to expand production. Grupo Mexico (OTC Pink:GMBXF.PK) plans to spend $2 billion on its mining division this year, a portion of which will go
10 Biggest Copper-Producing Countries

Country

2010 Production

(000 metric tons)

1. Chile

5,427

2. China

1,247

3. Peru

1,246

4. U.S.

1,136

5. Australia

873

6. Indonesia

872

7. Zambia

808

8. Russia

622

9. Canada

478

10. Kazakhstan

434

Source: CRU
toward the company's Buenavista mine in Northern Mexico. The company wants to produce 1.4 million metric tons of copper per year by 2015, Reuters reported. BHP Billiton (NYSE:BHP) expects its copper production to increase in 2013 and 2014 by a 10% compound annual rate, largely driven by its Escondida mine in Chile, which is on track to increase its production by 20%.
Freeport-McMoRan's fourth-quarter net income rose 16%, to $743 million, as sales in the previous year were depressed by labor disruptions in Indonesia. The company aims to grow its annual copper production to over 5 billion pounds per year in 2015 from 3.66 billion pounds in 2012, and expects its $20-billion acquisition of Plains Exploration & Production (NYSE:PXP) and McMoRan Exploration (NYSE:MMR) to close in the second quarter of this year. Union workers at two of Southern Copper's (NYSE:SCCO) properties in Peru may go on strike if they don't reach an agreement with the company within 15 days, Fox Business reported, citing a union leader.
China's Jiangxi Copper (SSE:600362) and Japan's Pan Pacific Copper said mining companies will pay "at least 10% more in fees" to process copper this year, China Daily reported. And Chinese mining companies have invested more than $1 billion in copper. Newmont Mining (NYSE:NEM) expects gold and copper production in 2013 of approximately 4.8 million to 5.1 million ounces and between 150 and 170 million pounds, respectively. The company plans to spend up to $2.3 billion on various projects this year. Sierra Metals (TSXV:SMT) announced that in 2012 its copper production rose 51%, to 15.9 million pounds, from the year before. For 2013, it expects copper production of up to 23.1 million pounds.
Bullish Stance on Copper
Notwithstanding the current volatility in prices, we have a long-term bullish stance on copper, supported by its widespread use, limited supplies from existing mines and the absence of significant new development projects. Prices will be influenced by demand from China and emerging markets, economic activity in the U.S. and other industrialized countries, the timing of new supplies of copper and production levels of mines and copper smelters. Companies that have a high leverage to copper prices will benefit immensely from the potential demand for the metal in the developing markets.
Disclosure: I have no positions in any stocks mentioned, and no plans to initiate any positions within the next 72 hours. I wrote this article myself, and it expresses my own opinions. I am not receiving compensation for it (other than from Seeking Alpha). I have no business relationship with any company whose stock is mentioned in this article.