I know some people will view this article as a sure sign that the top is in. Keep in mind, however, that I have been a raging bull since July 2009 when I realized that the market wasn't coming back and was ignoring bad news permanently. In the almost 4 years since, we have had numerous things thrown at the market and yet it has crept higher and higher. The latest negative news are the fears of sequestration, a supposed all time high in bullish sentiment (more on that later), a crash in Apple (NASDAQ:AAPL) being a sure precursor to pain in the overall market, and fears about supposed currency wars.
Misguided Gurus
For the past 4 years now the general public has missed huge gains in the market because of their own bias clouding objective thinking and because of the excessive fear spread by bloggers and the media alike. From Porter Stansberry's ridiculous calls for the End of America to Bob Prechter's ongoing claims of imminent collapses in the market to the latest diatribe from Marc Faber about how the markets have peaked (didn't he say that in 2009, 2010, 2011, and 2012?), the general investing public has been bombarded by these seemingly eloquent and smart "gurus" whose short thesis is so well thought out and convincing. As Laszlo Birinyi often says, the "short thesis is always the more articulate one". But facts are facts. And speaking of them, let's look at the facts.
Historical S&P Data
Take a look at the data below, which includes the earnings yield, dividend yield, price of the S&P 500 at the end of the year, S&P 500 earnings, and dividends for the past 53 years.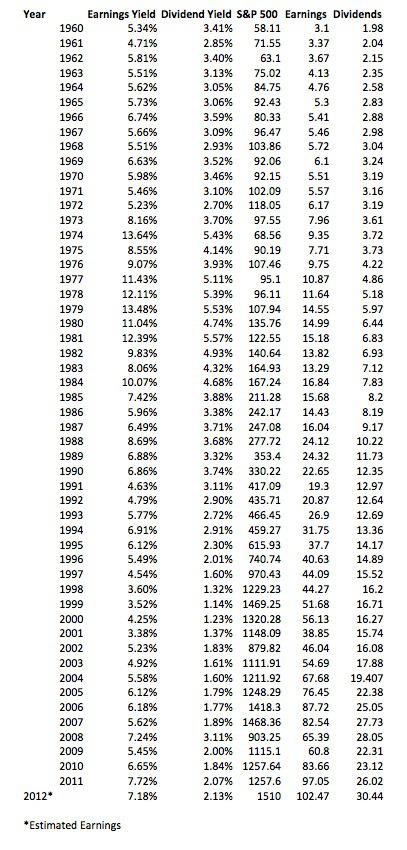 In looking closer at this data to get a sense of where we currently stand as compared to historical averages, I examined the price to earnings ratios and earnings yields for the above period. In order to exclude anomalies or outliers, I excluded the top and bottom five years of P/E ratios and earnings yields. So for example, I excluded 1997 through 2001 in my calculation of average P/E because they tended to skew the data upward and likewise I excluded 1974, 1977-1979, 1981 because they tended to skew the data downward. In doing this I think I can get a truer sense of what an average multiple is.
As you can see in the data below, using the current S&P price of 1,510 and estimated earnings of 102.47, I arrived at a current P/E ratio of 14.74 and an earnings yield of 6.79%. After excluding the outlying years, the averages for both are 15.92 and 6.57%, respectively. Highlighted in yellow is the current ratio and highlighted in red is where the average ratio stands.
So you can see that we're currently slightly below average P/E ratios and slightly above average Earnings Yields. To get to the average of either we would see upside of 3% to 8%. Not exactly a cause for celebration right? I agree, on paper.
What about Sentiment?
Let's look closer at the sentiment of people as this is what drives what people are willing to pay for stocks. The more optimistic people are about things, the higher the market's price to earnings ratio is and the lower its earnings yield is. The media has been pushing the latest news from AAII surveys and Bank of America's (NYSE:BAC) proprietary Bull & Bear Index which both suggest that investors are extremely bullish and indicate that it is a sign of an imminent top. I'm sorry but I completely disagree. I have been getting asked a lot recently how it is that the stock market can be doing so well when the economy sucks so badly. What this tells me is two things: (1) the average person is probably not heavily invested in the markets and (2) the average person doesn't believe the economy is improving.
I believe this sentiment stems from a few things:
(1) As mentioned above, the constant bombardment of bad news by the media. We all know that the media is in the business of making stories and what sells better than bad fear and panic?
(2) More people now get their news from blogs and Internet sites than ever before. Again, the preponderance of blogs and Internet news sites are focused on negative news because that is what sells.
(3) There are actually still some bad things that are going on in the world's economy so some of this is founded on truth. For example, Europe, Asia and Brazil are going through slumps. So when people read negative headlines out of Europe or China or Japan, their sentiment and bearishness gets reinforced.
Take a moment to read a bullish article online or watch a bullish video online and then read the comments below it in response to those articles/videos. I'm willing to bet that 90% of them are bearish or skeptical. People universally distrust government data, believe the Fed is the only reason stocks are going higher, and are convinced that the next shoe is waiting to be dropped. Does this in any way indicate to you that the sentiment is at all time highs as the AAII surveys or BAC's proprietary index suggests? Is the media coverage of the bull market so pervasive that it is the only thing you hear in the news? I call shenanigans on those surveys.
So Where is the Upside?
Since the general public in my opinion is far more bearish or skeptical than any investor survey will tell me, I like to consider what the possible bullish outcomes are.
(1) What if Europe can actually start growing?
This is a scenario that few people are considering. The fundamentals are putrid. Spain is abysmal with its 25% unemployment rate and sky-high debt levels. Italy is a basket case and according to Felix Zulauf (umm, when has he been right recently?) France is the next domino to fall. However, in looking at the stock markets of Italy, Spain, Germany, and even Greece, it's pretty clear to me that things are on the mend. As Jesse Livermore said, stocks don't lie, people do.
(2) What if the US housing rebound continues and frees up capital for banks to really start lending again?
The amount of leverage banks have to housing is really amazing. For years they have had to contend with falling home prices and negative sentiment. However, we're starting to get stories of real estate actually becoming a seller's market in places like Las Vegas and San Diego, two of the hardest hit markets over the past 8 years. Homeowners actually have reason to be optimistic now. And the economics of renting are still out of favor as interest rates are near all time lows, making the cost of home ownership lower in most states than renting.
(3) What if Japan's initiative to kick start inflation actually works?
After all, Japan is still the 3rd largest economy in the world, only slightly behind #2 China. Any growth in Japan could be a major boost to the world's economy. In looking at the Nikkei and Japanese ADRs like Sony (NYSE:SNE) and Toyota (NYSE:TM), it's evident to me that Premier Abe's fight against deflation is starting to work.
It's pretty universally accepted that US GDP growth will be subpar forever. If the above bullish scenarios come to fruition, though, what would be the impact on earnings and economic growth? Could we see GDP growth of 4 to 5% and earnings rise to $120 per share? Would that be what kick starts bullish sentiment and causes people to pay above average multiples for stocks? I, for one, can envision such a scenario where the market rises to 2,000 over the next few years.
With this in mind, I want exposure to Japan, Europe and the US. Of the stocks I've recommended in the past, I still like the beaten down names the best. I like Sony (tethered to a drop in the yen), Nokia (NYSE:NOK) (heavy exposure in Europe), YRC Worldwide (NASDAQ:YRCW) (I still consider this to be one of the best potential gainers in the market over the next few years), Travelzoo (NASDAQ:TZOO) (exposure to consumer spending and Europe), and I'm warming up to stocks like Veolia (VE) and Bank of Ireland (NYSE:IRE). Can we get a pullback? Absolutely. I'm not naive enough to think things will go up in a straight line. However, in looking at the bigger picture of where stocks are relative to historical averages and taking into account the general public's sentiment toward stocks, I believe we still have some way to go in this bull market.
Disclosure: I am long TZOO, SNE, YRCW, NOK. I wrote this article myself, and it expresses my own opinions. I am not receiving compensation for it (other than from Seeking Alpha). I have no business relationship with any company whose stock is mentioned in this article.