Today, I'd like to take a closer look at Mattel Inc. (NASDAQ:MAT). Founded in 1945, MAT is known for brands like Barbie and Hot Wheels. Fortune named MAT in its 2013 'top 100 companies to work for' list. Trading at $40.42, MAT is currently near its 52-week high of $41.31. Its market cap is $13.87 billion, more than twice that of Hasbro (NASDAQ:HAS). The financial data I used comes from MAT's quarterly reports. You can find these here. The graphs were all made by me, using Microsoft Excel.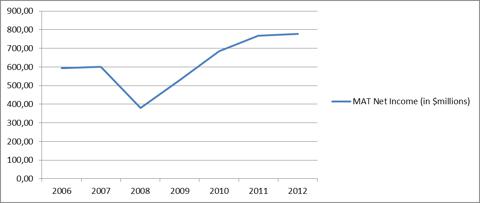 Let's start by looking at MAT's Net Income. The graph above shows us, that from 2006 to 2012, MAT has increased Net Income from $592.9 million to $776.5 million. This is an average yearly increase of 4.6%.

Next, we'll take a look at the EPS and dividend. EPS has gone from $1.55 in 2006 to $2.25 in 2012, increasing by $0.70, or an annual 6.4%. Dividend has grown faster, increasing an average 11.4% a year. Increasing dividend payments have caused the payout ratio to go from 41.9% in 2006 to 55.1% in 2012.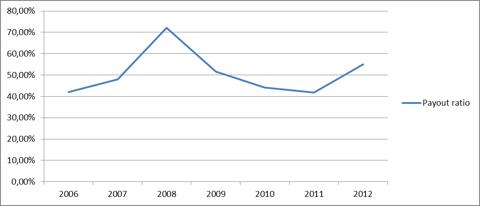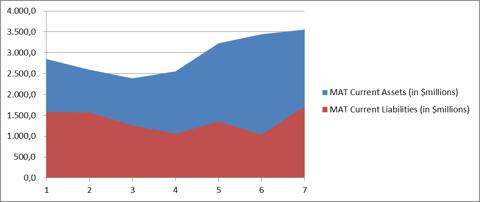 Current assets for MAT have increased by $705.7 million between 2006 and 2012, going from $2.8501 billion to $3.5568 billion. In the same period, current liabilities only increased by $133.5 million, going from $1.5825 billion in 2006 to $1.7160 billion in 2012. This has caused the Current Ratio, which is current assets divided by current liabilities, to go up from 1.80 to 2.07.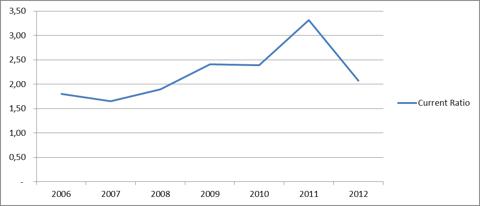 All things considered, I think MAT would be a good stock to own. Out of its current assets, over $1.3 billion is cash and cash equivalents. This will sustain MAT's dividend increases for a long time to come. With its most recent dividend increase to $0.36/quarter, I think I'll wait for MAT to go down slightly from its 52-week high. If I can buy MAT at $36 or below (It's taken a few dips below this point in recent months), it'll pay me a nice 4% dividend.
Share your thoughts on Mattel, Comment below!
Disclosure: I have no positions in any stocks mentioned, but may initiate a long position in MAT over the next 72 hours. I wrote this article myself, and it expresses my own opinions. I am not receiving compensation for it (other than from Seeking Alpha). I have no business relationship with any company whose stock is mentioned in this article.