Most investing articles focus on one or two specific stocks or offer a laundry list of potential research targets. Articles on Seeking Alpha concerning the utility sector are no different. However, it is important to dovetail specific utility selections into an overall sector approach and an overall portfolio strategy.
There are several distinct sub-sectors within the utility sector, each with potentially different investment characteristics. For instance, many investors buy utilities to add yield and income to their portfolio, but not all utilities offer the best yields. For example, water utilities historically offer about half the yield as regulated electric utilities. Gas distribution firms may also offer substantially lower yields than their regulated electric counterparts. The most widely viewed utility sub-sectors are:
Regulated versus Non-regulated
Regulated Electrical
Non-regulated Merchant Electrical Power
Regulated Natural Gas Distribution
Regulated Electrical Transmission
Regulated Water Distribution
International
Within the utility sector, investors can also choose investments based on underlying trends. For example, electricity pricing in the East Coast and Midwest is currently very depressed and electrical power in these markets is sold based on a rolling three-year auction. These specifics have put pressure on merchant power producers' profitability and there is not much of a turnaround seen until 2016. There is the potential for eastern U.S. merchant power producers to gain momentum as power pricing improves.
The low cost of natural gas used for electrical generation is also putting pressure on competitive coal-fired plants, hastening coal plant closings because their economics are becoming more unprofitable. Utilities with higher exposure to coal-fired plants will either have to increase capital expenditures to comply with tighter EPA regulations or close their plants. Smaller and older facilities are more likely to be mothballed than newer, larger facilities. Overall, upwards of 10% of all coal-fired power generation will be closed, and represents about 5% of total U.S. power generation. This reduction in generating capacity will drive electricity prices higher - eventually. The ability to replace coal-fired with "green" generating sources is problematic at best as the majority of coal facilities are used as "base-load" or consistent generators of electricity.
Wind and solar are unattractive as "base-load" facilities as wind is variable and the sun does not shine for a large part of the day. The countries of Europe are further ahead than the U.S. in deploying "green" power and the imbalance of power generation on sunny and windy days is starting to have a pronounced impact on electricity markets. From an article in Bloomberg in Sept 2011:
The 15 mile-per-hour winds that buffeted northern Germany on July 24, 2011 caused the nation's 21,600 windmills to generate so much power that utilities such as EON AG and RWE AG had to pay consumers to take it off the grid.

Rather than an anomaly, the event marked the 31st hour this year (2011) when power companies lost money on their electricity in the intraday market because of a torrent of supply from wind and solar parks. The phenomenon was unheard of five years ago.
According to Mario Gabelli, an investment manager and portfolio manager of the Gabelli Utility Fund (MUTF:GABUX), there are more U.S. utility companies than needed and has driven a consolidation within the in utilities sector. From GABUX 2010 Annual Report:
For several decades, utility companies have acquired other utilities and utility assets for the sake of gaining economies of scale and efficiency or divested non-core utility assets to focus on core competencies. Despite over 90 completed utility mergers/acquisitions since 1993, the electric and gas utility sector remains fragmented, with over 60 electric utilities and 30 gas utilities. This is 50 more than we need from the standpoint of economic efficiency.

The balkanized structure of the industry is inherently inefficient, and competitive forces combined with constant changes in regulatory policy pressure marginal players. The big companies feel the need to be bigger to achieve scale economies or gain a strategic benefit, while the small companies are selling out as the cost of staying in the game rises. It is only because of a complex and lengthy merger review and approval process that the industry remains as fragmented as it currently is. Our investments in regulated companies have primarily, though not exclusively, focused on fundamentally sound, reasonably priced mid cap and small cap utilities that are likely acquisition targets for large utilities seeking increased bulk.
In addition, as the merchant power market has been extremely weak since the recession began in 2008, many merchant power producers have been buying their regulated peers in an attempt to smooth out earnings and cash flow stream. Exelon (NYSE:EXC) and AES Corp (NYSE:AES) are great examples of this trend. Gabelli also offers an interesting list (pdf) of the larger utility merger deals over the past three years, since 1/1/10: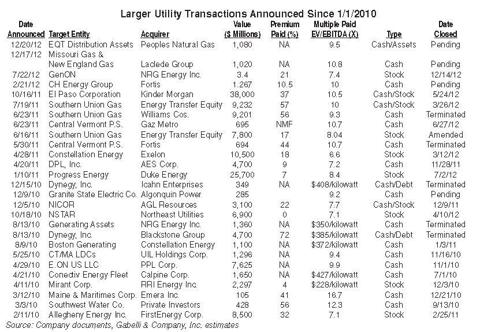 Within the water utility sub-sector, there is an underlying movement for the small municipal water district to sell out to larger publicly traded water companies. This trend is fueled by budget constraints and the cost to comply with stricter clean water standards, along with the need to upgrade aging water infrastructure. While a slow-growth subsector, water utility earnings are driven by acquisition expansion rather than organic growth, and this trend will continue for the near future.
A great place to find potential utility investments lies in the holdings of selected mutual funds and ETFs. For large-cap utilities, review the holdings of the S&P 500 Utility ETF (NYSEARCA:XLU). For small-cap utilities, review the holdings of the PowerShares Small Cap Utility ETF (NASDAQ:PSCU). As there is no ETF for mid-cap utilities, review this SA article that lists these companies. GABUX also offers an interesting list of utilities (pdf) that Gabelli believes may be part of the continuing consolidation trend. The latest holdings of GABUX, as of Sept 30, 2012, can be found here. The New York Times also provides a list of utilities by sector [Multi-line (diversified), Electric, Natural Gas, Water and Others] and can be found here.
As with all capital-intensive sectors, it is very important for investors to understand and review each company's return on invested capital (NASDAQ:ROIC) over the more readily available return on equity (ROE). ROIC incorporates shareholder returns on both total equity and total debt deployed by management. For example, a company with a debt to equity (D/E) ratio of 0.78 and a ROE of 7.5% has actually performed about the same for shareholders as a competitor with a D/E of 1.52 and an ROE of 10.5% as the former has a ROIC of 4.21% while the latter has a ROIC of 4.16%. The easy formula for calculating ROIC is: ROIC=ROE/(1+ (D/E)). Reuters.com offers both trailing 12-month and 5-year averages for ROE and current D/E ratios, and is easy to access under its "Financials" section of stock and company reviews.
It is important for investors to develop a diversified portfolio of utility companies that incorporate different market capitalizations and sub-sectors. For example, an investor could hold the following portfolio of utilities (this is not an exhaustive list, just an example of diversity in a utility portfolio):
Southern Company (NYSE:SO) - regulated electric, solid financials, excellent regulatory environment, exposure to southern U.S.;
Duke (NYSE:DUK) - regulated electric, above average yield
Exelon - regulated electric and merchant power, waiting for a turnaround in auction power market;
AES - regulated electrical with merchant power exposure;
National Fuel Gas (NYSE:NFG) - regulated natural gas with natural gas exploration;
Spectra Energy (NYSE:SE) - natural gas infrastructure;
ITC (ITC) - regulated electric transmission;
Aqua America (NYSE:WTR) - regulated water;
Algonquin Power (AQUNF, AQN.TO) - Canadian alternative energy and US water utility, expanding in the US;
Brookfield Infrastructure (NYSE:BIP) - international utility and infrastructure.
As many utility stocks are bumping up against their 52-week highs, and the utility sector as a whole has been strong over the past few years, it is important for investors to choose wisely. Developing a list of prospects with entry points below where they are currently trading may be a cautious and prudent approach.
The investment objective should be to generate double-digit annual total stock returns, but current share price valuations along with current yields may not allow for such a lofty goal.
Author's Note: Please review important disclaimer in author's profile.
Disclosure: I am long ITC, NFG, SE. I wrote this article myself, and it expresses my own opinions. I am not receiving compensation for it (other than from Seeking Alpha). I have no business relationship with any company whose stock is mentioned in this article.