Spain was under the spotlight of financial markets during the past summer, and a bailout seemed only a matter of time. However, measures by the European Central Bank (ECB) to stem the debt turmoil eased the worst strains and Spain managed to avoid having to ask for financial help from its European partners.
Currently, Spanish 10-year bonds yield slightly more than 5%, compared with a record high of 7.75% reached in July. This improved risk perception toward Spain was also evident in equity prices. Since the end of July, Spain's (NYSEARCA:EWP) equity market rose by more than 20%.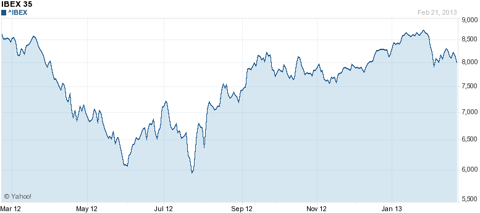 Source: Yahoofinance
Despite this apparent improvement observed in asset prices, Spain's key economic problems weren't resolved by the ECB's OMT programme. Namely, its low economic growth, high levels of private debt, high structural unemployment, and huge fiscal deficits remain to be a concern. Although financial conditions have improved considerably, this only means it may have solved Spain's liquidity problems but not its underlying solvency problem. So far the threat of the ECB's OMT programme has been enough for Spain to avoid foreign help, but it is unlikely to last longer.
Spain's Macroeconomic Overview
After the imposture of hard austerity measures to curb the budget deficit over the last few months, Spain's economic growth shrank for a sixth quarter in the last three months of 2012. It contracted 0.7% from the previous quarter, more than double the pace of contraction seen in the third quarter of 2012. The European Commission forecasts that GDP has declined 1.4% in 2012 and will contract as much this year. Given that Spain only started to apply harder fiscal consolidation in the second half of the year, the negative effects on growth should continue to depress growth in 2013.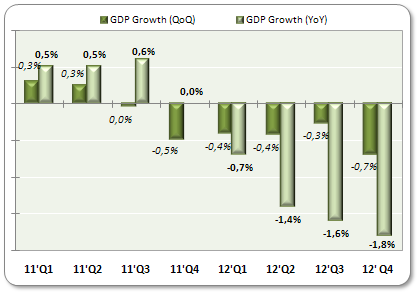 Source: Bloomberg
Although Spain was able to reduce its budget deficit, which is the second largest in the eurozone along with Greece, it still is very high at around 7% in 2012. If the aid to recapitalize Spanish banks is included, the fiscal deficit is close to 10%. Spain's fiscal deficit was 9.4% of GDP in 2011. This is in stark contrast to the years with budget surplus seen over the last decade. In 2014 the European Commission expects the fiscal deficit to be 7.2% of GDP.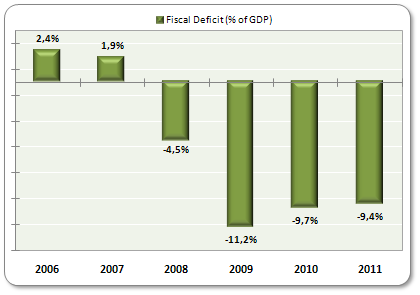 Source: Bloomberg
Spain's public debt has been for many years below the euro area's average, but more than doubled since an economic slump hit the country in 2008 when it was at around 40% of GDP. In 2011 it registered the sharpest increase on record to around 84% of GDP. The European Commission sees it rising to 101% of GDP in 2014.
Regarding the labor market the most recent data continue to reflect a sharp rise in the unemployment rate, which has already hit an all-time record. In the last quarter of 2012, the unemployment rate shot up a full point to 26%. Additionally, only over the last few months have been announced major redundancies, so there is little possibility that the unemployment situation will improve soon. For example, Vodafone (NASDAQ:VOD), which has 4,300 employees in Spain, recently announced it will cut 900 jobs due to declines in revenue. Also, banks and cajas are shrinking their branch networks with thousands of job cuts expected over the next couple of years.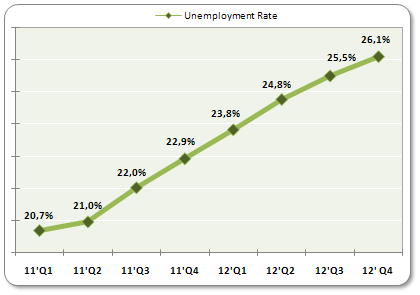 Source: Bloomberg
Other macroeconomic data also show a bleak picture. Industrial output dropped for the 16th consecutive month in December, falling 6.9% from a year earlier. Austerity measures are also taking their effect on households' consumption, as shown in retail sales data that fell 10.7% in December from a year ago, despite retailers trying to lure consumers with all sorts of special sales.
Another structural issue that affects Spain is the housing market. Spain continues to fix the housing bubble that burst in 2008. House prices have declined around 30% from the 2007 peak but appear to have further to go, as demand remains weak and the supply of banks' repossessed homes floods the market. With households constrained on future income, new housing purchases are naturally postponed. Not surprisingly, mortgage loans slid 32% in November year-on-year, and may continue to fall over the coming months due to a very weak economic and labor market outlook.
The ongoing correction in the housing market naturally takes its effect on Spanish banks' asset quality, with non-performing loans reaching successive record highs. Missed payments as a proportion of total loans rose to a record 11.4% in November, much higher than the previous record achieved in the crisis of mid '90s at 9%. In December NPLs dropped to 10.4%, after lenders transferred soured assets linked to real estate to the country's bad bank.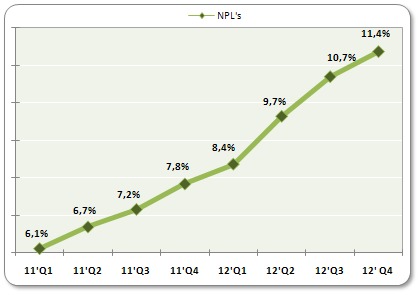 Source: Bloomberg
On the other hand, Spain is reforming and rebalancing itself as shown by its lower unit labor costs and an improving current account deficit. However, much of this reduction is cyclical rather than structural. With the unemployment rate at 26% it is easy to understand why wages are falling, and a part of the current account improvement is due to weaker imports. This improvement can be reversed if the economy recovers, leading again to a higher current account deficit.
Conclusion
Spanish economic fundamentals continue weak and the decline in its sovereign bond yields over the last few months is mostly derived from lower risk aversion instead of improved economic data. Given the poor underlying fundamentals, risks are clearly skewed toward higher yields in the near term.
Although Spain was able to resist a bailout over the last few months it continues to be under pressure to do so, and its economic fundamentals also suggest that it will be hard to avoid it. Spain is crucial to the future of the eurozone given that it is the fourth-largest economy, and has the potential to weaken the whole region again. As I discussed recently in my article "Expect more turmoil in Europe," this will probably be preceded by a period of high market volatility, which probably would lead to a dramatic increase in the VIX Index (NYSEARCA:VXX), compared with the very low levels at which the VIX currently trades.
Disclosure: I have no positions in any stocks mentioned, and no plans to initiate any positions within the next 72 hours. I wrote this article myself, and it expresses my own opinions. I am not receiving compensation for it (other than from Seeking Alpha). I have no business relationship with any company whose stock is mentioned in this article.