On Thursday, Feb. 21, Frontier Communications (NYSE:FTR) reported its Q4 and full-year 2012 results. During 2012, Frontier was also able to achieve significantly higher cost savings, with an annualized synergy run rate of $653 million as of Q4 2012. For most of the second half of 2012 and early 2013, Frontier had been trading within a range of about $4.25-$4.80, give or take $0.10. However, Frontier's stock was hammered when the former dividend "champion" CenturyLink (NYSE:CTL) shocked the market by cutting its dividend. Frontier's stock promptly loss about 14% of its value due to this news. Frontier recently declared a quarterly dividend of $0.10 per share. At current prices, Frontier yields about 10%.
Click to enlarge images.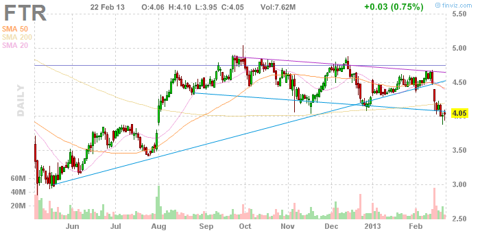 During 2012, Frontier continued to see lower voice revenues due to the loss of wireline customers. During Q4 2012, residential revenues declined 5.0%, while business revenue saw a year-over-year decline of 3.0%. Total customer revenue saw a 3.9% in 2012. Non-voice revenues now account for the majority of Frontier's revenue, at over 66%.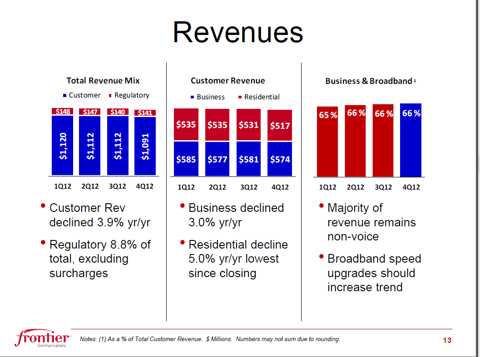 Like CenturyLink, Frontier also has a history of cutting its dividend. Indeed, Frontier has been forced to lower it twice in recent years. However, Frontier's current free cash flow well covers the dividend. For Q4 2012, the free cash flow dividend payout ratio was about 45%. TTM free cash flow currently exceeds the annualized dividend payments by over $570 million.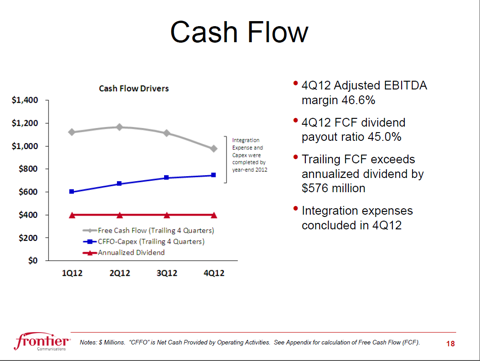 During 2012, Frontier had been accumulating cash, and had $1.34 billion of cash on hand as of year-end 2012. Frontier repaid $503 million of debt on Jan. 15 using cash on hand. Frontier still has over $561 million in current debt due in 2013, and over $8.4 billion of long-term debt outstanding.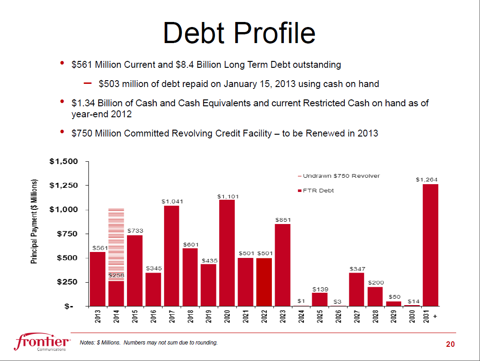 Due to its large debt burden, Frontier has a fairly high leverage ratio of 3.17 times EBITDA as of Q4 2012. Frontier has a long-term goal of eventually reducing its leverage ratio to about 2.50 times EBITDA. Frontier expects to use substantially all of its future free cash flow for either dividend payments and debt reduction.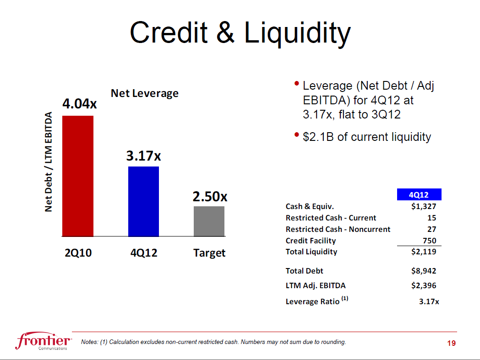 With its Q4 report, Frontier also provided guidance for 2013. Frontier anticipates free cash flow to be in the range of $825 million to $925 million and capital expenditures to be in a range of $625 million to $675 million in 2013. Broadband capital expenditures during 2013 will shift from geographical and capacity expansion to primarily speed enhancements.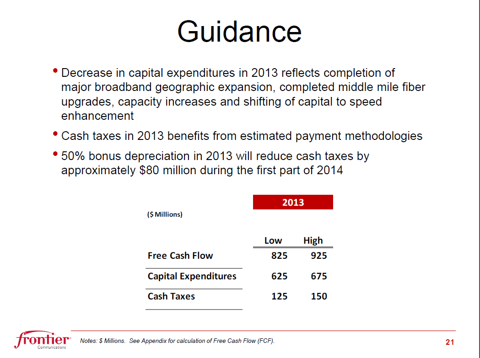 Conclusion
For the first time in ages, Frontier's dividend is relatively safe and well covered by free cash flow. Frontier was also able to realize significant cost savings during 2012, which positively affected free cash flow. Below is a quote from the Q4 conference call Frontier CEO Maggie Wilderotter, which best summarizes the current situation for Frontier:
In summary, Frontier's network improvements, local engagements, product rationalization and operational reorganization will enable us to focus on driving revenue growth. On the cost side, we have exceeded our original synergy guidance on more than $150 million, but we are not yet done. There is still significant organic cost cutting we will focus on in 2013 with a completion of many network enhancements we can reduce our capital expenditures and maintain a healthy cash flow generation. As a result, we expect to keep our dividend payout ratio in the 40% to 50% range for 2013.
Frontier has made progress since I last wrote about them in November. While I am no longer as bearish on Frontier as was back then, I still have my reservations on the stock, and the rural telecom sector in general. While Frontier does offer a high yield, one cannot ignore the massive amount of debt it carries. Frontier shareholders should know that bondholders also have sway with Frontier, and that Frontier will reduce the dividend if it threatens its access to credit markets.
Disclosure: I have no positions in any stocks mentioned, and no plans to initiate any positions within the next 72 hours. I wrote this article myself, and it expresses my own opinions. I am not receiving compensation for it (other than from Seeking Alpha). I have no business relationship with any company whose stock is mentioned in this article.