As in our previous articles, we continue to look for dividend stocks with undervalued earnings growth. We've listed 2 high yield trades below from our Covered Calls table and Cash Secured Puts table for this week's pick - London-based Ensco (NYSE:ESV).
Ensco is the "world's second largest offshore driller, with one of the world's newest ultra-deepwater fleets and largest fleets of active premium jackups, and has a major presence in the most strategic offshore basins across six continents." (Source: Ensco website)
The Gulf Of Mexico currently represents a strong growth story for drillers, as evidenced by comments made by Senior VP Kevin Robert, on this week's earnings call: "There are multiple opportunities for all of our rigs in the Gulf of Mexico. As I mentioned we see that as one of the strongest growing markets. Terms are increasing certainly in the Gulf of Mexico. It's a very tight supply, North Sea tight supply, Asia Pacific, even with the newbuild, there tends to right now be plenty of enquiry for all the available rigs out there."
"As utilization remains strong, we have benefited from rising average day rates for our jackup segment. Ensco has the largest number of active premium jackups as the leading provider of these rigs worldwide. We expect the U.S. jackup market to remain strong in 2013 as drilling activity continues to be bolstered by strong oil prices and the lack of available rig capacity."
Dividends: Ensco increased its quarterly dividend in 2012, to $.375, from $.35. Last year, ESV announced its March dividend on February 28th, with an ex-dividend date of 3/8/12. In 2011, the ex-dividend date was 3/8/11. ESV should announce this dividend sometime next week, and the next ex-dividend date should be in the following week, if they follow past practice.

Undervalued Earnings Growth: ESV looks undervalued on a PEG basis for both 2013 and 2014. Also, the median analysts' long-term, 5-year growth rate estimate is 27.10%, which gives an ESV of a very low .46 5-year PEG ratio. Using this growth estimate, and using a risk-adjusted discount rate of 13.05%, indicates a value of $119.86 for Ensco.
ESV grew revenue 11.61% in its 4th quarter, (ending 12/31/12), while EPS shrank 5% due to a discontinued operations loss of -$0.10. EPS grew 7.22% on a continuing operations basis.

Performance: ESV is up 50% over its 52-week low, but has trailed the S&P year-to-date:

Options: If you're looking for more of a short-term trade, this 7-month covered call trade currently pays $3.90 in call premiums, with the potential for $1.34 in price gains, and $.75 in dividends between now and its September expiration. The range of total potential income is $3.90 to $5.99. If ESV rises above $62.50 and your shares get assigned before the 2 ex-dividend dates, your total income would be $5.24.

Selling cash secured puts below a stock's share price offers a more conservative way to profit from a stock that you're interested in buying. This September $60.00 put pays over 6 times ESV's next 2 dividends, and offers a break-even cost of $55.20, which is nearly 10% below ESV's current share price as of this writing:

Financials: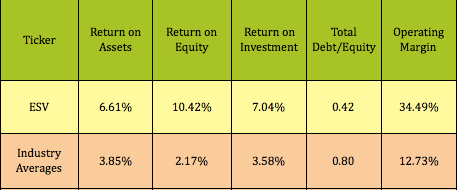 Disclosure: The author held no Ensco shares at the time of this writing.
Disclaimer: This article was written for informational purposes only and isn't intended as investment advice.
Disclosure: I have no positions in any stocks mentioned, but may initiate a long position in ESV over the next 72 hours. I wrote this article myself, and it expresses my own opinions. I am not receiving compensation for it (other than from Seeking Alpha). I have no business relationship with any company whose stock is mentioned in this article.