Much talk of late regarding the sequencing of treatments for end stage prostate cancer has centered on Dendreon's (NASDAQ:DNDN) immunotherapy Provenge and Johnson & Johnson's (NYSE:JNJ) Zytiga (plus prednisone). For example, I recently discussed the results of Dendreon's preliminary sequencing trial, which were presented at the 2013 Genitourinary ("2013 GU") Cancers Symposium, A Transformative Multidisciplinary Approach, held 14-16 February, 2013. Among other findings, the study suggested co-administration of Provenge and Zytiga had no impact on the marker for Provenge uptake.
Co-administration of treatments in the oncology space is more the norm than the exception. And certainly, the results of the Provenge-Zytiga trial are both important and encouraging. However, an even more exciting result - this one involving the sequencing of Provenge following treatment with Medivation's (NASDAQ:MDVN) Xtandi (which does not require co-administration with prednisone) - may portend even more hope for end stage prostate cancer patients.
Here I am speaking about the recent paper by Graff, et al., "Complete Biochemical (Prostate-specific Antigen) Response to Sipuleucel-T With Enzalutamide in Castration-resistant Prostate Cancer: A Case Report With Implications for Future Research," published in the journal Urology. The paper describes the case of a 69-year-old patient with metastatic castration resistant prostate cancer ((mCRPC)) who achieved a complete and durable response after continuing with Xtandi (enzalutamide). As seen in the figure 1 below, the patient began treatment with Xtandi in May, 2008, and his PSA soon became undetectable. However, in the summer of 2009, it began to rise again. Subsequently, he was infused with Provenge in July 2010 while continuing on Xtandi. Six months later, he once again enjoyed a complete PSA response. The authors believe the timing of this response supported an immune mechanism. (Importantly, the patient had a robust increase in antigen presenting cell activation at the third dose relative to other patients.) The authors concluded their work with the data for this patient, provides a basis for studies of the combination of Provenge and Xtandi… the subject of a trial, by the way, that Dendreon intends to initiate later this year.
Here's a good online video that discusses this case.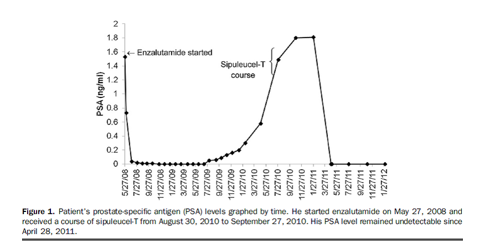 Graff, et al. from the journal Urology
As noteworthy as is the result above, I also found John Johnson's comments on the same topic at the recent Leerink Swan meetings intriguing. Johnson, in response to a question about this case from his interviewer, indicated the example above was not unique and, in fact, other similar cases had been observed. While Mr. Johnson would not elaborate, teasing that the results would in time be published, the fact the case described by Graff, et al. is not a singular event raises some interesting questions regarding the synergistic use of Provenge and Xtandi… and the potential for significant outcomes through pairing these advanced treatments. One would hope this and other, similar results have not escaped the attention of the urology and oncology communities.
Finally, three additional notes to answer some questions I am repeatedly asked:
1. Re EU approval: Dendreon should hear from the European licensing authority regarding Provenge approval sometime in mid-2013. Upon approval, they most likely will employ a contract producer (e.g., the one used in the current EU trial), looking first to serve patients in Germany and France. The potential to partner is something the company always has under consideration.
2. Re manufacturing capacity: According to Mr. Johnson, even after closing the New Jersey facility, the company has the potential to support $2 billion in annual sales using its plants in California and Georgia.
3. Re Direct-to-Consumer (DTC) advertising: Johnson indicated the company would begin DTC television advertising early in 2Q13. If I were a betting man, I'd watch The Masters in August, GA, beginning Thursday, April 11, 2013.
Dendreon will hold a conference call to discuss Q4 and Year End 2012 earnings at 9:00 AM ET on February 25, 2013.
Conclusion
If the synergistic effect of Dendreon's Provenge and Medivation's Xtandi demonstrated in the work of Graff, et al. above can be repeated in other studies, the potential for significantly improving the outcomes for end-stage prostate cancer patients is in the offing. This would bode well for both companies, but especially for Dendreon.
Technical Analysis
The Daily chart, courtesy StockChart.com, shows the stock trading between the 50- and 200-day moving averages. The Relative Strength is dropping, and the MACD is negative.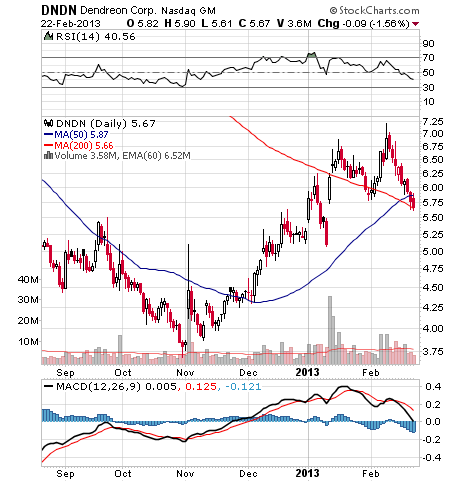 As to the Weekly data, the average price has dropped below the 50-week moving average. The Relative Strength and MACD are neutral.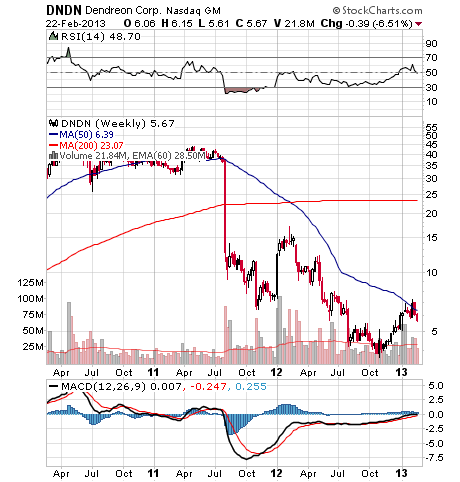 Disclosure: I am long DNDN. I wrote this article myself, and it expresses my own opinions. I am not receiving compensation for it (other than from Seeking Alpha). I have no business relationship with any company whose stock is mentioned in this article.
Additional disclosure: I am long DNDN and the May 2013 $3 PUTs. I am not a registered investment advisor and do not provide specific investment advice. The information contained herein is for informational purposes only. Nothing in this article should be taken as a solicitation to purchase or sell securities. Before buying or selling any stock you should do your own research and reach your own conclusion. It is up to investors to make the correct decision after necessary research. Investing includes risks, including loss of principal.