In spite of surging US oil production, average gasoline prices in 2012 were the highest on record ($3.37/gal). This was a result of three primary factors:
US companies are allowed to export refined product
US gasoline is therefore priced off of International oil prices (Brent)
Average Brent prices also averaged a record high in 2012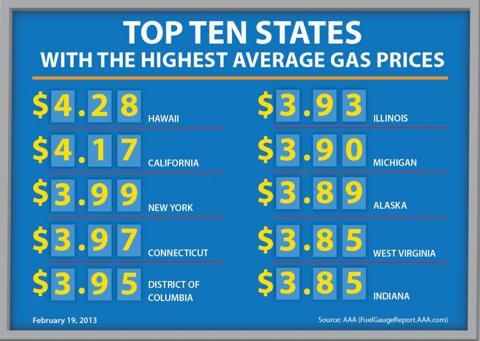 Meanwhile, US domestic natural gas prices continue to sell at a huge discount to worldwide oil and natural gas prices. This is summarized by the historical price chart below (courtesy of Argus):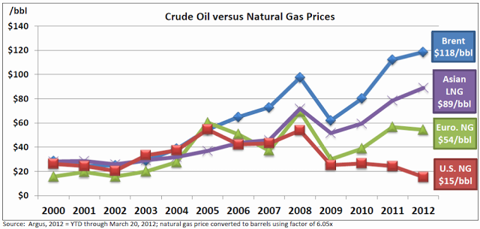 Clearly US natural gas reserves, combined with its 2 million+ miles of natural gas pipelines which distribute it to every major city and 63 million homes, is a huge economic advantage for America. Some believe it to be this country's #1 economic advantage over all others. I definitely agree.
But this advantage can only be maximized by proper energy policy. Which brings us to the main point of the article: should the U.S. use its natural gas bounty for transport or export?
Since the U.S. Department of Energy must approve any export terminal, politics are involved. The mere fact that Congress is studying exporting natural gas, as opposed to studying natural gas transportation, is a strong indication that, once again, American energy policymakers will do the wrong thing for middle class Americans.
As I have documented in past articles, both China and the EU have published strategic natural gas transportation policies and initiatives. It is amazing that countries paying upwards of $12 MMBtu for natural gas clearly see the advantages of using natural gas in the transportation sector. Meantime the US which is paying less than a third ($3.30 MMBtu) for natural gas cannot seem to figure out the obvious.
I believe the main reason natural gas transportation is not supported by the US government is campaign financing. In 2010, the U.S. Supreme Court, in one of its worst decisions ever (Citizens United), ruled not to limit corporate campaign contributions. As a result, Congress does not craft energy policy on the basis of what is best for middle-class Americans (as it should). Rather, policies are implemented on the basis of what is best for the companies that bankroll Congressional re-election campaigns.
As a result, Exxon Mobil (NYSE:XOM) is very likely to end up exporting vast amounts of natural gas from the United States. Indeed, Golden Pass Products LLC has already received approval to export LNG. Golden Pass is a joint venture between XOM and Qatar. It will add 15.6 million metric tons of annual export capacity to the existing Golden Pass LNG import terminal in Texas.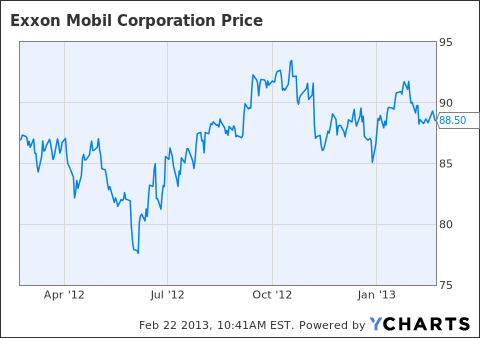 As I pointed out in my article Why Exxon Mobil Should Support Natural Gas Transportation, XOM produced almost 4,000 MMBtu/day in America during Q1 of 2012. This means every $1 rise in the price of American natural gas will add roughly $4 million/day of revenue to Exxon Mobil. Over the course of a quarter, this would amount to in the neighborhood of $360,000,000 bucks, or over $1.4 billion/year.
The planned capacity of the Golden Pass LNG export terminal is around 2.8 Bcf/day. Total U.S. natural gas production is under 70 Bcf/day, so this one plant is roughly 4% of U.S. production. But to be fair, there is plenty of natural gas capacity shut-in due to the current low price. On the other hand, the Energy Department is reviewing at least 16 more export applications. Imagine if all the applications are approved and are the size of the Golden Pass terminal. That would mean total LNG export capacity of ~45 Bcf/day, or more than half of the current total U.S. daily production. Natural gas prices will head higher. Much higher. We only need wait until the plants are built and running - five years or so.
While this is obviously great news for XOM, the #1 producer of natural gas in the United States, its not good news for middle class Americans. Already hammered by a stagnant economy while simultaneously paying high gasoline and food prices, they will now see their natural gas bills rise. Instead of benefiting from the U.S. natural gas bonanza, once again U.S. energy policy will make sure middle-class Americans pay the price. It has also put Exxon Mobil at odds with traditional buddy Dow Chemical (DOW) and other chemical and steel companies. These companies are rightly worried about the U.S. squandering its natural gas advantage. Instead of leveraging America's low natural gas prices to bring manufacturing jobs back to America and enabling the country to be a low-cost producer of manufactured goods, the US seems determined to export its natural gas until prices rise to the high levels other countries pay. This negates the US's #1 economic advantage.
Will Nat Gas Exports Allow a Coal Comeback?
The US has already reaped huge benefits by using natural gas to dramatically reduce coal consumption. A recent Wall Street Journal "Vital Signs" article showed the following graphic: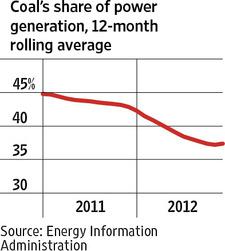 It is clear low natural gas prices have been very successful at replacing coal consumption - down 6% in just the past year. However, the Journal cautions that the trend has slowed recently as natural gas prices have risen. It is probably safe to assume that if natural gas prices were to rise significantly from here, large US power companies like American Electric Power (NYSE:AEP) will switch back to burning coal - just as Germany is doing now as coal prices have declined. So, as a consequence of exporting natural gas, it is logical to conclude that Americans will be breathing in more toxic particulate emissions, drink more mercury in their water, and continue to suffer the heat and drought consequences of global warming as the US goes back to emitting 30% CO2 from coal as from natural gas. This is bad.
While it is clear the rest of the world sees the economic, environmental, and national security benefits of adopting natural gas transportation, America's political system cannot come to grips with it. Americans are left with Clean Energy Fuels Corp's (NASDAQ:CLNE) "America's Natural Gas Highway" program as the best hope that natural gas transportation and cross-country refueling stations catch on. Currently, the great majority of Americans have no option to buy and operate an NGV. With natural gas prices as low as they are, with most Americans struggling to pay their gasoline bills, and with the effects of global warming growing worse each year, it is pathetic that Americans still do not have the option to buy and operate NGVs. But boy, aren't those EV's great? (NOT).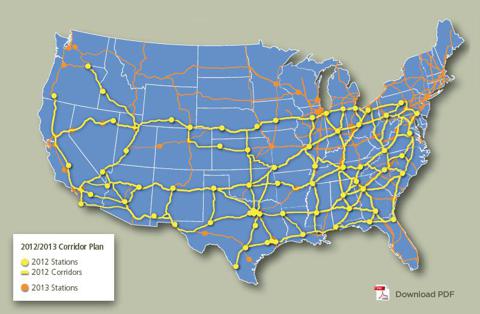 Bottom line is this: Exxon Mobil will reap the rewards of its XTO takeover - in spades. It is America's #1 producer of natural gas, and it is going to export it to markets that are paying over 3 times the current domestic price. If the cost of liquefying, shipping, and insuring LNG exports crimps profit margins too much, no problem, XOM will pullback the reins on exporting and just sell the gas into an American market that will have much higher natural gas prices than today. Once the exports slow down and domestic gas inventories build, no problem: turn on the LNG export spicket again. Exxon Mobil will win either way. XOM should be considered as a core long-term holding as a hedge against long-term rising energy prices.
Disclosure: I am long XOM. I wrote this article myself, and it expresses my own opinions. I am not receiving compensation for it (other than from Seeking Alpha). I have no business relationship with any company whose stock is mentioned in this article.
Additional disclosure: I am an engineer, not a CFA. Please do your own research and contact your investment adviser. I am not responsible for investment decisions you make. Thanks for reading and good luck!