The logic of combining two similar and underperforming companies to create one strong company is a rather ridiculous logic. This is especially true of OfficeMax (NYSE:OMX) and Office Depot (NYSE:ODP) whose combined market value does not equal that of Staples (NASDAQ:SPLS). Their proposed merger is explained in the law of diminishing marginal utility which states that the more you consume of specific commodity the less benefit you get from successive units. In other words, combining two units of the same does not always result in double the benefits. If the shortcomings of this merger are so easy for the casual observer to see why would these companies bother pushing it through? It is an intrinsically flawed transaction that seeks to cure symptoms rather than cause. After cutting off all the overlaps, these companies will at best become half of two which leaves them at their starting point. At worst, the continuous deterioration of the business model and becoming a bigger target for their competitors make them weaker and less competitive.
The Pitch and the Premise:
You know a transaction is doomed to fail when the press release that should otherwise be plugged into a template is botched. The template usually goes something like this:
"We are very excited to announce a definitive agreement to merge with Company ------, a merger of equals. The new company will have the leading market share in -----. This merger will create synergies that will help us to be more efficient, more competitive and serve our customers better. We are lucky that the management team of Company ----- has agreed to stay on to ensure a smooth transition".
Key focus areas always being:
Market share
Synergies/Efficiency
Customer
Revenue
Both

CEO

s staying on to ensure smooth transition
Not this one; the announcement was made prior to determining the new CEO, the name of the new company, or how they will structure the company to extract the expected synergies.
Click here for official announcement.
The "Office" in Max and Depot:
The concept of the office has changed. Most companies allow their employees to work from home, buy their own supplies, and even buy their own office equipment. The first thing the new "Office DeMaxpot" needs to do is take "Office" out of the name of the new company. When that is done, it needs to look at the root of its problems instead of the symptoms. If it looks at the roots, it will realize that its competitive landscape has changed. Online vendors like Amazon (NASDAQ:AMZN) are squeezing from the East; traditional retailers like Wal-Mart (NYSE:WMT) and Target (NYSE:TGT) squeezing from the West, and from the North and South are customers and corporations with different habits. They will also realize that overcapacity might not have been a bad thing after all. It might have reduced the ability of Staples to target both of them. I am afraid this is actually the best thing that could have happened to Staples. Think back to the Circuit City and Best Buy (NYSE:BBY) era. Circuit City helped Best Buy with benchmarking, strategy and definition of the competitive landscape. Once Circuit City went kaput, Best Buy lost its bearings to newer and niftier entrants and has not been the same ever since. I suspect it will play out the same way for Staples.
Market Share and Synergies
The combined new entity had total revenue of $18.6B compared to $24.5B for Staples at the end of 2011. This instantly pours cold water on the market share argument. It also dents the argument of leveraging scale against Staples or Wal-Mart. The expected synergies of $400M-$600M in the announcement will probably come from SG&A reductions even though that was not outlined. It will make sense since both corporations are so similar. By insisting that the transaction is a merger of equals, the companies are implicitly saying that they were so similarly inefficient that they believe that becoming a bigger and less nimble company will make them efficient. I may not be thinking about this correctly but when did flexibility, innovation, synergy, and size come packaged in an inorganically assembled company? Where is synergy in multiple office location, multiple CEOs, IT systems and corporate cultures?
Performance:
Since 2009 a combined OfficeMax and Depot have not been able to match Staples in revenue or growth. Staples has grown revenue in the pre-merger climate and it is fair to expect that they will be in a better position once consolidation and integration efforts start with Office Max/Depot.

It is fair to assume that Staples is doing a lot of other things better than these two companies the least of which is the ability to differentiate itself so the customers can actually tell it from the others. Staples stock has also done better than Office Max/Depot from 2008-2012 per the chart below. An important point to note is that in this timeframe all companies have negative returns despite a more than 100% appreciation for OfficeMax and about 40% for Office Depot in the last 52 weeks.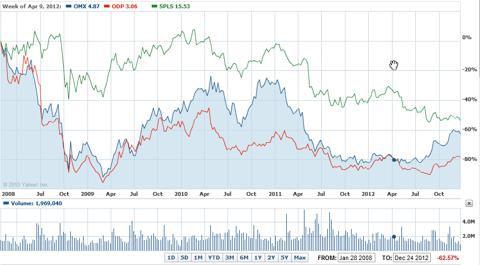 Conclusion:
While this deal works for Staples in the short term it is a story of a sector whose business model has evolved faster than the incumbents. The ultimate winners are Amazon (for online businesses) and Wal-Mart (for mass retail). I would expect sales at Staples to be boosted in the next 1-2 years once the new unnamed company starts integration. I would also expect that like Best Buy, the harvest will not last long before the inevitable decline. There will be short-term opportunities to trade Office Depot and OfficeMax due to volatility in the stock. The ticker of the new company should never make anyone's list unless you are a Private Equity company looking for parts.
In order of rank and in my opinion this deal was about the CEOs, the struggling companies, institutional shareholders and lastly the customers. I cannot put it any better than Jeff Bezos but he said something along the lines of, you have to take care of the customer because they are the only paying stakeholder in business relationships. I hope the new company heeds this advice and realize that its competitive landscape is not quite the same today as it was when they got into business. I hope they chose a cool name like "DeMaxpot" without the "Office", I hope they aggressively create an online presence and lastly move to smaller stores in college campuses and other areas where they still serve a need.
Disclosure: I am long AMZN. I wrote this article myself, and it expresses my own opinions. I am not receiving compensation for it (other than from Seeking Alpha). I have no business relationship with any company whose stock is mentioned in this article.
Additional disclosure: I have no positions in the other stocks and no plans to initiate any positions in them in the next 72 hours