One particular energy stock has shown massive return of over 76% in the last one year. The real question is whether it has future growth potential or not. We are talking about Valero Energy Corp (NYSE:VLO).
Check the graph below. Valero's growth seems to be supernatural compared to 1.3% of NYSE energy index (NYE) and 0.77% of Vanguard energy index mutual fund (MUTF:VENAX).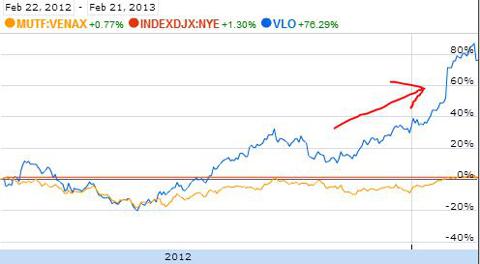 When you see too big of a stock return like this, you tend to become wary of whether what you are seeing is for real or not. So, is Valero for real? Will it be able to continue to head north in the coming year as well?
The fundamental strength of Valero (thus, the future probability of stock price growth) depends on three factors:
If Valero is the only oil refinery stock with massive returns
If Valero's historic financials justify strong potential
If market estimates indicate growth in future profitability margins
Is Valero Alone?
We want to know whether only Valero Energy has shown such stupendous growth or not. If it is in the affirmative, there is a strong chance that the upward trend might not continue further. The market always has a balancing effect. Too high PE ratio will be rewarded with increased selling of stocks, thus lowering the price back to normal. In this case, Valero Energy is definitely not alone. Going by the graph below, while Murphy Oil Corp (NYSE:MUR) is one of the few oil refinery companies that went down, HollyFrontier Corp (NYSE:HFC) and Marathon Petroleum Corp (NYSE:MPC) have shown strong return rates of 57.85% and 81.82% respectively. That means Valero's stock growth is definitely not a fluke!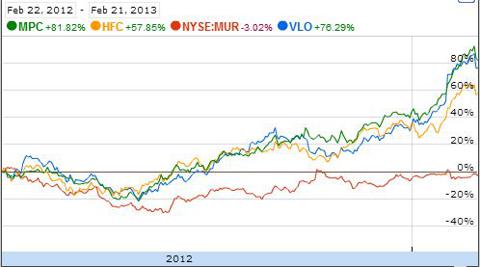 Is Valero Financially Strong?
Two things need to be strongly considered when analyzing a capital intensive energy stock, viz. assets and operating cash flow. While amount of assets indicate how efficiently the company is increasing its scale of operation, the operating cash flow tells us whether the company is making any money required for future capital expenditure.
Sharp increase in inventories and PPE has resulted in a continuous upsurge in assets in the last couple of years. The recent acquisitions (Meraux Refinery from Murphy Oil Corp at $547 million and Pembroke Refinery from Chevron Corp at $1.7 billion) of 2011 have contributed generously to raise the asset value.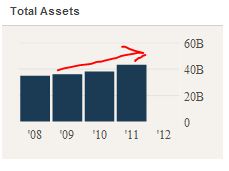 Not to mention the fact that even operating cash flow has gone up considerably since 2009.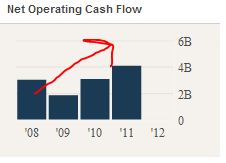 One thing should be noted though - while the sales revenue growth has been remarkable in the last couple of years, the profitability margins have not been that impressive.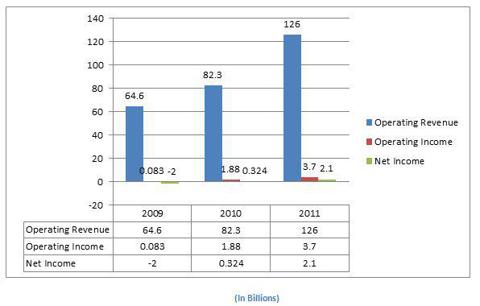 Currently, Valero's margins seem to be quite lower than its peers.
| | | | |
| --- | --- | --- | --- |
| | Net Income Margin | Gross Margin | Operating Margin |
| Valero Energy | 2.91% | 9.79% | 4.57% |
| Marathon Petroleum | 3.66% | 8.66% | 5.74% |
| HollyFrontier | 11.73% | 25.09% | 18.8% |
| Murphy Oil | 2.2% | 23.72% | 3.55% |
Looking closely, Valero's high cost of production is eating away at the profitability margins. Net has gone down over the years, which has severely affected the shareholders' equity.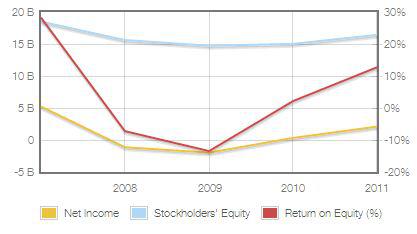 Will this turn around for good? Probably it will. Capital asset utilization ratio has been going up for the last few years. Higher asset utilization ratio means better margins, thus higher return on equity. This will push up the stock price as well. On a side note (re: the graph below), even when the asset utilization ratio showed considerable upward movement since 2010, the stock price has not quite improved that much, which is a strong sign of undervaluation at the moment.

One interesting thing to note is the lack of integrity in the Valero's valuation multiples. While the PE ratio of 12.05 (against 8.04 of Marathon Petroleum and 7.21 of HollyFrontier) is pretty high, the price-to-sales ratio of 0.18 is pretty low compared to 0.4 of Murphy Oil, 0.52 of Marathon Petroleum and 0.48 of Holly Frontier. It is really a tricky question. Which one will you go by - high PE ratio or low price to sales ratio? Remember, sales revenue is the ultimate backbone of EBITDA, EBIT and net income. So, when you have a low price to sales ratio, I believe we can say the stock is undervalued.
Is Market Favorable?
There are certain systematic risks in the market as follows.
The rising feedstock costs can eat away at the margins, as is indicated by the rising cost of corn feedstock used in ethanol production in 2012.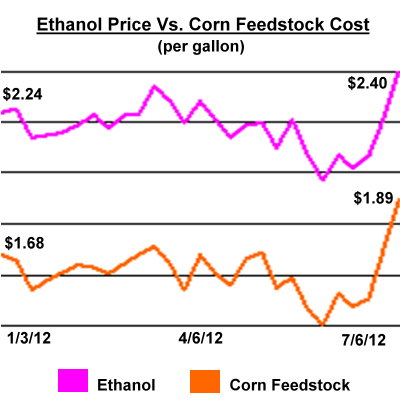 Moreover, as environmental laws (including the "cap and trade" programs meant to reduce the CO2 emissions) are being made more stringent by the day, this can lead to increased compliance costs, resulting in a higher sale price and thus lower demand.
The only way out is to increase scale of production, which is probably the objective of all these huge capital expenditures. A little bit of synergy in the operations and you might see some improvement in the margins of the company. And that will take another year or so.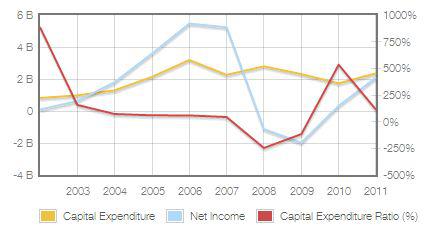 Analyst estimates believe that EPS will sufficiently grow in the coming few years. Higher EPS means better margins and thus higher market price.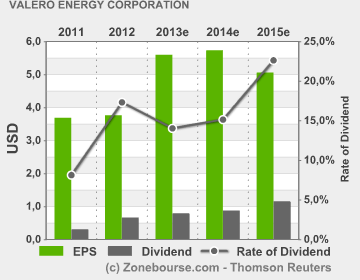 Conclusion
To sum it up, while Valero seems to be financially weak (considering the profitability margins) at the moment, it definitely harbors a strong future potential to grow further with huge capital assets, increasing revenue and higher asset utilization ratio.
The low price to sales ratio, the current relative strength index below 60 and expected growth in earnings per share, all tell me that Valero is still a "Buy" at the moment.
Disclosure: I have no positions in any stocks mentioned, and no plans to initiate any positions within the next 72 hours. I wrote this article myself, and it expresses my own opinions. I am not receiving compensation for it (other than from Seeking Alpha). I have no business relationship with any company whose stock is mentioned in this article.