Actionable Items:
Highest Positive Spread: Kayne Anderson MLP
Focus Stock: Mexico Fund
Last Week's Focus Stock: Lazard World Dividend & Income Fund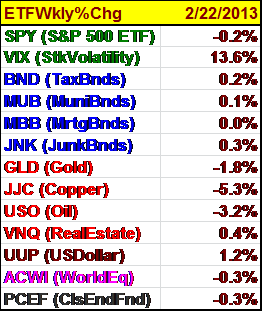 Picking the Bender of the Two: The Sequester is Friday, March 1st. While the Sequester will not go fully into effect on March 1st, federal employees must be given a month time in order to furlong large groups of employees. The $85 billion will likely be cut by $44 billion from March to October 1. There is a month for the Democrats and Republicans to come together on a program in March-I'll be surprised if they do.
Federal Impacted: The impact on Fed's policies is likely to fuel funds which will be unfortunate for junk bonds, mortgagees and bank credit markets. The credit markets will not give up on this easing of credit, which Mr. Bernanke believes is premature.
Equity Markets: The equity markets seem to be taking this cue from the earnest bond buying program. However, both equity and bonds seemed to have an up-market for Friday.
Commodities ETFs had a hard time. Gold (NYSEARCA:GLD), copper (NYSEARCA:JJC) and Oil (NYSEARCA:USO) seem to be in decline for the week. The rapid rise in the dollars may dissipate spending commodities in reverse.
While climbing the "Wall of Worry", we are skeptical of equities.
The ETFs: The ETF sectors are arranged in order on 2/22/13.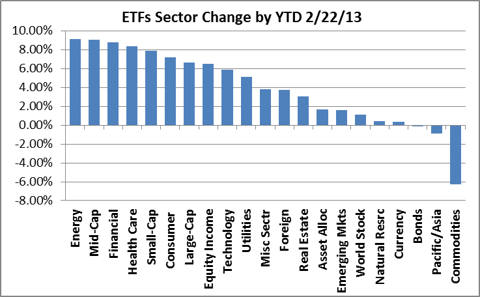 CEF Weekly Fund Type Performance: NatlMuniBndFnds, SingleStMuniFnds, and LoanPartFnds move ahead by +0.3%, +0.2% and +0.1%, respectively. While equity-oriented funds were in the doldrums: ConvtSecFnds (-1.4%), and WrldEqFnds and SpecEqFnds losses of -1.2%. ConvtSecFnds was the biggest loser with share price being down -1.4% and NAV being down -0.4% with a PrcNAVSprd down -1.0%.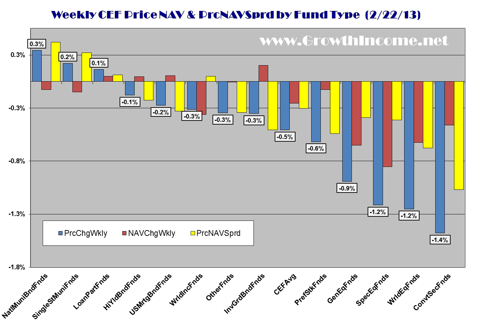 Highest Focus Stock for the Week: Kayne Anderson MLP (NYSE:KYN) was ahead by a price increase of +3.0% and NAV per share declined -2.5%. The PrcNAVSprd was +5.5% (positive number may be a decline for share price CEFs). There was no share volume.
The distribution rate is 7.5% with an annual dividend increase of $0.5175, $0.5275, $0.5375 and $0.5500 to date from 12/26/12, (next dividend 4/3/13). The premium is 14.2% approaching 15.3% on a 52 week high. The leverage is 33.7% of asset values ($3.9 billion). ETFs' energy sector has been a leader as gas prices have increased but will likely stabilize.
Lowest Spread and Focus Stock for the Week: Mexico Fund (NYSE:MXF) share price declined -2.9% with a positive +0.4% from its NAV per share. Its PrcNAVSprd decline was -3.1%. MXF seeks positive price appreciation through investments in the Mexican Stock Exchange. The net assets value is $422.6 million and no leverage. Its net monthly yield is an annualized 7.7%. The discount is 1.2%. Its average quarterly yield is $0.5950 per share. The gains for 12/24/12 are $0.0302 in the year 2012 (net of annualized yield). Dividend payment is in early April.
Focus Stock & High Price for Last Week: Last week's Focus stock for the week was Lazard World Dividend & Income Fund (NYSE:LOR) which was +1.2% for the week-ending in 2/22/13. The highest price stock in the universe was Kayne Anderson Midstream Energy (NYSE:KMF) down 3.1%
Disclosure: I have no positions in any stocks mentioned, and no plans to initiate any positions within the next 72 hours. I wrote this article myself, and it expresses my own opinions. I am not receiving compensation for it. I have no business relationship with any company whose stock is mentioned in this article.