The sample portfolio shown below consists of 16 ETFs that cover all major markets found in the eleven portfolios tracked here at ITA Wealth Management. VTI covers all of the "Big Nine" asset classes. We add VIG for added dividends and IWN for any possible push toward small-cap value, or where Fama and French find added alpha.
VEU is our developed international market and VWO is the ETF used for emerging markets. With these few ETFs we now have global coverage. The remaining five asset classes are commodities (NYSEARCA:DBC), domestic REITs (NYSEARCA:VNQ), international REITs (NYSEARCA:RWX), emerging markets sovereign debt (NYSEARCA:PCY), gold (NYSEMKT:GTU) and bonds. A number of bond and treasury ETFs cover corporate and different length bond options. The optimizer seeks out the best opportunities.
Three-Year Optimization: The first screenshot shows the optimization when we use three years of historical data and screen for maximum return. The data runs through 2/22/2013, and here is the rationale for the constraints.
Commodities (DBC) and gold (GTU) are limited to 6.0% each. I debated whether or not to hold them to 5% as I did not want to be too heavy on ETFs that do not provide any yield. The second constraint limits each of the bond type ETFs to 5%. This means the bond style investments can go as high as 35% of the portfolio. This includes PCY, the emerging market sovereign debt ETF.
The third constraint means that VTI will hold at least 10% of the portfolio. The fourth screen limits the equity ETFs to no more than 20% each. The fifth screen $B$46 = 1 is the simple requirement that the sum of all the asset classes reaches 100%. Constraint #6 is there so the asset classes will hold a minimum amount so the ITA Index can be calculated.
Constraints seven and eight are risk reduction and Diversification Metric requirements. The projected risk is to be 15% or less and DM is to have a minimum value of 40%.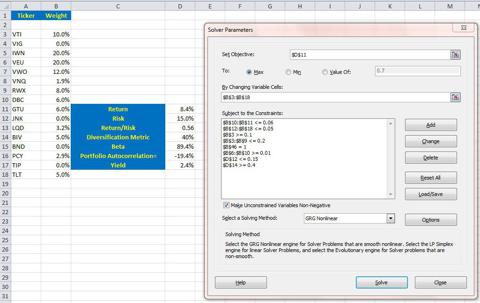 Five-Year Optimization: Everything is held the same in the following optimization analysis except we use five years of data. The final results are not too different considering the major bear market that was just beginning during the five-year analysis.
Although not necessary in the five-year analysis, the three-year optimization could use a constraint where VNQ required a minimum 5% requirement.
Some investors may want to limit the number of bond type ETFs while others might add a few individual stocks. Overall, this is a well-diversified portfolio.