The MWC (Mobile World Congress) will begin Monday. With over 1,500 exhibitors squeezed into 70,500 square meters of exhibition space, each company will attempt to gain attention and recognition. While I am unable to cover all 1,500 companies in one article, I will discuss five of the large competitors and analyze how this exhibition will possibly affect stock performance.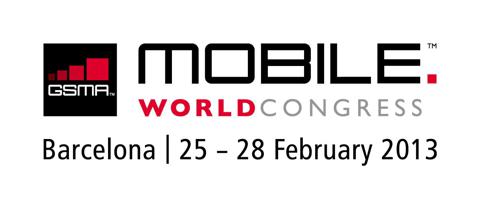 What will Nokia (NYSE:NOK), Sony (NYSE:SNE) and Samsung (OTC:SSNLF) bring to the floor?
Nokia - A Lumia for Everybody
The relatively successful Lumia 620 has left Nokia with the ability to capitalize on the MWC 2013. Nokia is rumored to be unveiling four phones in the span of less than a week. These phones will consist of the Nokia RM-914, RM-885, RM-887 and RM-860. The Nokia RM-914 appears to be the Lumia 520, while the RM-885 appears to be the Lumia 720. The 520 is rumored to offer a 4-inch display and a cheaper price tag, while the 720 will provide a 4.3 inch display to fill the gap between the Lumia 620 and Lumia 820. The other two models are still shrouded in mystery, but the possibilities are making techies sit at the edge of their seats. The three strongest possibilities that I see are: the Nokia EOS Pureview phone, the Catwalk model for the Lumia, the Nokia Tablet.
The Nokia EOS Pureview phone will cater towards consumers who are in search of the best camera for a mobile phone. With 41-pixels under its belt, the new Lumia appears to be for a niche market. However, I can see this phone as an investment for photographers and Instagram users alike. The Catwalk model for the Lumia discards the polycarbonate shell for an aluminum build. This sexier and sleeker alternative to the Lumia 920 may be very successful in the market due to its portability as a mobile phone.
Although the Nokia EOS Pureview and Catwalk model are nice, I really want to see Nokia unveil its Windows 8 tablet. If it is able to present a tablet on par with the iPad or Surface, I expect Nokia to receive strong consumer response.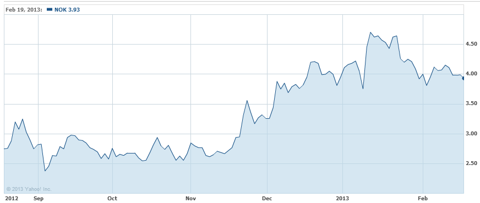 Nokia's stock price may very well increase following this exhibition. The second generation of Lumia devices has provided strong returns for Nokia. From September last year, stock prices jutted up from around $2.40 to over $4.50. The MWC will be a pivotal exhibition for Nokia. If the four new phones are able to satisfy individual customer preferences, it will allow Nokia to expand its current position and generate further revenue. Although there is an estimated $0.07 decrease in EPS, I honestly believe that Nokia will be able to return to its upward climb in upcoming months.
Sony - A Hands-on Approach
Sony's participation in the MWC will be very similar to Nokia's exhibition goals. One of the main differences is that Sony has already announced the Xperia Z during CES 2013. I see the MWC 2013 as an opportunity for Sony to show off its Xperia Z. This new smartphone boasts a 5-inch display and runs with a quad-core CPU. The trade-off between portability and its enormous display size will be one of the main deciding factors for consumers looking into the product. There is a possibility that Sony will also present variations of the Xperia Z. In CES 2012, Sony unveiled its Xperia S. Sony followed up with the Xperia P and Xperia U at the MWC 2012. If it decides to repeat themselves, we could possibly see different display options for its new phone.
There are also rumors circling the Internet about a tablet dubbed the "Xperia Tablet Z." The specifications of this tablet appear to be a 10-inch display, 1.5GHz Snapdragon processor, 2gb of RAM, and a 32gb hard drive. Sony's new tablet is said to be the slimmest and lightest tablet on the market.
It would be a great move by Sony if it chooses to present both the tablet and smartphone at the MWC because the Xperia Tablet Z will harmonize with the Xperia Z smartphone. A hands-on preview of these two products will catch the eye of consumers and investors with its intuitive features, such as transferring sites simply by placing the phone over of the tablet.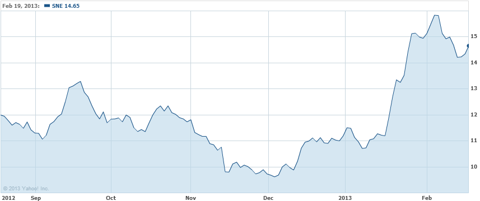 Sony has had a rather promising start to 2013. Investors were skeptical when Sony stock began a steady decline through the 2012 holiday season, but it picked up in the following year. At a glance, Sony appears to have the momentum for the exhibition, but it has already played its hand. Announcements, such as the Playstation 4 and the Xperia Z, have been exhausted by Sony to gain attention in early Q1. I don't see Sony having another card up its sleeves for the 2013 MWC, as seen by an estimated overall decrease in EPS for the upcoming months. If this article had been written for CES, I would be emphasizing Sony's potential growth and innovation, but the MWC will not yield the same results.
Samsung - The Elusive Galaxy S4
With huge success behind the Galaxy S3, it would be a treat for the MWC attendees to witness the unveiling of the Galaxy S4. However, I would not get my hopes up. Last year, Samsung did not announce its Galaxy at the MWC, but rather at its own private event.
In the previous year, Samsung unveiled a host of products that were rather underwhelming. The Samsung Galaxy S, Galaxy media player and the Galaxy Beam all did not receive great consumer responses. All eyes are on the Galaxy S4, so if they do not choose to announce it at the exhibition, I expect other companies to overshadow them.
Samsung seems to be unveiling a number of tablets at the MWC as opposed to smartphones. The company has not been able to make much headroom in the tablet market like it did with smartphones. Judging from Samsung's previous tablet performance, I do not expect much success to come from its new tablets. In 2012, sales for Samsung tablets were only a small fraction next to the iPad. The rumored Samsung Galaxy Note 8.0 will also cost more than the iPad mini, which makes me wonder how they are going to compete with the surprisingly successful Apple product.
With both Apple (NASDAQ:AAPL) and Google (NASDAQ:GOOG) sitting out for MWC, this is a great time for Samsung to unveil its rumored smartwatch. The "Galaxy watch" will be Samsung's attempt to capture its own share of the emerging wearable technology market. There are no guarantees that Samsung will choose to unveil this technology at the MWC, but if it does, the watch may leave a lasting impression on attendees. No iWatch or Google Glass will stand in the way… yet.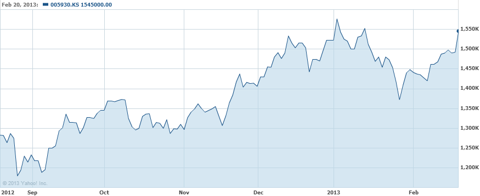 A strong growth trend in the company makes me want to say that the exhibition will be a huge bonus for Samsung. However, the fact that Samsung will probably refrain from the Galaxy S4 announcement makes me hesitant to say that the MWC will greatly help the company. I personally see this year's focus on tablets as a detriment to Samsung's possible success because consumers are not overly focused on its presence in the tablet industry. Sure, Samsung has the spotlight if it chooses to unveil the smartwatch, but that is also highly unlikely. Altogether, I do not see the MWC as a catalyst for growth. If Samsung is lucky, it will have a slight positive shift, but most likely, the stock will remain at its current price.
How will companies that are not participating be affected?
Google - From Slides to No Show
Google is reducing its presence for the 2013 MWC. In 2012, Google's booth was pretty much an amusement park. The booth garnered large crowds with a slide weaving between two giant android statues, a second floor lounge, and a bar with free smoothies. In stark contrast, Google is only sending a handful of representatives to assist partners at this year's MWC. Google chairman, Eric Schmidt, is also choosing not to be the keynote speaker for the fourth consecutive year.
Google's lack of participation may not hinder its stock prices directly, but in relative terms, competitors may narrow the gap. However, Google has momentum on its side. It recently reached a stock price of $800 and price targets continue to grow. Behind the scenes, Google has the much anticipated X-Phone. The X-phone is said to offer extended battery life, a powerful and compact Intel (NASDAQ:INTC) processor, and an affordable price tag. There is so much interest and speculation around this phone that, despite Google's absence, it will still get some of the limelight at the show.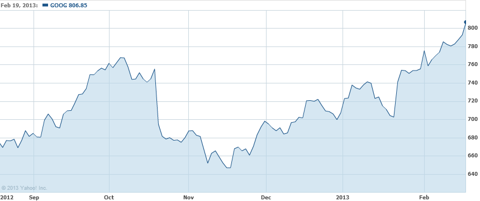 Having just written about how Google will thrive, I believe that the company can maintain its steady growth without participating in the MWC. Strong Q4 2012 and Q1 2013 growth has persuaded investors to recognize Google's potential. I see this year's MWC as a missed opportunity for Google; however, I expect the stock to continue to grow. Even if Samsung blows away the audience with its smartwatch and Galaxy S4, the worst case scenario is that the stock will continue to fluctuate around its current 52-week high.
Apple - Falling Further Behind
Apple does not participate in either the CES or the MWC, but it has not harmed the stock price in the past. The main difference I see this year is that Apple shares have slumped in FY13. A lack of momentum and the need for another breakthrough innovation has left me concerned about how the MWC may harm Apple. Currently, it is not bringing much to the table. A disappointing turnover for iPhone 5 sales in Q4 2012 has left Apple on the back foot. In FY13, there is the iWatch, but the success of that product is far from guaranteed.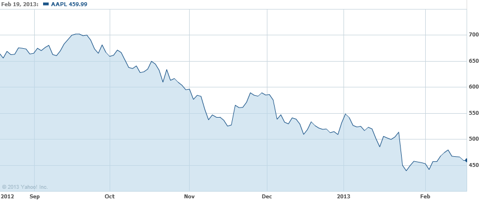 Apple is a hard stock to own right now. Weak performance over the last 6 months has left a 230 dollar gap in the stock price. Analysts are repeatedly lowering the price target for Apple because they recognize the slowing growth of the company. The only way I see Apple flipping the trend and continuing its climb is if the company has another break through, but currently, I expect Apple to continue its plunge. Perhaps it is time for Apple to make its first ever appearance at the CES or MWC to recapture some of its lost glory. It can be argued that Apple still has a large presence in these exhibitions through related accessories, but with a myriad of competing technologies, Apple may be drowned out by the noise from the Nokia and Samsung booths.
Final Word
I apologize for only covering a handful of companies, but I wanted to avoid this article from becoming too wordy or extraneous.
The 2013 MWC will be a very important time for competitors in the industry, both large and small. The exhibition will be inundated with tablets and smartphones from a multitude of companies. It will take some time for the cream of the crop to filter out, but until that time, it is mostly speculation. I will be following the exhibition very closely. After its conclusion, I intend to publish another article to reflect on my previous predictions.
Disclosure: I have no positions in any stocks mentioned, and no plans to initiate any positions within the next 72 hours.
Business relationship disclosure: Capital Traders Group is a team of Proprietary Trading and Equity Research Analysts. This article was written by Scott Shi, one of our Equity Research Interns. We did not receive compensation for this article (other than from Seeking Alpha), and we have no business relationship with any company whose stock is mentioned in this article.