In a recent article, I demonstrated how investors in broad emerging market ETFs such as iShares' EEM could miss the growth potential of emerging markets.
This is because the MSCI EM index is biased to larger cap stocks and markets which have already seen their most active growth period. As an Asia-based investor, I travel frequently to the major markets, and hope that this enables me to generate some useful insights.
I am building a portfolio with a heavy emerging markets allocation for reasons explained here. I plan to look at individual emerging markets in a series of articles, and chose Thailand as the first case due to a reader query.
On my market selection model, Thailand earns an indicative overweight portfolio position, with several factors driving a positive outcome. These are that Thailand has a mid range GDP growth score coupled with low country debt and strong demographics. To verify this, and consider how to take a position overweight to EEM, some analysis of the Thai economy is required.
A snapshot of Thai economic development
The Thai economy was traditionally based on agricultural exports and is the leading exporter of rice globally, along with other export products such as fishery products, tapioca, rubber, grain, and sugar.
Since the 1980s, Thailand has been one of the most successful of the Asian "tiger" economies, transforming into a regional manufacturing base. It has benefited from strong foreign direct investment (FDI), primarily in the electronics and automotive manufacturing sectors. This has mainly come from Japan and Korean companies, which sought to offshore processes to Thailand to take advantage of the cheap labor in a stable political environment and low exposure to natural catastrophes.
This external dependency has proved a source of extreme volatility, as evidenced by a 10% GDP contraction in the 1998 Asian financial crisis, but also dramatic growth, with investment inflows stimulating rapid post shock recoveries.
According to a recent study by the Economist Intelligence Unit, in the period between 2004 and 2009, Thailand received 17% of the total FDI inflows to Southeast Asia. By 2006, the Thai economy was one of the success stories of the region. FDI-funded industry in the automotive and electronics sectors contributed strongly to this and now account for 20% of GDP.
In 2006, the political stability Thailand had enjoyed was interrupted as the Thai military staged a coup to overthrow the Prime Minister Thaksin Shinawatra. Since then, there has been a period of political unrest as various factions jockeyed for power. While international business interests were not significantly disturbed, and since an election in 2011, there has been some stability, one of the key attractions of Thailand as an investment destination has been called into question.
In 2009, Thailand, as an export economy, was significantly impacted by the global financial crisis, with a GDP contraction driven by reduced export demand.
More dramatically, the 2011 floods, which impacted vast areas of Thailand, cost the Thai economy an estimated $45 bn. This reduced GDP by roughly 3%, recording -0.8% growth in 2011, according to the World Bank. 90% of the costs fell to private industry, notably foreign investors in the critical automotive and electronic sectors. In all, more than 7,500 manufacturing plants were damaged, with production halted by companies such as Honda (NYSE:HMC), Toyota (NYSE:TM), Mazda (OTCPK:MZDAY), Nissan (OTCPK:NSANY), Mitsubishi (OTCPK:MMTOF), Sony (NYSE:SNE) and Nikon (OTCPK:NINOY).
While the government has responded with plans to improve flood defenses, including raising $16bn in debt to fund infrastructure works, it seems that investors are reassessing Thailand as an offshoring manufacturing location. The Economist Intelligence Unit study indicates that by 2011, Thailand's share of inwards South East Asian FDI had fallen from 17% to just 6%.
This chart shows the 'boom-bust' pattern of the economy over this period.
Despite IMF estimates for Thailand's GDP annual growth for the next 5 years to remain in the 5%-plus range, the economy seems highly exposed to a shift in FDI. Thailand has a reduced cost advantage, less stable politics than previously, and demonstrated exposure to natural perils. According to the Bangkok Post, recent decisions by Samsung (OTC:SSNLF) and Toshiba (OTCPK:TOSBF) to locate research centers in India and Vietnam could represent the start of a trend by such firms to move out of Thailand.
Thailand also faces inflation concerns, with 2012/3 estimates of close to 4%. A further strain is the rising cost of government intervention in fuel costs. The Thai government subsidizes LNG and Diesel which is becoming an increasing drag on fiscal resources with rising global energy prices. The current cost of fuel subsidies is around 1.5% of GDP.
What about the upside?
Thailand does have many comparative strengths to offer:
Geography - Thailand sits at the main access point to the growth economies of Indochina. Vietnam has already started to move, with a projected 6% annual growth rate, and the anticipated opening of Myanmar heralds a period of growth for this region, which has a total population of over 160m. Thailand itself has 67m people, with high literacy, good corporate governance and modern financial and banking systems. It is well positioned to take economic leadership of this region.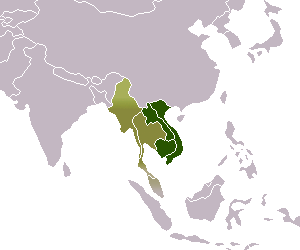 Indochina region.
Source - Wikimedia
Demographics - Thailand itself offers a promising consumer market, with 40% of its population between the ages of 20 and 45. The economy is on the brink of maturing from an FDI-driven manufacturing outsourcer to a mass consumption, knowledge- and technology-based service economy. Look to Singapore and Hong Kong for models of how this can work.
Strategic - Water, which has been the cause of recent trouble, has been the mainstay of the agricultural sector, and the traditional basis of Thailand's wealth. Food security is one of the key long-term risks facing the global economy as explored in a recent article on the global risk landscape. Thailand, with a strong surplus of food production capacity, has a key long-term strategic resource which offers major upside.
On balance, despite the downside risks, I believe that a long-term investment strategy should be overweight to Thailand. However, with the economy in transition, I do not consider the best approach to be via an index fund which by nature comprises the sectors that have been strong in the past. Clearly, these should continue to benefit in a robust economic environment, but many will face future headwinds.
Following the Index - iShares Thailand ETF (NYSEARCA:THD)
A snapshot of THD makes good reading:
Since inception in 2008, the THD index has significantly outperformed the S&P 500, while actually producing less volatility than the SPY with a beta of 0.81. THD is reasonably valued with a TTM P/E ratio of 12, and 12-month trailing yield of 1.73%.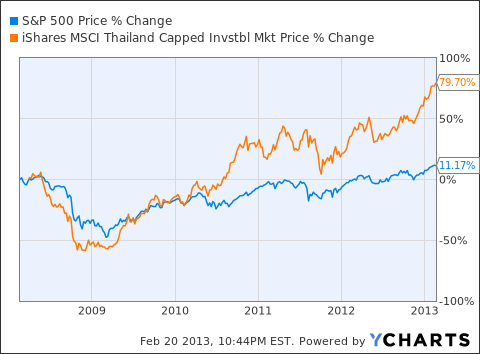 THD does look like a reasonable opportunity for investors seeking to stick with an easy-to-access index with a diversified selection of stocks. A review of sector allocation does underline some risk potential.
The following table shows the current sector allocation of THD. With nearly a 40% weighting to financials (mostly bank stocks) and 18.6% to energy stocks, this index is heavily skewed towards two highly exposed sectors.
Stocks by Sector
Sector
Energy
0.54%
24.3%
Banking
0.82%
36.9%
Staples
0.31%
14.0%
Telecom
0.19%
8.6%
Materials
0.13%
5.9%
misc
0.23%
10.4%
2.22%
Source - iShares.
As explained above, fuel oil demand is supported by a significant, and likely unsustainable government subsidy program. The banking sector is at risk from inflationary pressures and a potential property asset bubble, paired with the risk of drag on GDP growth from FDI reductions.
My hypothesis is that the Thai economy is undergoing a shift from the previous drivers of growth, and an optimal allocation is to incorporate some overweight positions in key sectors which should experience higher growth.
Access to individual stocks trading on the Stock Exchange of Thailand (SET) has not been open to international investors until recently. Late in 2012, the stock exchanges of Singapore, Malaysia and Thailand initiated the ASEAN Exchange Link, which allows investors in any of the three markets to trade across all three. Trading in the Singapore Stock Exchange (SGX) is open to non-Singapore residents, and some US-based international brokers offer trading on the SGX.
Bloomberg covers the stocks listed on the SET and some of the main analysts also provide research on Thai stocks, with analysts based regionally.
As an alternative, a number of regional stocks trade OTC in the US. Investors choosing OTC shares should consider liquidity and other risk issues. Although the SET stocks can only be bought OTC in the US, I provide below the SET tickers to assist research.
The following sectors and stocks offer more aggressive positioning:
Infrastructure - Bangkok itself has enjoyed significant building activity and infrastructure development during the Thai economy's growth period in recent decades. The planned $16bn flood defense works should boost domestic demand for building materials, while the Indochina market development should generate a decade long construction boom on Thailand's doorstep. Siam Cement (SCC:TB) is well placed to benefit. A diversified materials company with a cement manufacturing base, SCC currently trades around Bht 450, having rallied from Bht 350 over the past 12 months. Current pricing is high, with a ttm p/e of 23, but the 2013 p/e estimate is 16, generating a peg ratio of 0.87. SCC pays a reasonable dividend of 2.43%. I will be looking for an entry point of around Bht 400 - last seen early Dec 2012. SCC trades OTC in US (OTCPK:SCVPY)
Agribusiness/Food - with massive population growth in the Asian region, agriculture and food production business has a guaranteed future demand. Charoen Popkhand Group is a Thai-based business which has built a global presence in this sector. CP is helmed by Dhanin Chearavanont, Thailand's answer to Warren Buffett.
The group started as an animal feed and milling business, but has successfully integrated horizontally, into aquaculture, farming, and prepared food production, and globally, with investments throughout the region, as Charoen Popkhand Food (CPF: TB). CPF had, until Q3 2012, posted a track record of consistent growth in sales, earnings and margins. The 3rd quarter result shows a significant growth in sales, lead by overseas sales, but a reduction in EBITDA margin from 10% to 6.7%, with an expectation of an absolute reduction in EBITDA for the 2012 full year. The company attributes this to reduced market prices for food, and increased feed production costs as a result of the US drought. The market has priced this in, with a reduction from the peak near Bht 42 to the current price of Bht 33, which represents a ttm P/E multiple of 11 and 19.9 times full-year 2012 earnings. The company is well positioned throughout the region, and is investing heavily in China, Indochina, Indonesia, and other key growth markets.
The CP group also owns the Thai franchise for 7-11 stores (CP All) and is in the process of buying HSBC's shareholding in Ping An Insurance of China. The logic for the latter is unclear, but the CP business model has been one of leveraging integration. At no cost to the CPF shareholder, there is the potential benefit of a distribution enhancement or other synergies in China arising from the Ping An acquisition.
Until the full-year 2012 earnings are available, with further outlook guidance on future margins, I will not initiate a position in CPF. However, if the stock is available at a P/E multiple of around 12 times 2013 forecast earnings, and the dividend yield of over 3% is maintained, I will be long CPF. CPF is traded OTC in US (OTCPK:CPOKY) CP All OTC is (OTCPK:CPPCY).
Hospitals - Healthcare is another high growth sector, with growth from two sources:
Increasing demand from a large local and regional population. With significant increase in the population and the middle class, there is a shortage of private healthcare. The main private hospitals provide high quality care, and modern facilities.
"Medical tourism." With good quality care available in Thailand for a fraction of the cost of equivalent treatment in markets like the US, there is an increasing trend of citizens of high cost countries making the trip to Bangkok for medical care. This generates significant savings for costly procedures, such as hip replacements.
The two key Hospital Groups, Bangkok Dusit Medical Services (BGH: TB) and Bumrungrad Hospital (BH: TB) constitute over 2% of the THD.
Both are extremely expensive, with P/E multiples of over 30, price-to-book of over 6, and 20 times cash flow. They certainly offer strong growth, but not enough to justify these prices in my view. I will keep the sector under close review, but not seek a position unless valuations become more realistic. Both stocks can be accessed via (OTCPK:BDULF) and (OTCPK:BUHPF).
An Allocation Strategy for Thailand
As detailed in my original article on growth economies, iShares EEM allocates a 2.22% weighting to Thailand, whereas my model indicates an overweight position. The current sector mix and potential headwinds indicate some enhanced risk factors, and market access is not straightforward. Some alternative strategies:
Stick to the EEM allocation, keeping a standard market weighting to Thailand. This strategy is simple and straightforward, but misses the opportunity for enhanced growth.
Overweight via THD. Easy to execute, and a higher risk/return position than EEM allocation. I do believe that the risk in the broad index is understated, and returns will underperform stocks in the key growth sectors.
Market weight via THD, overweight via positions in CPF, and SCC. If growth opportunity is more important to you than valuation, CP All might also be of interest.
This last option is the strategy I recommend. If these stocks do not develop price/performance as I have targeted above, I will look for other opportunities in high growth sectors - possibly expanding to regional players (e.g. Singapore listed) with significant activity in Thailand/Indochina.
As this is the first emerging market 'deep dive' in what I plan to turn in to a series, I would very much welcome feedback and suggestions for future articles.
Disclosure: I am long EEM. I wrote this article myself, and it expresses my own opinions. I am not receiving compensation for it (other than from Seeking Alpha). I have no business relationship with any company whose stock is mentioned in this article.
Additional disclosure: I am not an investment advisor, and am sharing my analysis for readers information, not making a recommendation. Investors should seek professional advice before making investment decisions.