Bill Ackman has a very strong view on Herbalife (NYSE:HLF) and he is not ready to budge, no matter who is on the other side of the trade. One thing which bothers Herbalife shareholders the most is what makes Bill Ackman so (over)confident? The answer is Bill Ackman misinterpreted a small three word phrase from Peter Vander Nat's definition of Pyramid scheme which lead him to a wrong conclusion and a false belief that he is right. I am sure you won't believe me. Some of you may even think I am out of my mind. So guys, here is my case.
Ackman's whole "proof" is based on Peter Vander Nat's definition of pyramid scheme which he outlined on slide 60 of his December presentation:
"the organization is deemed to be a pyramid scheme if the participants obtain their monetary benefits primarily from recruitment rather than the sale of goods and services to consumers"
Ackman dedicated a good portion (slide 60 - 150) of his presentation to prove that Herbalife distributors make more money from recruiting rewards as compared to direct retail sales and hence it is a pyramid scheme. The mistake Ackman made is he misinterpreted the term "primarily from recruitment" despite of the fact it is very clearly explained in Peter Vander Nat's paper.
I will get there in a bit but to start with let me first jog you through the exact content of Peter Vander Nat's paper. This is important as Peter Vander Nat is senior economist at FTC and he will likely be analyzing Herbalife's case if FTC gets involved. The aim of the paper was to examine similarities between MLM and Pyramid schemes and to develop a mathematical model to differentiate between the two on the basis of previous pyramid scheme cases and current US law.
To build the model it was assumed that products were sold in packages and certain variables were defined:
Actual retail sales price P is the price at which these packages are sold to the public by distributors. This retail price P is same as Actual Retail Price which Ackman mentioned is ~35% discount to suggested retail price (SRP).
Distributors buy these packages from the company at a Wholesale price W which distributors pay for the package.
The retail margin, m, which distributors make on retail sales is expressed as a direct retail commission per $1 in revenues, namely, m = (P - W)/P
r is defined as the percentage of packages on average retailed to the public
Full Production cost of package ( manufacturing cost and direct expenses related to production or COGS approx.) is expressed as a percentage, f, of distributor wholesale price W
In addition to retail sales distributors could also earn business income by receiving rewards for the volume of product purchased by subsequent recruits, direct or indirect. This is referred to as upline rewards. A variable u is used to express upline rewards as a percentage of distributor wholesale price (NYSE:W). Total up line rewards per package = uW.
In addition to above terms, Peter Vander Nat introduced the main concept of Advance Retail Commissions (ARC) explicitly for the purpose of pyramid analysis. Advanced retail commissions is the portion of gross retail sales that is left over after certain commitment and cost have been covered. This is the portion of actual retail profit that is available to pay upline reward.
It is defined as
ARC = gross retail sales - (direct retail commission + full production costs)
Now, on per package bases
Gross Retail Sales = rP
Direct retail commissions = r(P-W)
Full production costs =fW
ARC = rP - ( r(P-W) + fW) = (r - f)W
ARC is in effect the money from retail sales left with the company to pay upline/distributor rewards. The extent to which ARC can pay upline (or distribution) rewards, uW, would determine if an organization is a pyramid scheme.
When a distributor obtains a package by paying W to the parent company, the funds needed to pay the upline rewards (namely uW) come first from whatever ARC funds exist. If ARC is not large enough to pay the upline rewards, the difference must come from funds which do not have any retail basis. A concept of Effective Recruitment Reward (ERR) was introduced as ERR = uW - ARC to define the upline rewards that remain unfunded by ARC.
Now comes the most important part. The definition on whether a scheme is based on recruitment or retail. Peter Vander Nat defined it very clearly (on Page 148 of the journal/ Page 10 of his paper) as the following: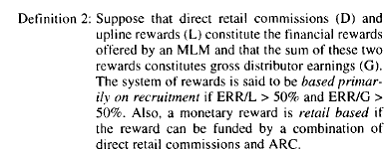 Definition 2 implies that an organization is based primarily on recruitment if
ERR/L > 50% or (uW-ARC)/uW > 50% or ARC/uW<50%
or ARC/(distribution rewards) < 50%
i.e. an MLM organization is a pyramid scheme if its Advance Retail Commissions cannot cover even half of its distribution rewards.
The important thing to note here is the magnitude of direct retail commissions versus upline rewards has nothing to do with whether an organization is based primarily on recruitment or retail. The important question and "critical test" here is to what extent Advance Retail Commissions can pay distribution rewards.
Ackman missed this point and compared direct retail commision to upline rewards. Now that we know where exactly Ackman has missed the point lets see what a correct analysis on Herbalife will look like.
Lets began with calculating ARC (for the year 2011)
ARC = (r - f)W
r= 0.7 assuming 30% self consumption and 70% retail sales as Ackman assumed in slide 129 of his December presentation
f = (direct production cost)/ (Wholesale price) = (COGS)/(Net Sales)
= 680/3455 =0.1968 (Ackman assumed direct product cost to be 21% in slide 143 of his presentation. So again we are not far off here, although 21% was for the year 2008 in his analysis)
W = Wholesale price = Price at which product is sold to the distributors = Net sales = $3455 million for 2011
ARC = (0.7 - 0.1968) x 3455 = $1740 millions for 2011
This is clearly greater than upline or distribution rewards which in best case (which Ackman painted in slide 148) is $1739 millions max.
Also, please note that even if ARC was less than distribution rewards, the company would not have been classified as pyramid scheme as long as ARC was able to cover atleast half the recruitment rewards. This means that even if Herbalife's retail sales were just 55% unlike Ackman's 70% assumption, the company would still not have been classified as a pyramid scheme according to Peter Vander Nat's 2002 paper.
So, to sum up, here are my important findings:
1. Ackman completely misinterpreted and misrepresented Peter Vander Nat's 2002 paper
2. If 70% of Herbalife's sales have actual underlying demand and are just not incidental purchases by participants to be the part MLM organization, the company's reward structure is a completely retail based
3. As long as 55% of company's sales is coming from actual underlying retail demand, the company can argue that it's reward system primarily based on retailing and not recruiting
The Big Question?
The big question which remains is what % of sales have an actual underlying demand (retail sales not incidental to just participation in the scheme) as compared to the total sales.
There continues to be a wide debate on the subject:
According to Liberman research 92% of consumers are non-distributors (slide 42 of investor presentation)
Bill Ackman assumed 70% of product is not internally consumed (slide 129 of his December presentation)
The Company doesn't track this number. Most of the company's sales are made by distributors. However, in the US, Herbalife ships a portion of its volume directly to non-distributor customers on behalf of its distributors and it willingly shared this information on its investor day. This represents ~31% of the orders in the US. Now there is some misinformation in the market (as you can see in this video) that this 31% is the total retail sales by distributors. This is far from truth. Over and above it there are sales by distributors to their clients which are not shipped by the company directly. Also, think about this, a distributor will ask company to ship directly to a customer only if he/she is out of inventory. 31% of product directly going from the company to end consumers means its distributor inventory is quite lean. Not in line with the horrible picture of filled garages as Ackman and some bears are painting.
Also, the company is set to rework on its distributor classification from April onwards. 73% of distributors which are not eligible for retail rewards and have joined the company with the intent of self-consumption will actually be reclassified as preferred customers in line with what its peer NuSkin (NYSE:NUS) does. So, if an obese man/woman joins a nutritional club, tries Herbalife products, loses weight and leaves as a healthy person after 6-7 months, this won't be held against the company. After all, it is a company which sells weight loss products and not nail polish or lipstick which you will need to use again and again. Who wants to continue drinking that protein shake after he/she has met his/her weight loss goal?
All said, it finally boils down to the question what % of sales has genuine underlying demand. My suggestion is to avoid "Fool poisoning" which Ackman is spreading and do your own analysis on retail sales. However, to help you with it here is my calculation for the US:
31% of retail sales is shipped directly by the company
Say x% is retail sales by distributors which is not shipped by the company
(100-31-x)% or (69-x)% is internally consumed and 73% of distributors don't get any recruitment rewards and are actually discount consumers
So, total retail sales in US = [31+x + 0.73(69-x)] = (81.37 + 0.27x)%
Even if you assume just half of the actual 73% ineligible for rewards are actually discount buyers you will easily surpass 55% mark. US retail sales in this case would be [31 +x + 0.365(69-x)] = (56.185 + 0.635x)%
Clearly in all likelihood it wouldn't be difficult for Herbalife to prove that more than 70% of its sales has a genuine underlying demand. If it cannot prove that even 55% of its end consumer demand is genuine that it does deserves an action and nobody can question that. But the chances of it happening are remote.
Note: Peter Vander Nat is a senior economist at FTC. He is likely to do analysis on Herbalife if FTC gets involved. I had a good discussion with co-author of his paper William Keep on another website (see comments on this article). While it is unlikely that William will agree with me on a number for Herbalife's retail sales %, I do expect him to throw in the towel and agree that Ackman's calculation is wrong. Of course, he may just decline to comment saying he is not involved and it is just Ackman's work. But nothing changes the fact that Ackman continues to misinterpret and misrepresent a really good work on identification of pyramid scheme which is Peter Vander Nat's paper in Journal of Public Policy & Marketing.
Disclosure: I have no positions in any stocks mentioned, and no plans to initiate any positions within the next 72 hours. I wrote this article myself, and it expresses my own opinions. I am not receiving compensation for it. I have no business relationship with any company whose stock is mentioned in this article.
Additional disclosure: The article was written with substantial inputs from an investor who has a long position in "in the money" call options of Herbalife. He may size up/exit/re-enter his position at any time.