One of the reason I have stated that I don't pay much attention to sell-side analysts is because they are usually behind the curve.
However, when I see an upgrade, whereby the target price is considerably higher than the current price, then I pay attention. Here are some current upgrades that caught my eye.
Electronic Arts (NASDAQ:EA) was upgraded by Macquarie Group from a neutral to an outperform rating. The firm has a price target of $23 on the company's stock, which means a possible 29% upside from Friday's close.
The current trailing P/E is 32.56 but the forward P/E is about 15.76. With a price/sales ratio of 1.34 and P/B of 2.71, I think the upgrade is self-explanatory. On the one hand the price/sales ratio is more than reasonable and, on the other, analysts are forecasting high earnings growth.
Groupon (NASDAQ:GRPN), a stock I have been following up closely, also got an upgrade from Piper Jaffray from a neutral rating to an overweight rating. Their new target price on the stock is $8, or a possible 40% upside from Friday's close.
Looking at my previous take on Groupon, I had advised short-term players to sell at around $5.50 and wait for a pullback. While a small pullback happened, it was not what I was hoping for. I still think that the stock will need solid news to go higher, but on the other hand, if the stock receives a few more upgrades from major firms like Piper Jaffray, no solid news is needed.
Remember I have called this stock from rock bottom, so I am a little hesitant since it is up about 100% from my initial recommendation. Nevertheless, I have never been negative on the stock, just short-term greedy. What is very interesting, however, is that Piper Jaffray's target of $8 is a pure technical call. If you see the chart below, $8 is the next technical target level.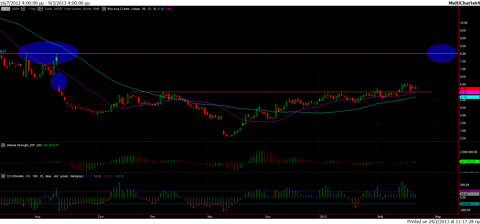 US Airways Group (LCC) also got an upgrade from JPMorgan Chase from a neutral to overweight rating. Their new target for the stock is $18.50, or a possible 36.8% upside from Friday's close. I am very hesitant on airline stocks, but you can't go that wrong when a stock is this cheap. The forward P/E of the stock is 4.5. If you follow airline stocks, put this on your radar screen.
Questcor Pharmaceuticals (QCOR) was upgraded by Mizuho Bank from a neutral to a buy rating with a $41 price target. That is about a 33% upside potential from Friday's close. Analysts' 12 month forward price target is actually even higher when one looks at data from Yahoo. The current P/E is about 12 and the forward P/E of the stock is about 7.6. Return on assets is 71% and return on equity is about 113%. This stock is a little out of my league as far as price/sales and several other metrics are concerned, but from the looks of it, growth and profits are quite impressive. I would put this one on your radar screen if you invest in pharmaceutical stocks.
Talisman Energy (NYSE:TLM) was upgraded by Credit Suisse from a neutral to an outperform rating. Credit Suisse put a price target of $16 on the stock, that makes for a possible 25% upside if they are correct. The consensus as per Yahoo is quite lower for Talisman at 14.22, so Credit Suisse seems to be more bullish than most.
This stock has been a roller-coaster for some time now, but it seems they are at least getting their earnings act together. You certainly want to dig deeper if you decide to buy this stock, but from the looks of things, it probably has potential given how beaten down this stock is form several years ago.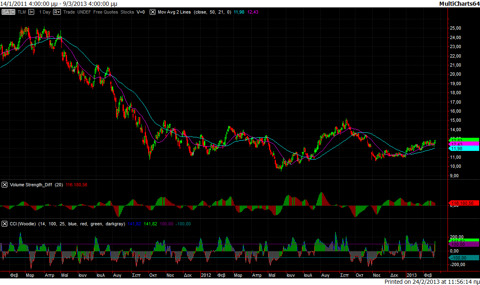 Disclosure: I have no positions in any stocks mentioned, and no plans to initiate any positions within the next 72 hours. I wrote this article myself, and it expresses my own opinions. I am not receiving compensation for it (other than from Seeking Alpha). I have no business relationship with any company whose stock is mentioned in this article.