The decision by the Environmental Protection Agency (EPA) to phase out production and importation of Hydrochlorofluorocarbon-22 (R 22), the dominant refrigerant in the US, has created a compelling investment opportunity in the shares of Hudson Technologies Inc., (NASDAQ:HDSN). The EPA first outlined its goal in 2010 but issued a "No Action Assurance" letter January 20, 2012 (2nd letter in link), detailing 2012 R-22 production and import quotas for manufacturers. This EPA rule cut 2012 production of R-22 to 55 million pounds from 100 million pounds. On January 7, 2013 the EPA further limited production and importation of R-22 to 39 million pounds for the current year. As the largest US recycler of refrigerant gases with a 20% market share, HDSN has begun to benefit handsomely from the R-22 phase out. Sales and earnings have soared as the price of R-22 more than doubled from $4 to $10.50 a pound with higher prices in store as the supply of new R-22 sources is curtailed.
With millions of cooling systems R-22 dependent, reduced production must be replaced with recycled gas which is exactly the goal of the EPA. Before the surge in price, used R-22 was typically vented into the air illegally. Since the EPA had designated R-22 as an ozone depleting and global warming gas, the agency implemented a strategy to eliminate its use over time and ensure its safe reclamation by driving prices higher in the interim. It is the EPA's ultimate goal to drive the annual reclamation market from 8 million to 28 million pounds, although this number may prove conservative with increased demand for recycled gas.
The consequences of the EPA strategy are obvious for HDSN as it is the largest recycler of R-22 with 20% of the US market.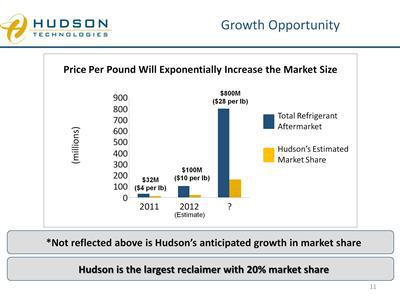 As the production of "virgin" R-22 moves towards zero, HDSN is transformed from a low margin reseller to a high margin producer of R-22. Although HDSN is modeling 35% gross margins going forward, 2012 gross margins will exceed 40% and the company has indicated it will likely increase its margin forecast as the new rule is in effect for a longer period of time. HDSN sees compounded annual growth through 2020 of 20% with sales from organic growth hitting $300 million by 2020 from a projected $55 million in 2012, a nearly six fold increase . It should be noted that the successor refrigerant to R-22, 410a has also been designated as a global warming gas and will also be phased out creating another significant opportunity for HDSN.
HDSN's financial targets may prove conservative. As previously mentioned, gross margins are likely to exceed 40%, above the current 35% forecast. HDSN also anticipates growing its market share as the overall reclamation market is expected to more than triple to 28 million pounds. The simultaneous price increase in R-22 will cause the overall market opportunity to grow from $32 million in 2011 to $800 million as R-22 as "virgin" production approaches zero. These market assumptions are firmly supported by the phase out of Freon in the 1990s during which the price increased from $1 to $30 per pound and the phase out of R-22 in Europe which followed a near identical trajectory.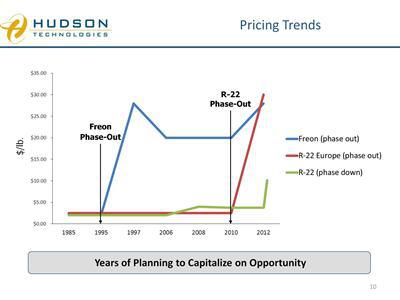 Additionally, while the refrigerant reclamation market is dominated by HDSN, Airgas (ARG) and National Refrigerants, a private company, 50% of the refrigerant reclamation market is fragmented. There may be opportunities for HDSN to grow through the acquisition of smaller, under-capitalized recyclers.
Service Division and European Joint Venture
While HDSN's unique opportunity as the largest refrigerant recycler in the US is the main focus of this article, 10% of HDSN's sales are from its service division which the company hopes to grow rapidly in the future. HDSN performs on site decontamination and recovery services and the removal of moisture, oil, and other contaminants. HDSN also provides performance evaluations and equipment process and engineering. Speaking at the Needham conference last month HDSN President, Brian Coleman stated that the opportunity in services could rival that of reclamation.
HDSN is seeking to capitalize on its expertise internationally through its 40% ownership of Hudson Technologies Europe, a joint venture agreement with Europe-based Safety Hi-Tech and the owners of the Italian engineering firm Banini-Binotti Associates. The EU is years ahead of the US in the phase out of hydrochlorofluorocarbons, including R-22 which can no longer be produced or imported in the EU. While the European joint venture is only 18 months old, the regulatory environment in the EU presents an excellent growth opportunity for HDSN's expertise.
Valuation
Although HDSN has not provided a specific earnings projection, it has provided financial metrics as a future guideline.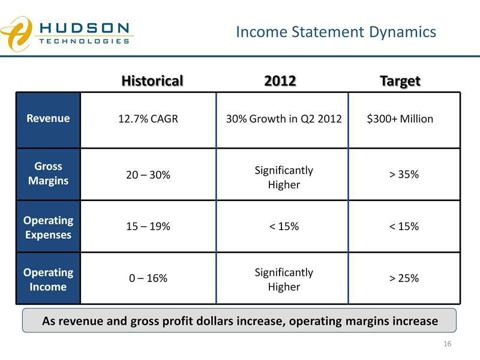 I believe these metrics will prove to be conservative. The current trailing price to earnings (NYSE:PE) multiple, approximately 11 on fully diluted earnings of $.38 through the first three quarters of 2012, undervalues the shares. It should be pointed out that earnings are seasonal with the 1st and 2nd quarters generating the majority of sales. 2012's 3rd quarter swung to an $.08 profit vs breakeven in 2011. The 2012 4th quarter is pending but I expect it to improve upon the .03 loss in 2011
With 20% annual compounded growth modeled for the next 7 years, HDSN provides high growth visibility that merits a higher PE multiple. Based on the financial metrics provided by HDSN, it isn't hard to envision an annual EPS of 1.00 in several years. With EPA regulatory decisions ensuring annual compounded growth exceeding 20% to 2020, a PE multiple of 15 is more appropriate. Presenting at Needham, Brian Coleman stated that HDSN was "agnostic" to refrigerant types. The transformation of HDSN from low margin reseller to high margin producer is assured by continuing phase outs mandated by the EPA.
An additional factor to consider is HDSN's attractiveness as a takeover candidate. Airgas entered the reclamation market several years ago. Industrial gas giants Air Products (NYSE:APD) and France's Air Liquide, Airgas competitors, have not entered what has now become a lucrative, high-margin reclamation market. The acquisition of HDSN would provide a quick entry into the burgeoning market for recycled refrigerants for these other companies.
Technical Chart
One reason I felt compelled to write on HDSN is that its visible, compelling fundamentals are complemented by a strong technical pattern. HDSN is on the verge of breaking a 14 year high on a long term basis and a consolidating pattern over the last 12 months. The move up over the last year has been accompanied by a strong increase in overall volume.

I would expect an upside break of the supply between 4.30 and 4.40 on increased volume to lead to further upside to the 6 to 7 dollar range over the intermediate term. In short, I find HDSN's technical chart as compelling as its fundamental characteristics.
Although there are 24 million shares outstanding, institutions own over 32% and officers and management 28% of HDSN shares, leaving a float of under 10 million shares. While this ownership results in less liquidity, it serves to align management's interest with those of other shareholders.
Risk Factors
As the investment thesis for HDSN is predicated on US regulatory policy, a political change in Washington could have adverse results for HDSN. It should be noted that this risk would only be a concern with the next presidential election as the EPA does not need congressional approval to promulgate rules.
Conclusion
HDSN provides an excellent vehicle to invest in the booming refrigerant reclamation market. US environmental policy has ensured strong economics for refrigerant recyclers for many years to come. In addition to a strong fundamental story, HDSN shares possess a strong intermediate and long term technical pattern. As the only pure play in its field HDSN offers a unique and compelling investment opportunity.
Disclosure: I am long HDSN. I wrote this article myself, and it expresses my own opinions. I am not receiving compensation for it (other than from Seeking Alpha). I have no business relationship with any company whose stock is mentioned in this article.