The current contrast between failing US banks and their stronger Canadian cousins provides the ideal viewing gallery to see what ingredients lead to strong banking systems and which lead to weaker ones. In 2008, 25 U.S. banks failed. So far this year another 13 have gone under. The last bank failure in 2008 was Sanderson State Bank, a tiny bank with just one branch in Sanderson, Texas, population 851. With only $37 million in assets, the local real estate market's collapse probably played no small part in the failure. Scroll through the Federal Deposit Insurance Corporation's (FDIC) website of failed banks and most resemble Sanderson: institutions with a few branches, no more than a hundred million in assets, and usually based in California, Texas, Georgia, or Florida.
But it's not only the small banks dropping. A few large ones have failed including IndyMac – with 33 branches - and Washington Mutual with over 2,000 branches. And though Countrywide and Wachovia were bought by Bank of America (NYSE:BAC) and Wells Fargo (NYSE:WFC) respectively, both were on the path to failure. In 2006, its last good year, WaMu reported assets of US$350 billion. This made it bigger than Bank of Montreal (NYSE:BMO), Canada's fifth largest, which had only US $319 billion that year.
Like Sanderson, these large U.S. banks had a regional flavour to them. Though styling itself a nationwide bank, WaMu's 2006 annual report shows that some 49% of its loan portfolio were in California. According to Bloomberg, some 43% of Countrywide's loans were in that same state, and the majority of both Wachovia and IndyMac's loans were sourced from there. This regionalism is a relic of strict laws like the Banking Act of 1933 that once prevented inter-state banking and the growth of national branch banking.
Look at the balance sheets of these failed banks and something else pops out: they focused on one class of asset, residential real estate mortgages. Some 65% of Countrywide's assets were related to homes and around 74% of WaMu's assets were related to the same.
Canada's banks are a different beast. While the U.S. banking system is made up of thousands of banks serving certain communities, states, or regions, Canada's banking system is made up five large chartered banks with branches in every province. In decreasing order of size by market capitalization, these are the Royal Bank (NYSE:RY), TD Bank (NYSE:TD), Bank of Nova Scotia (NYSE:BNS), CIBC (NYSE:CM), and Bank of Montreal.
Don't look for mom and pop banks like Sanderson up North. Banking law in Canada never limited the geographical expansion of banks, so Canadian banks tend to have regionally well-diversified deposit bases and loan portfolios. If Alberta goes bust, Ontario can be counted on to hold things up for the typical Canadian bank, and vice versa. Not so the case in the U.S., where a collapse in one state means a handful of collapsed banks.
Second, the average Canadian chartered bank holds only 25% of its assets as residential mortgage loans, the remaining 75% spread between government debt, credit cards, personal lines of credit, business loans, and corporate bonds. That means that if one asset class plummets, or an industry flounders, odds are another will hold up.
That being said, the inevitable fall in Canadian real estate prices will hurt the banks' balance sheets. So far real estate prices in most cities have paused, not fallen. But when they do, bank stock prices will fall even more. But there are no undiversified WaMu's in Canada that depend almost entirely on the fate of the real estate market.
That doesn't mean that Canada has a spotless banking history. For its last significant bank failure, one need only look back to 1985 when the 10th and 11th largest banks by assets - the Canadian Commercial Bank (CCB) and its smaller cousin the Northland Bank - went broke. Both banks exhibited some of the same features as today's Sanderson State Bank. Founded in 1975, CCB and Northland took a regional approach to banking, focusing on the provinces of B.C., Alberta, and Saskatchewan for business. As oil prices exploded in the 1970s till 1981, both concentrated ever increasingly on oil & gas loans and real estate lending. Assets grew 20-70% a year, far outdistancing the larger chartered banks.
The collapse of oil prices in late 1981 and their continued deterioration dramatically hurt the loan quality of the banks' oil loans. Often secured by oil in the ground or drilling rigs, this collateral fell to a fraction of its value during the bust. At the same time the Alberta economy – largely dependent on energy prices – entered a recession, with job losses and collapsing real estate prices causing all sorts of delinquencies and loan defaults.
By 1985 the CCB was insolvent; the value of its assets worth less than its liabilities and equity. Realizing this, the Mulroney government - anxious to garner western approval - launched a bailout of the bank, and along with the Alberta and BC governments, the Canadian Deposit Insurance Corporation (CDIC), and the big 5 banks injected some $255 million in new capital into the CCB.
The bailout failed. The majority of the CCB's deposits were not retail deposits, but wholesale deposits. Banks like the Royal or Toronto Dominion depend on retail deposits – individuals and businesses that hold chequing and savings accounts at a bank branch. These deposits are stable since clients are often slow to switch, customer service instills loyalty, and each account is protected by the CDIC up to a certain dollar level.
Wholesale deposits, on the other hand, are usually short term (say 30 days) and in amounts often exceeding CDIC insured levels. There is no necessity to set up branches to solicit funds – instead money can be wired in or out at the click of a button. Professional traders scan hundreds of competing banks for the best rate in which to place wholesale funds. Good service doesn't keep deposits. Only the best rates attract funds, and this can change quickly.
After the bailout, CCB wholesale depositors - smelling fishy assets - began cashing in by the millions. Canada's central bank, the Bank of Canada, stepped in to stem the run, providing the CCB with replacement funds. Northland, also dependent on wholesale funds, was caught up in July by a wave of deposit redemptions too. By September 1985 the BoC had lent some $1.3 billion to the CCB and another $500 million to Northland. Realizing that the wholesale depositors run on the banks could not be stopped, authorities allowed CCB and Northland to fail. At the time of their demise the two banks reported $3 and $1.5 billion in assets respectively, about 0.75% of all Canadian bank assets.
The failure of Northland and CCB led to a number of small bank takeovers by larger stalwarts. National Bank ate a weakened Mercantile Bank and HSBC (HBC) bought the Bank of British Columbia. In 1988, the only western focused banks to survive - the Alberta Bank and Western & Pacific - merged to form Canadian Western Bank.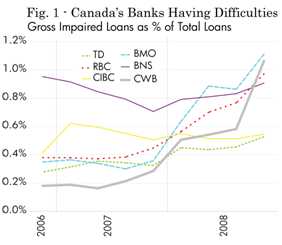 The case of the Canadian Western Bank -Canada's eighth largest - gives cause for concern because it is reliving the same conditions that killed its Alberta-based competitors over 20 years ago, as well as those down south like Sanderson. With 36 branches, most of them in Alberta and BC, the western-focused CWB was Canada's fastest growing chartered bank during the boom years of 2000-2008, almost tripling its lending. Peaking in late 2007, shares traded at $32, giving the entire bank a value of $2 billion.
Oil prices have collapsed in 2008, just as they did from 1981 to 1985. The real estate boom that has dominated the western landscape - fuelled in part by high oil prices - is showing signs of reversing. Depending on who you talk to, prices in Calgary and Edmonton are off anywhere from minimal to ten percent. It's an easy call to say they'll have more to fall.
With 55% of its loans in Alberta (numbers from `07 annual report), CWB isn't in the sweet spot it once was. About 10% of its total loans are tied up in Alberta residential real estate, and another 10% qualified as oil & gas production and service loans. With around 50% of its loans made to commercial, construction, and equipment financing businesses based in Alberta, it might seem that oil and housing exposure is minimal. But in Alberta, who can say how many of these business loans depend on the oil industry's fate; probably a lot.
While the Royal Bank and the other big players will suffer in Alberta, at least they are well diversified. CWB has all of its eggs in once basket. Already we see its impaired loans rising. Once lower as a percentage of all loans than the others, CWB's impairment rate has grown faster in 2007 and 2008 than the other large players (see fig 1).
Lucky for it, the CWB learnt from the 1985 bank crisis. Unlike Northland and CCB, it has built up a solid base of retail deposits. Wholesale funds account for a tiny 2% of all deposits. If the situation deteriorates, a bank run won't happen. Nor do we think the bank is insolvent. But it does seem that the CWB is in a tighter spot than its bigger relatives, and the longer oil prices stay below $45 the tighter that spot will get.