Last week I published an article (here) that rather pointedly illustrated the lack of growth in Microsoft (NASDAQ:MSFT) over the past 10 years. In that piece I noted:
"If you invested in one share of Microsoft stock on February 19, 2003 (right after the last stock split) it would have cost you $24.50. Today, ten years later, that share is worth all of $28. Dividends would have added another $7.54 in your pocket so your total return would be just over $11 or, on average, about 4.4% per year. During that same time, the NASDAQ 100 index averaged 13.7% per year ... "
Now that's not to say that an investor couldn't make money trading that range. After a while it's gotten to be so predicable that one just needs to wait for the stock to pull back to the mid $20's to buy and then wait a while to sell in the low $30's. At some point it'll break out of that range, but at this point I can't tell you if that breakout is to the upside or the downside.
However, for astute investors there has been another way to make money from Microsoft, and no, I'm not talking about hawking unused packages of VISTA software on Craigslist. I'm talking about investing where Microsoft invests.
For example, back in 2001 Microsoft made a small investment in a company called Blackboard that provided a virtual classroom experience and was targeted mostly towards the post secondary education providers. If an investor had purchased shares shortly after this company went public in 2004 at around the $14.50/share range and held until the company was purchased by Providence Equity Partners in 2011 for $45/share, that investor would have realized a 210% gain, or an average annual return of about 30% per year.
Likewise with Verisign (NASDAQ:VRSN). Microsoft invested in Verisign way back in 1996 and the company went public in 1998 at $20.75/share. Within 3 years those shares had two separate 2:1 splits and closed Friday at $45.80/share for a 780% gain over that very long time period - or an annualized average of about 50% per year.
Of course, back in those days Microsoft was throwing money around like a drunken sailor at anything and everything. Like the sailor, Microsoft found that very few of those relationships worked out, and since 2001 has been much more selective about where and with whom they invest. This of course increases their chances of success.
Lately, Microsoft's has partnered with the likes of Facebook (NASDAQ:FB), Barnes and Noble (NYSE:BKS), Yelp (NYSE:YELP) and Yahoo (YHOO).
One interesting investment has gone largely un-noticed though, and that's with a company called Mimvi (MIMV.OB): a mobile search technology company, that has developed a tool to help Windows Phone 8 users discover phone apps they are looking for. It works like this:
Have you ever gone looking for an app on your mobile device only to be disappointed you couldn't find it? I have and it's very frustrating. With over 775,000 apps for iOS users (iPhone, iPad, iPod Touch) and over 675,000 apps for Android users, you can probably see why it's a growing problem. The pace of new app development is mind-boggling and the problem searching for the best and most popular app in the app stores is getting worse. That's where Mimvi comes into play. According to their website:
"Mimvi's core technology is based on personalization algorithms, proprietary mobile app search, and recommendations algorithms. Heady stuff. Simply put, no other search technology targets and delivers relevant mobile app, mobile content and mobile products in the same way."
In layman's terms, when you search for apps, you will find exactly what you are looking for. This may not seem like a big deal to you or me but to Microsoft, it is a pretty big deal. So big that Microsoft made an unspecified investment in Mimvi back in September of 2012. The nature of the relationship consists of Mimvi "developing a number of products and services to complement Windows Phone 8 apps." You can read more about the relationship here: "Microsoft Buys Into Mimvi To Help Show You Windows Phone Apps."
The best part about this search technology is that Mimvi just filed a patent on January 21, 2013 for it's mobile app discovery technology. You can read more about it here: "Mimvi Files New Patent for Mobile App Discovery."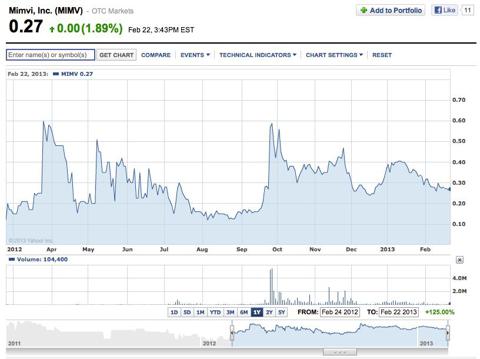 Since the announcement of the Microsoft deal in late September and the more recent patent filing, the stock has been active somewhat. If their mobile app discovery patent is approved and/or Microsoft increases it's investment position in the company, I expect that the stock could easily re-test it's 52 week high.
What Now?
As I said earlier, this is really a play on Microsoft so if that stock pulls back a bit more I'm a buyer in the mid $20's. If not, I have some shares of MIMV and I'm considering adding to my position while the price is still attractive. However, I really want to see if the mobile app discovery patent is approved before I buy any more shares. I will say this, the stock is on my watch list and my finger is on the trigger.
Disclosure: I am long T, MAKO, MIMV.OB. I wrote this article myself, and it expresses my own opinions. I am not receiving compensation for it (other than from Seeking Alpha). I have no business relationship with any company whose stock is mentioned in this article.