What the rebound and recent decline of Facebook (NASDAQ:FB) has revealed to investors is not only that there are profits to be made in the social media sector, but that niche players such as LinkedIn (LNKD) and Viratech (OTCPK:VIRA) have much more to offer to investors due to the evolution of the industry.
At present, the social media sector for publicly traded companies is much like that after the dotcom bubble burst. The losers are falling to the side, providing only losses to take on the tax return for the shareholders. But for the shareholders of the survivors, hope springs eternal that they are long the next Amazon (NASDAQ:AMZN) and eBay (NASDAQ:EBAY).
With over one billion users and one-fifth of Internet page use coming its way, Facebook will survive. It will certainly not be the $100 stock that some had projected in the halcyon days before its initial public offering. But it has recovered nicely from a grim post-IPO plunge. However, for long-term investors, the best hope is probably that Facebook follows others behemoths and starts to pay a dividend as it is no longer a growth stock.
What the decline after its initial public offering did show to the investment community is that Facebook, even with its mammoth presence, cannot be everything to everyone in social media investing. There is plenty of room, and gains, to be made from social media niche players such as LinkedIn and Viratech that have much to offer to investors.
LinkedIn is where Facebook wants to be in the social media employment landscape. It dominates the online job services sector, with a recent effort by Facebook falling short. Over the last year of market action, LinkedIn is up more than 90%. Its earnings-per-share growth, both actual and projected, is jaw-dropping with a surge of 51.92% this year; 48.48% estimated for next year; and 61.33% expected for the next five years.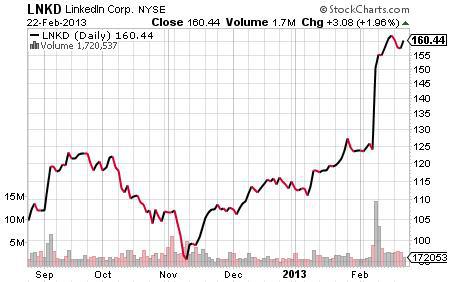 By contrast, the earnings-per-share growth for Facebook is down 95.27% this year.
Viratech could also be registering strong growth numbers for its shareholders. As a player in the social media health sector, Viratech recently launched the first social media network dedicated to cancer. Two years in the development, Viratech's website assimilates thousands of scientific materials from researchers around the world dedicated to eradicating cancer.
This effort by Viratech comports very well with the direction of Obamacare. One of the main objectives of Obamacare is to bring together the offerings of medical providers through health insurance exchanges. As part of this massive effort that will take place in all fifty states, this is a huge emphasis being placed on accessing all aspects of medical care via the Internet.
According to a CNBC article by Bertha Coombs:
"So far, the Obama administration gave states nearly $2 billion in funding for the development of the exchanges, but analysts say for tech firms the opportunities are still growing when it comes to the build-out of the infrastructure that will be needed to carry out the expansion of coverage under Medicaid for the health care overhaul."
Viratech is obviously one of the firms that is still growing that could play a vital role in the infrastructure of healthcare reform for the treatment, cure, and eradication of various types of cancer. The American Cancer Society and LiveStrong estimate the global economic cost of cancer at close to $1 trillion. A major advantage Viratech will have in this sector of the healthcare marketplace is its development of the micro social network concept. With this, any user can establish a micro social network, then develop and update it with content and content or intellectual property that is automatically registered with Google "authoritative source" status.
Social media is inevitably trending towards boutique sites such as LinkedIn and Viratech. That is why LinkedIn has done so well after its initial public offering while Facebook is far beneath the share price from last May. Situated to benefit from Obamacare and the direction of the social media in a $1 trillion healthcare need, Viratech shareholders should benefit from the gains in cancer treatment from around the globe.
The next step will be how well these social media stocks can adapt to changes in the marketplace. As an example, Amazon has moved from being an online retailer to now being a dominant company in The Cloud. Facebook tried this with employment, but failed. LinkedIn will now have to move beyond its present niche due to the lack of a moat that has it with very high valuations that cannot be sustained. For Viratech, the cancer base gives it a very strong foundation for long-term investors
Disclosure: I have no positions in any stocks mentioned, and no plans to initiate any positions within the next 72 hours. I wrote this article myself, and it expresses my own opinions. I am not receiving compensation for it (other than from Seeking Alpha). I have no business relationship with any company whose stock is mentioned in this article.