Moody's Corporation (NYSE:MCO) is a company I have been following ever since reading, "The Warren Buffett Stock Portfolio: Warren Buffett Stock Picks: Why and When He Is Investing in Them". After reading I realized how attractive Moody's was to a potential investor and with the DOJ lawsuit against rival Standard & Poor's, subsidiary of McGraw-Hill (MHP), the next few months could provide an opportunity to purchase this great company at a great price.
Company Background
For over 100 years, Moody's has been an independent provider of credit rating opinions and related information. According to the 2011 Annual Report, the company's principal activities today are providing (NYSE:I) credit ratings, (ii) credit and economic related research, data and analytical tools, (NASDAQ:III) risk management software, (iv) quantitative credit risk measures, credit portfolio management solutions, training and financial credentialing and certification services and (NYSE:V) outsourced research and analytical services to institutional customers.
Moody's divides its business into two segments: MIS and MA. MIS stands for Moody's Investor Services and consists of all credit rating activity; MA stands for Moody's Analytics and is responsible for all of Moody's other non-rating commercial activities. Two thirds of Moody's revenue comes from the MIS segment, the remaining third comes from the MA segment.
Lastly, Moody's maintains a global presence with 55% of revenue from the U.S., 29% from EMEA, and the remaining 16% from rest of world.
What to Love About Moody's
Limited Competition and Room to Grow: Two companies dominate the Investor Services and Analytics industry where Moody's derives over 90% of its revenue: Moody's and Standard & Poor's.
Source: csimarket.com
As you can see, Moody's has been smart about where they have decided to play. Despite having lower market share across all segments, it has a higher percentage of the total category revenue. The table also shows that Moody's still has room to grow its market share.
Recurring Revenue: Essentially, there are two forms of revenue, transactional and recurring. The latter is more attractive from an investor standpoint because usually it means a one-time cash outlay and then minimal spending to maintain the revenue stream. This is why so many investors are attracted to cable companies. Once the network is established, only a small amount of proceeds need to be spent maintaining the network. Moody's is like a financial cable company. As the chart below shows, 50% of company revenue is recurring.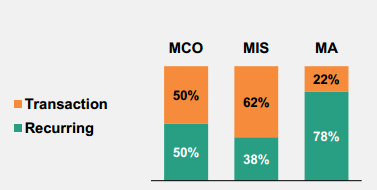 Source: 3Q 2012 Investor Presentation
Strong Income Ratios: The economics of the Investor Services and Analytics industry are remarkable. Since Moody's is essentially selling knowledge, there is little in the way of expenses to produce the products they sell. Essentially all they have to do is pay their employees and pay for the information their employees need to produce their reports. This becomes extremely evident when you look at the gross margin, ratios of SGA, depreciation, interest to gross profit, and net margin. The table below summarizes the 10-year averages for each of the aforementioned ratios:

Source: gurufocus.com
To put it into perspective, MCO's net margin is within the top 20 highest on the S&P 500 among credit card services and technology companies. (Note: MCO shows up 28 on Finviz's list because they go by the latest quarter results, not the 10-year average).
Robust Balance Sheet: According to the Sept. 12 Moody's held $3.6Bn in assets and $3.3Bn in liabilities. Of the $3.6Bn in assets, $2.2Bn was current with a substantial cash position of $1.5Bn. Of the liabilities, only about $1Bn was current equating to a current ratio 2.2. Total debt for the company is only $1.6Bn, which represents less than 2 years of the 10-year average operating income. In addition, 10 year average ROA and retained earnings growth rate were 32% and 34% respectively.
The DOJ Lawsuit and What it Means for Moody's
On February 5th, 2013, the Department of Justice filed a lawsuit against Moody's primary competitor Standard & Poor's, a subsidiary of McGraw-Hill . The lawsuit, among other things, alleges:
"S&P publicly represented that its ratings of RMBS and CDOs were objective, independent and uninfluenced by the potential conflict of interest posed by S&P being selected to rate securities by the investment banks that sold those securities. Contrary to these representations, from 2004 to 2007, the government alleges, S&P was so concerned with the possibility of losing market share and profits that it limited, adjusted and delayed updates to the ratings criteria and analytical models it used to assess the credit risks posed by RMBS and CDOs."
The week of the lawsuit, MHP fell from $57.38/share to $42.67/share representing almost a 26% decline. Since then, the stock has climbed up to $46.04/share due to S&P's vow to fight the suit seeking $5Bn in damages.
So what does this have to do with Moody's? The news of the lawsuit also brought with it fear of a similar lawsuit against Moody's, who like S&P, was also selling ratings of RMBS and CDO's leading up to the 2007 collapse. This fear caused a decline similar to MHP, MCO shares declined from around $55/share to $42/share. Since then a lawsuit has not surfaced against Moody's and the price has returned to around $48/share creating an opportunity for investors to still get in at a discount of approximately 13% from the per lawsuit price.
Assuming Moody's were to continue to grow earnings in line with the average earnings growth rate since 2008 of 10.4% and return to the 10-year median industry P/E of 17, the shares could be worth around $71/share within 5 years, representing almost 50% upside.
Conclusion
Moody's corporation is a company that investors dream of owning. They have high profit margins, low expenses, an established brand, a long history, and little chance of becoming obsolete. Until the DOJ lawsuit against Standard & Poor's was filed this February shares were at a premium preventing investors from buying this great company at a fair price. Today, an investor can purchase shares at $48/share with a potential upside of 50% over the next five years. Potential investors are cautioned that if a lawsuit were to surface in the next few months it would likely lead to a steep decline in price, however I think it would be a one-time temporary setback and not a long term systemic issue.
I recommend potential investors to read my article describing the real cost of a loss before investing at the current price level.
Disclosure: I have no positions in any stocks mentioned, but may initiate a long position in MCO over the next 72 hours. I wrote this article myself, and it expresses my own opinions. I am not receiving compensation for it (other than from Seeking Alpha). I have no business relationship with any company whose stock is mentioned in this article.