Cheniere Energy, Inc. (NYSEMKT:LNG) reported 4th quarter and full year earnings before the market opened on Friday, February 22nd. The company lost $0.19 per share in the quarter and $1.09 per share for 2012. This was an improvement from a loss of $0.66 in the 4th quarter of 2011 and a loss of $2.60 in 2011. In October the company received authorization to ship 15 million metric tons per year of domestic LNG to Free Trade Agreement countries from the planned Corpus Christi site. Additionally in the quarter Cheniere announced they would start development of Train 5 and Train 6 at the Sabine Pass facility.

Cheniere is currently ahead of schedule on the development of Trains 1 & 2 at Sabine Pass. The company has $5.7 billion of financing in place for construction and at the end of the quarter the project was approximately 18% complete. Each Train is designed to produce about 4.5 million metric tons of LNG per year (or 235 MMBtu). The chart above shows the maximum gross margin one train could produce if 100% of its capacity was sold in a specific region at near today's prices. This assumes the cost of delivered LNG to the Americas of $8.35, to Europe of $8.85 and to Asia of $10.60. The company currently expects the first Train to begin producing by the end of 2015 with the next train to follow in the next year. Cheniere will start construction of Trains 3 &4 this year and is estimating they will be online in late 2016 to 2017. The company believes that with four trains running Cheniere Energy Partners LP. (NYSEMKT:CQP) with have distributions of $3.10 per unit and that Cheniere Energy will have net cash flows of $990 million. I believe that would value both Cheniere Energy Partners and Cheniere Energy at about $40 per share today.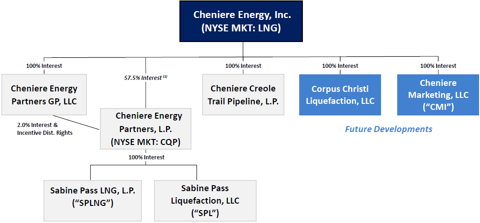 I believe Cheniere has significant catalysts over the next few years before these Trains come online. The first of these is completing financing for Trains 3 & 4 at Sabine Pass in the first half of this year so construction at begin this year. Furthermore the company has an ambitious plan to begin development of at Corpus Christi. Cheniere is aiming to have commercial agreements in place by the end of this year with financing in place and construction started by early 2014. The company does have a strong track record of completing projects ahead of schedule and under budget, highlighted by the construction of first two Trains at Sabine Pass currently being ahead of schedule. However the company plans to go from where they are at today to having four Trains at Sabine Pass with an annual capacity of 18 million metric tons and three Trains at Corpus Christi with an annual capacity of 13 million metric tons in just four years. There is significant risk of delays or complications with such a large scale project on a tight timeline and this no doubt is a factor in over 8% of Cheniere Energy's float currently being sold short.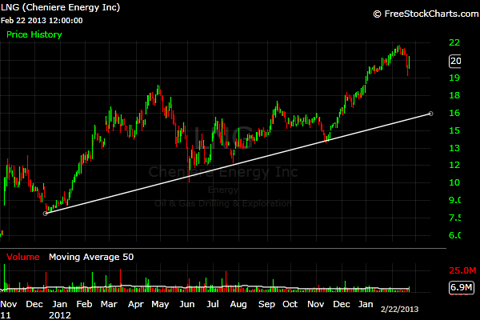 When you look at the chart you can see Cheniere has been in a strong uptrend for over a year now. Early last year the stock moved significantly higher and then pulled back some to a moderate uptrend; I believe we could be seeing a similar pattern this year. Volume has been declining as the stock has moved higher over the past few weeks and a pullback to around $17 would put the stock in line with its longer term trend providing a good entry point. This is a stock that is set up for long term success and buying on pullbacks could be rewarding to shareholders. Furthermore the company has been executing on its long term strategy and continued success could leave shorts looking to cover. Anyone investing in Cheniere should watch carefully that the company continues to stay on target and that its development timeline does not start to slip.
Data sourced from: Company filings, and Yahoo!Finance. Chart from: Freestockcharts.com
Disclosure: I have no positions in any stocks mentioned, and no plans to initiate any positions within the next 72 hours. I wrote this article myself, and it expresses my own opinions. I am not receiving compensation for it (other than from Seeking Alpha). I have no business relationship with any company whose stock is mentioned in this article.