Elevator Pitch
MetLife (NYSE:MET) has been one of the least favored financial stocks in the past year. While the S&P 500 Financials Sector Index has risen by over 20% in the past twelve months, MetLife's shares have fallen by about 6% for the same period. As of February, the average twelve month price target for MetLife, formed by 16 analysts' recommendations compiled by Bloomberg, is $43.95, indicating upside of 23%. In our view, MetLife has great upside potential in the next few years, coming from improving economic fundamentals and growth in emerging markets.
Company Description
Since 2011, MetLife has been fighting to de-register as a bank holding company, in an effort to escape tight regulatory oversight. In March 2012, MetLife was one of the four systematically important financial institutions in the U.S. that failed the stress tests. As a result, the company had to postpone the planned 49% dividend increase and $2 billion shares repurchases.
The long overdue sale of its deposit business to General Electric (NYSE:GE) was finally closed in January this year. A month later, MetLife announced it had won approval from the Federal Reserve to de-register as a bank holding company. However, the path to higher dividends and stock repurchases is still not straightforward. MetLife may still be forced to abide by strict rules if it is named a potential threat to the financial system under the Dodd-Frank act of 2010. The short-term outlook is uncertain. First, the regulators are still working to define a group of non-bank financial firms as systemically important. Second, the rules for these companies are not finalized. This process might be long and we don't expect to see higher dividends this year. Currently, MetLife's dividend yield is about 2%, among the lowest in the global insurers peer group. For comparison, Sun Life Financial (NYSE:SLF) has one of the most generous dividends with a yield of about 5%. However, we don't put 'dividend policy' at the center of any valuation model. It is worth mentioning given the regulatory framework in which MetLife operates. Going forward, we expect looser rules due to de-registration, combined with stronger operational performance, to have a positive effect on the share price.
Thesis & Catalyst For MetLife, Inc.
MetLife is steadily pursuing its growth plans in emerging markets. Over the past ten years, the company has completed many strategic acquisitions that have improved its global diversification. Latin America has been one of the focus regions. To name some of the targets in this region, MetLife acquired BBVA's (NYSE:BBVA) insurance operations in Chile, the leading Mexican insurer Aseguradora Hidalgo SA, and very recently it purchased AFP Provida, the largest pension provider in Chile, with market share of 28%. Asia is another important region for MetLife. The presence in Southeast Asia was strengthened after MetLife bought ALICO from AIG in 2010 for $16bn.
We favor companies with exposure to emerging markets, and in the long term, these companies are likely to outperform their peers. This is why we think MetLife is a good pick for long-term investors with a "buy and hold" strategy. Already in 2012, $1.9 billion of its operating earnings came from Latin America, Asia, and EMEA, with Asia having the largest contribution. This is 33% of its total operating earnings. Note that the profitability of the Latin American business, with an operating margin of 12.74%, is significantly higher than that for the entire company (MetLife's total operating margin was 8.32% in 2012). MetLife's projected return on equity for 2013 is between 10.2% and 10.9%, with the 2016 target for ROE expected to be between 12% and 14%, according to management forecast.
Valuation
Regulatory uncertainties and somewhat disappointing Q4 earnings exerted negative pressure on MetLife's share price in the last month. This should be viewed as a solid buying opportunity. A quick peer group comparison among nine of the largest insurance companies shows that MetLife is trading at attractive multiples.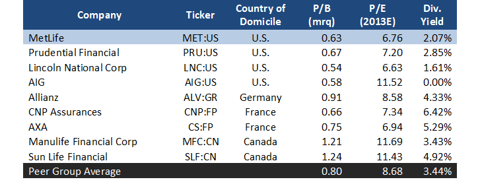 *Source: Bloomberg.com
U.S. insurance companies are trading at significant discounts to book value compared to peers worldwide. In terms of both P/E and P/B, MetLife is among the cheapest insurance stocks at the moment.
Upside. MetLife is cheaper than its peers, with a lot of earnings potential from growth in emerging markets. Assuming MetLife should trade more in line with its major peers at a 0.8 P/B, then MetLife's upside is around 32%.
Variant View
The investment is not without risks, however. Regulatory oversight, global economic slowdown, and unfavorable rates policy are all factors that might depress the share price in the next twelve months. Although companies are cheap for a reason, in this case, I believe the risk/return trade-off is quite attractive.
Disclosure: I have no positions in any stocks mentioned, and no plans to initiate any positions within the next 72 hours. I wrote this article myself, and it expresses my own opinions. I am not receiving compensation for it (other than from Seeking Alpha). I have no business relationship with any company whose stock is mentioned in this article.