In this article I will be comparing Michael Kors (NYSE:KORS) and Coach Inc (NYSE:COH), two popular American luxury goods companies that are big competitors. Coach's loss has been Michael Kors' gain the past couple of months as Coach's shares fell more than 40% while shares of Michael Kors have been up 40% since last year. Both companies are now valued at around $12B so I thought it was time to see which one of these would be the better investment and is worth more than its current valuation.
To start my thesis and to become acquainted with the two companies, I've made some simple Excel tables to compare a few factors of both companies. (difference in size, difference in last reported quarter figures and difference in current valuation)


Michael Kors is still growing exponentially while Coach growth is clearly slowing down. However, this does not mean that Michael Kors is the better company or is worth its $12B market capitalization (only $1B less than Coach).
Let's not forget that it's easier for a small company to report huge growth figures during its first years integrating the market. For example, imagine if I would start selling handbags and in my first year I'm able sell 200 handbags and in my second I sold 300 handbags (mostly because people are curious about my new brand and want to give it a try). This would immediately give me a y-to-y growth of 50% in sales. A bigger competitor of mine, that was able to sell 5000 handbags last year and 6000 this year, only has 20% growth in sales (which seems worse). But the performance is actually much more impressive as it is harder to achieve this new growth as the bigger brand had to protect its brand from the new competitors and is already accepted and integrated into the market. This way, the bigger player misses the effect of being "new, mysterious and cool".

The current valuation of Michael Kors shows us that investors probably are blinded by Michael Kors' strong growth figures and believe that the growth story will continue for many years to come. In my Revenue and EPS model further in this article, we will be able to see if it is wise to buy Michael Kors now at a forwarded P/E of 24, against 6 times its sales or at a P/B of 12. Little side note: Let us not forget that Coach was once valued at similar high ratios (P/E above 20, P/B above 10) when it was growing fast . I'm pretty sure a lot of investors have felt the consequences of only looking at promised growth figures.
I used the following assumptions for Coach's earnings model:
-A year-on-year moderate revenue growth of 11% in the first two years and in the last 3 years a revenue growth of 10%. (Sales of men products will continue to increase and new stores in Japan and China will continue to thicken Coach's revenue)
-A cost of revenue percentage of 24,30% (the same percentage as last year).
-A year-on-year increase of 10% in operating expense.
-A tax rate of 31% (close to its current tax rate of 30-32%)
Earnings model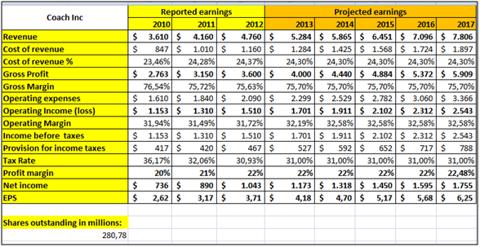 *Dividends not included in this model
According to my earnings estimate, Coach will continue to report healthy net margins above 20%. I expect the company to post EPS of $6.25 by the end of 2017.
For the valuation purposes, I have assumed a discount rate of 9% as I'm pretty sure Coach will be able to deliver strong cash flows in the future. Following this model, Coach is currently 21% undervalued and in the long term I believe Coach is on its way to hit $85 a share. This gives the stock an upside potential of 80% within 4 years.
Now let's take a look at Michael Kors Kors' earnings model: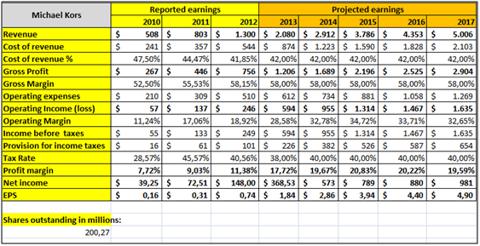 According my model I suspect Michael Kors to post EPS of $4.9 by 2017.
I used the following assumptions for this earnings model:
-A year-on-year declining revenue growth. (For the first three years an increase of respectively 60%, 40%, 30% and for the last two years a modest 15% revenue growth).
-A cost of revenue percentage of 42% (around the same percentage as previous years).
-A year-on-year increase of 20% in operating expense.
-A tax rate of 40% (close to its current tax rate)
Following my model, a share price of $67 would be justified for Michael Kors by 2017. This gives the stock an upwards potential of 13% within 4 years.
Conclusion
Both companies are wonderful companies with high margins and a strong balance sheet. Both companies will continue to grow, but the speed of growth will depend on the condition of the world economy (especially China and Japan). At the moment, I think Coach is a better investment as it currently has an undervaluation of 21%. In the long term I believe Coach could give you a year-on-year return of +20% (dividends excluded).
Disclosure: I have no positions in any stocks mentioned, and no plans to initiate any positions within the next 72 hours. I wrote this article myself, and it expresses my own opinions. I am not receiving compensation for it (other than from Seeking Alpha). I have no business relationship with any company whose stock is mentioned in this article.
Additional disclosure: The opinions in this document are for informational and educational purposes only and should not be construed as a recommendation to buy or sell the stocks mentioned or to solicit transactions or clients. Past performances of the companies discussed may not achieve the earnings growth as predicted. The information in this document is believed to be accurate. All the project earnings in this article are not accurate. They are a result of the assumptions used in my personal earnings model. Under no circumstances should a person act upon the information contained within. I do not recommend that anyone act upon any investment information without first making an analysis yourself or without first consulting an investment adviser.