Generally I like to try and keep a diversified portfolio with at least 10% allocated to each sector. So today I noticed the sector I have the least exposure to is the financials. I begin to think to myself about the usual banking suspects like JP Morgan Chase (NYSE:JPM), Citigroup (NYSE:C), Bank of America (NYSE:BAC). But when I look at these names I see that they've all run up quite a bit in the past year, so that leads me to look at the investment banks such as Goldman Sachs (NYSE:GS), Morgan Stanley (NYSE:MS), and State Street (NYSE:STT). Even these great investment banks have run up quite a bit in the past year. My search now turns to the regional banks (such as BB&T (NYSE:BBT), PNC (NYSE:PNC), and First Horizon (NYSE:FHN)) and I think I've found something; the regionals have pretty much done nothing within the past year! So this is the industry I'm going to try and focus on within the financial sector.

I turn to finviz.com and perform a quick search for an American regional (small) bank with some of my favorite criteria when searching for a stock; like a return on equity >30%, net profit margins >20%, and a great analyst recommendation. I came up with the results below. Since my primary focus is to find a regional banking company and the mechanics of finviz.com don't allow you to screen for multiple industries I had to thin out the herd with a visual filter only looking for companies that had "Savings & Loans" or "Regional - ____" under the industry column (finviz.com separates each regional bank into its own region which would make it difficult to screen for all of them together). From these results I found myself looking at HomeStreet (NASDAQ:HMST), Sterling Financial (NASDAQ:STSA) and Wilshire Bancorp (WIBC). Of the three I noticed that Sterling is the only one that pays a dividend, but also that HomeStreet IPO'd within the past year. I kind of like the idea of getting into Homestreet because it has a lifetime ahead of it although it has split twice and nearly doubled since its inception!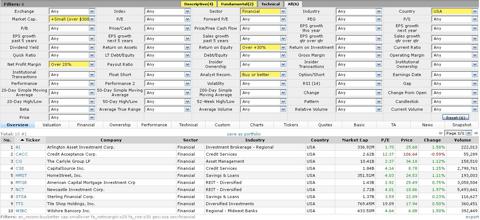 Now that I've honed it down to one stock its time to do some homework. HomeStreet is a bank that's been around since 1921 and headquartered in the heart of the Pacific Northwest, Seattle. The company offers a variety of services to consumers and business alike in the states of Washington, Oregon, and Hawaii. HomeStreet is a one stop shop for personal banking, business banking, home loans, income property financing, insurance, and investment services. All I had to do was open up their website and check out the interest rates for their savings accounts and I can already tell you I like what they have to offer compared to my account at my big money center bank. Only two analysts cover the stock and both of them have it rated as a strong buy.
HomeStreet reported on 04Feb13 net income of $21.5M, or $1.46/share for the Q4 of 2012, compared to net income of $7M or $1.21/share for the Q4 of 2011, up 206%! For full year 2012 net income was $82.1M or $5.98/share, compared to $16.1M or $2.80/share for 2011, that's up 409% folks! During 2012 single family home loans were $4.67B, up 174% from 2011 while net gain on mortgage origination and sale activities were $210.2M, up 334% from the previous year. I do understand the increases are astronomical because they have a small base from which to be compared to, but these percent gains are outrageous! This bank is making loans and lots of them, residential loans, commercial real estate, and commercial business loans.
If you believe that housing is on the rise then you should believe the banking sector is on the rise as well. Since finding out the big money center banks have screamed higher for the past year I do believe that its time for the regional banks to catch up. I feel comfortable picking up shares of HomeStreet because looking at the Case-Schiller index I see that the Seattle area is actually up 7.4% year over year as of Nov.2012 and Portland is up 6.7%, both of which were higher than the index average. I believe both these areas might pick up some more in property value in the next year. I can't tell you how many times I've heard someone say they want to move to Portland and Seattle lately, which means more loan originations for HomeStreet.
Disclaimer
All information is current per finviz.com as of 22Feb13 and HomeStreet.com. These are only my opinions and you should do your own homework. I'm not responsible for decisions you make, only you are.
Disclosure: I have no positions in any stocks mentioned, but may initiate a long position in HMST over the next 72 hours. I wrote this article myself, and it expresses my own opinions. I am not receiving compensation for it (other than from Seeking Alpha). I have no business relationship with any company whose stock is mentioned in this article.