Shortly after U.S. trading closed on Friday, February 22nd, Moody's downgraded UK debt one notch from Aaa to Aa1 with a stable outlook. This downgrade is a natural extension of the "negative outlook" rating Moody's slapped on the UK a year ago. Moody's is projecting economic weakness into the second half of this decade; no surprise to anyone following the last Bank of England Inflation Report. Moody's is concerned that the UK's slower than expected growth will allow increasing debt burdens, peaking at 96% of GDP in 2016. This pattern presents "…a risk that the UK government may not be able to reverse the debt trajectory before the next economic shock or cyclical downturn in the economy." Thus, the UK does not possess the kind of policy flexibility that other Aaa-rated sovereigns have.
However, on balance, the news is not too bad. Moody's granted the UK a stable outlook because of:
"a highly competitive, well-diversified economy;
a strong track record of fiscal consolidation and a robust institutional structure;
and a favourable debt structure, with supportive domestic demand for government debt, the longest average maturity structure (15 years) among all highly rated sovereigns globally and the resulting reduced interest rate risk on UK debt."
Moreover:
The stable outlook on the UK's Aa1 sovereign rating reflects Moody's expectation that a combination of political will and medium-term fundamental underlying economic strengths will, in time, allow the government to implement its fiscal consolidation plan and reverse the UK's debt trajectory. Moreover, although the UK's economy has considerable risk exposure through trade and financial linkages to a potential escalation in the euro area sovereign debt crisis, its contagion risk is mitigated by the flexibility afforded by the UK's independent monetary policy framework and sterling's global reserve currency status.
This advantage the UK has over the eurozone is one reason that I continue to think that playing a fade of the euro versus the pound (EUR/GBP) makes sense. Indeed, earlier on Friday, Bloomberg ran a story regarding the European Union's (EU) downgrade of the eurozone's prospects for economic growth this year: "EU Says Euro Area to Shrink in 2013 as Unemployment Rises." Basically, the EU postponed the "Mario Draghi second half recovery" to 2014:
Gross domestic product in the 17-nation region will fall 0.3 percent this year, compared with a November prediction of 0.1 percent growth…Unemployment will climb to 12.2 percent, up from the previous estimate of 11.8 percent and 11.4 percent last year…

…domestic demand won't improve until 2014, when it should take over as the main driver of growth. Investment is expected to be a drag on the economy this year, subtracting 0.3 percent from GDP, before offering a 0.4 percent contribution in 2014.

Seven euro-area economies are expected to contract in 2013, with the Netherlands joining Italy, Spain, Portugal, Greece, Cyprus and Slovenia in the new forecast.
The response to all this news was relatively swift in the currency markets. The euro (NYSEARCA:FXE) fell for a second day against the U.S. dollar and confirmed a breakdown below its 50-day moving average. The British pound (NYSEARCA:FXB) traded down swiftly in after-hours trading and, surprisingly, swooned swiftly at the start of Asian trading on Sunday. Typically, these trigger-happy reactions to debt downgrades are almost as swiftly reversed. As I type, the reversal is finally starting (and this is the way to play such news in the short-term).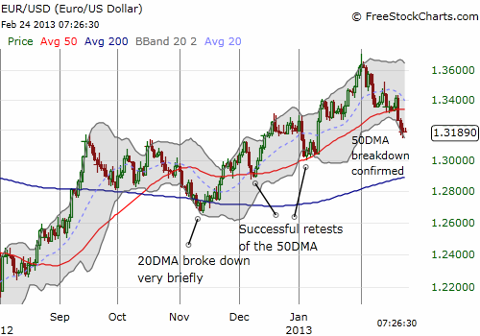 The euro confirms its breakdown below its 50DMA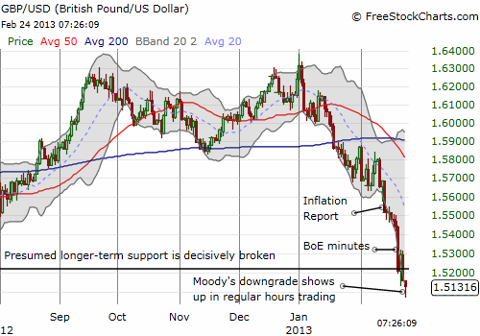 The pound has decisively sliced through long-term support which should now provide resistance after some kind of relief bounce
As I stated, I continue to like being short EUR/GBP. I will be using long EUR/CHF as a decent hedge against sudden and unexpected strength in the euro as the EUR/CHF floor at 1.20 should remain firm. This currency pair is still slowly reversing the swift and sudden gains in January. The 50DMA has now broken, and I like getting aggressive around 1.22.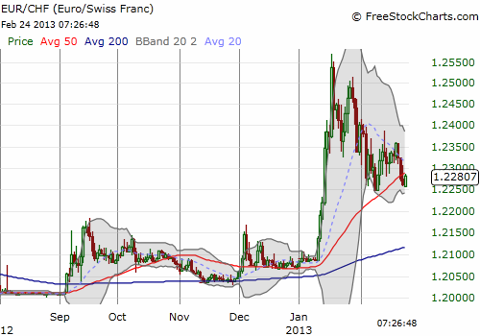 The Swiss franc is steadily regaining its luster against the euro but the 1.20 floor should continue to hold
Source of charts: FreeStockCharts.com
Be careful out there!
Disclosure: I have no positions in any stocks mentioned, and no plans to initiate any positions within the next 72 hours. I wrote this article myself, and it expresses my own opinions. I am not receiving compensation for it (other than from Seeking Alpha). I have no business relationship with any company whose stock is mentioned in this article.
Additional disclosure: In forex, I am long GBP/USD, short EUR/USD for the short-term. I am short EUR/GBP for the "medium-term."