While weeding through the garden of water investments that may prove successful in the future, finding a solid investment is difficult. One company is keeping its resources below the ground, but its future success is a bright one. Cadiz (NASDAQ:CDZI) plans to capture, conserve and supply billions of gallons of renewable groundwater that is lost to evaporation from its aquifer. This aquifer comprises 34,000 acres below the ground that is naturally recharged annually by water and snow.

Lake Mead Panorama Source
The Problem in California and Lake Mead
There is a growing strain on water supplies in California. The state has a population of 37,826,000 people, increasing by 256,000 from the prior year. Looking forward, "…California is expected to add nearly 9.9 additional residents by 2030, a 27 percent increase to 46.4 million residents." (Freeman 7) This massive increase and total amount of people in California will strain water supplies in the state. Lake Mead is a main supplier of water to California, supplying 4.4 million acre-feet of water per year. Although the lake's capacity is dwindling, "Lake Mead has not reached capacity for more than a decade and has been lowered due to two factors: (1) increased human demand for water in the Las Vegas Valley and (2) by a prolonged drought in the Southwestern U.S." (Lake Mead Drought Update).
Lake Mead currently stands at 1122.44 feet, or 106.56 feet below capacity. If the lake reaches 1,075 feet, distribution amounts to states would change and at 1,050 the dam's electric turbines would cease to run and no longer provide electricity. Moreover, the lake loses nearly 800,000 acre-feet of water per year due to evaporation. Although a third straw to draw water from the lake at lower levels will be completed in 2014, it will only provide water to certain areas. This third straw is expected to cost $800 million and supply 84,000 acre-feet of water per year. Putting more straws in a cup will only make it drain faster.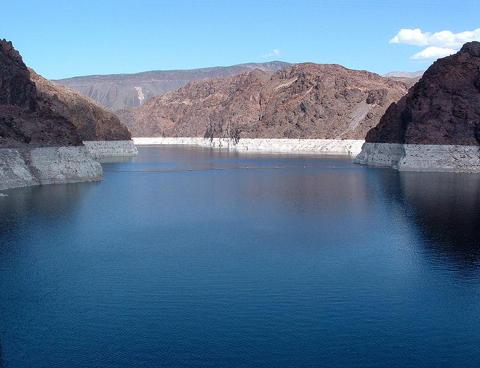 (The white ring going around Lake Mead shows the deposit of minerals on the previously submerged rock.) Picture Source
Why Can't California Just Desalinate Water to Increase Supply?
California can desalinate water as long as they want to play into the law of diminishing returns. Bloomberg has recently reported that the Poseidon desalination and pipeline project in Carlsbad, California will cost nearly one billion dollars and provide 50 million gallons of potable water per day. The San Diego County Water Authority has already entered into an agreement to purchase 48,000 acre-feet of water per year at a cost of $2,290 per acre foot. That is nearly triple what Cadiz is charging Three Valleys Municipal Water District at $775 per acre-foot. Furthermore, the Southern Margarita Water District entered into an agreement to pay $500 per acre-foot, nearly 4.5x cheaper than the Poseidon project.
Due to the cheaper prices than its competitors Cadiz will have no problem converting option agreements to definitive agreements and selling its remaining water supplies. Also, it is in talks with third parties related to the imported storage portion of its project. My own speculation would be that excess water stored during wetter years could be sold to clients in drier years when the water is desired. California will have to take a multi-layered strategy to combat their water problems, and Cadiz will be part of the solution.
Cadiz: An Overview:
Cadiz as a company provides a clear-cut overview of its water project and its many benefits right on its website, that is displayed below.
• The creation of a reliable and flexible water supply for southern California communities. The Water Project is not dependent upon the water rights, the hydrology and environmental restrictions attributable to the Sacramento-San Joaquin Delta, the hydrology of the Colorado River, or drought.

• Conservation of 1.6 million acre-feet of fresh water over the 50 year life of the Water Project; water that would have been lost to evaporation or salt contamination beneath the dry lakes.

• Providing clean fresh water. The native groundwater quality meets or exceeds state and national standards.

• Preservation of the desert ecology and habitats because Water Project wells will be built on privately owned land and the pipeline will be constructed alongside active railroad tracks. Also, the water is withdrawn after it has been used by the flora and fauna above. Native plants on the desert floor do not use groundwater, and the mountain springs are not fed by the aquifer where the Project will pump. In technical terms, there is no hydrogeologic communication between the groundwater aquifer system and the bedrock systems that feed the regional springs.

• Reduced carbon footprint and lower energy costs for southern Californians because the water originates locally in San Bernardino County and can be transported shorter distances at lower cost compared to water imported from Northern California.

• Local economic stimulus through the creation of good paying jobs building the $250 million project. With the national unemployment rate hovering around 8% and that of San Bernardino County at approximately 11.8% as of August 2012, jobs in construction, engineering and manufacturing are needed. The Water Project will hire locally and union workers are expected to build some of the project.

• Improved transportation and rail safety because the Project will provide water to the local Arizona & California Railroad for critical railroad purposes such as fire suppression. The Project will also improve the railroad's access to highways and power in the area.

• Future capacity and potential for water storage to maximize the value of the project facilities. Potentially, water could be imported from the Colorado River Aqueduct or State Water Project and banked in the aquifer, taking advantage of the facilities built on private land. These water deliveries could be phased and offer additional benefits such as saving surplus water in wet years, providing reliability, and better protecting imported water from evaporative losses.

Source: cadizinc.com/benefits/
Cadiz is slated to provide 50,000 acre-feet of water a year to its clients, and 80% of the water supplies have already been purchased as of August 2012. The project's water is housed in an underground aquifer so there is no water lost to evaporation either. Phase two of the project will provide one million acre-feet of storage area in the aquifer that can be used to store water. At a project cost just one half of the Poseidon Desalination project, provided water per acre-foot cost of almost a third and a growing water problem in California, Cadiz stands to be an included option in tackling the state's water issues. Also, with the announcement of the purchase of a 96-mile natural gas pipeline from Kinder Morgan linking the company's resources to Central and Northern California, Cadiz's plan is coming more into fruition each day. To see an illustrated overview of how the Cadiz Water Project works, click here.
Where is Cadiz Trading?
At a closing share price of $6.50 on February 22, Cadiz is close to its 52-week low, making it attractive to investors. The 52-week range of the stock is $6.35 to $11, putting current prices at very low levels. These levels have not been seen since July 18, 2012 and are a good entry point for a long-term investment. With a market capitalization of just under $100 million, there is plenty of room to grow.
In a restricted comparison of the 52 week ranges of other water related investments in the industry, Cadiz is not overpriced. Most of the other big name water investments are near their 52-week highs, which is not the case for Cadiz. The table below outlines the 52 week ranges of some companies in the water industry, most of which are already near their 52-week highs. This means that Cadiz could offer more upside potential in comparison to its peers which are near their 52 week highs. Symbols PHO and PIO denote water related ETFs for a broader index viewpoint. (All prices calculated as of close of trading on 02/22/13.)
| | | |
| --- | --- | --- |
| Company | PPS ($) | % Below 52 Week High |
| Cadiz | 6.53 | 68% |
| American Water Works (NYSE:AWK) | 39.82 | 0% |
| Aqua America (NYSE:WTR) | 28.93 | .0024% |
| Xylem (NYSE:XYL) | 27.79 | .037% |
| Calgon Carbon Corporation (NYSE:CCC) | 18.02 | .0044% |
| PowerShares Water Resources (NASDAQ:PHO) | 22.35 | .014% |
| PowerShares Global Water (NASDAQ:PIO) | 18.87 | .017% |
In an industry of stocks where its peers are bordering their 52 week highs, Cadiz still has room to catch up and offer investors a ripe opportunity.
Recent News:
In 2010, Cadiz obtained the right to buy a 220-mile pipeline for $40 million from El Paso Natural Gas, which was acquired by Kinder Morgan. On December 11, 2012 Cadiz gained ownership of the 96-mile eastern section of the natural gas pipeline. This pipeline links the Cadiz Valley to California's eastern and northern transmission system. This is a key piece of Cadiz's original plan since the water extracted from the aquifer has to be transported. Other than this recent news, the company plans to bury a pipeline under a railroad right of way to transport the water it extracts to the Colorado River Aqueduct. This aqueduct would connect the water to companies in California. Cadiz has already secured a lease to use the right of way.
SMWD Approves Environmental Impact Report
On July 31, Cadiz submitted its Final Environmental Impact Report for the Santa Margarita Water District. The plan was approved by a 4 to 1 vote. This was a huge win for Cadiz as its construction plan is moving forward.
Jobs and Taxes Generated
Phase one construction of the Cadiz Water project that is conservation and recover, has a price tag of $278 million. This phase also includes the building of the pipeline to transport the water. The company has stated that once environmental approvals are finalized the first phase of the project is slated to begin. Phase two of the project that is the Imported Water Storage section has a total budget of $259 million. Cadiz's environmental impact report shows that the total amount of California and local taxes generated would be just under $40 million over the course of four years; tax money generated that did not currently exist. Moreover, the project would generate just under 6,000 jobs over the four-year term. These workers would earn $327 million in income and a total of $878 million in economic activity would be generated for San Bernardino County's economy over the four years. For these reasons alone, the project is economically viable to the state and local economies, not including the fact of providing a storage of water and a viable supply of water to much needed areas after completion, at a cost of course.
Future Of The Project
Cadiz was more than happy to answer my questions about the future of the company. Although a figure of $1 billion to $2 billion in profits throughout the entirety of the project has been written elsewhere, this is an oversimplification. This figure is accurate in terms of earning $500 per acre foot of water, for 50,000 acre-feet provided per year, over a 50 year period. Although it does not take into account its annual operating costs, upfront capital investments or the permitting process for the project; investors have to take into account costs affecting their investments instead of being overly optimistic. The company has disclosed to me that it expects an annual rate of return of approximately 8.5% on its investment over the 50 years after factoring in operating costs. This could produce a reliable stream of income over the fifty-year life of the project. This money can be used to expand the company in other directions in which it deems profitable. Moreover, the company has 9,600 acres of agricultural operations on its land, although the company does not expect its agricultural revenues to be material once the water project begins producing revenue. All together the company owns 45,000 acres of land.
Challenges for Cadiz
Although the approval of the Environmental Impact Report was a huge win for Cadiz, there still are several obstacles facing the company. There are three main challenges that will be noted in this article.
The first challenge is that Cadiz has secured the right-of-way lease for its pipeline although it still needs approval to use the aqueduct from the Metropolitan Water District of Southern California. It is my opinion that this will not be difficult since Metropolitan is a consortium of 26 public agencies that provide water to 19 million people. As a business and with the amount of people it provides with water, I think this will be a quick deal for Cadiz to obtain usage of the Aqueduct.
The second challenge that faces the company is the quality of water that the aquifer contains. One main point has been that Cadiz's water contains too much chromium, a cancer-causing agent. In July of 2011, the California Environmental Protection Agency issued a report stating they have a limit of .02 ppb for hexavalent chromium. While Cadiz's water supplies contain ten to sixteen parts per billion, this presents a water quality issue for the company. Cadiz has stated in its water quality report that if any stringent standards are enacted, such as the July 2011 standard, that it could easily treat or blend its water to meet the new standard.
The third challenge facing Cadiz is opposition from environmentalists who have argued the project will disturb the environment and deplete water supplies from the local areas. They do have a valid argument although the 43-mile pipeline will be built along an existing ARZC railroad, not tearing up and disturbing the environment. Further, Cadiz's CEO Scott Slater has stated:
As described in the Project's Draft Environmental Impact Report, extensive modeling and fieldwork found there would be no significant impacts to critical resources of the desert including water, air, springs, subsidence or saline/fresh water movement from the Project. The Mojave National Preserve and landowners within it are also far outside the anticipated modeled areas of drawdown.
The CEO goes on to state that a state-of-the-art groundwater management program was designed and will be implemented to monitor the aquifer for any possible effects that would impact water supplies. Also the monitoring features would include 40 monitoring wells, weather stations and air monitoring devices. Cadiz has been more than aware of the environmental impacts and has chosen to implement its plan with the environment in mind. Moreover the SMWD has approved the company's Environmental Impact Report.
Water Blending
Cadiz's water contains 300-400 mg/l of total dissolved solids that can be blended with the Metropolitan Water District's water that has a higher TDS level of 700 mg/l, to lower the total amount of TDS to meet their goal. The Metropolitan's target for TDS is 500 mg/l and this presents an opportunity for Cadiz to provide a benefit to the MWD when negotiating for Cadiz's use of the Aqueduct. Having a higher TDS level in water can cause economic issues for those who use the water, such as clogging pipes and increasing the costs of heating the water. Cadiz's water, if blended with the Metropolitan Water District's water, would decrease the total TDL level and in turn increase the overall water quality. This increased water quality will decrease the $1 billion per year in damages that are caused by water with higher TDL levels in states that use Colorado River Water. The MWD's water does not have to be further purified it just has to be blended with Cadiz's water, increasing water supply and quality.
Conclusion
Cadiz is a company that will stand to benefit from California's growing water struggles. It provides an economically cheap input of water resources to the area, and the company stands to profit. The expected 8.5% return on investment will provide long-term earnings for shareholders and generate significant income for the company to explore new opportunities. At a price trading around $6 per share and a market capitalization just under $100 million, it is my personal opinion that this is an excellent entry for a long-term investment, although investors should not expect any leaps in share price.
Disclosure: I have no positions in any stocks mentioned, but may initiate a long position in CDZI over the next 72 hours. I wrote this article myself, and it expresses my own opinions. I am not receiving compensation for it (other than from Seeking Alpha). I have no business relationship with any company whose stock is mentioned in this article.