I'm having a dilemma as to where to invest at the moment. It's been tough for the last couple of years but at least then stocks still looked cheap and bonds had better yields. Today, investing feels like running through a minefield. Stocks are at five year highs, bonds are at record low yields and gold looks dangerous. There are also the first hints out that quantitative easing might end. At the moment I'm struggling to find an asset class I like. Worse still the threat of inflation still hangs heavy, particularly in the UK, where the Bank of England expects inflation to remain above its target of 2 percent until 2016. Despite this, Wednesday's Monetary Policy Committee voting news, showed the current Bank of England Governor, Mervyn King, was one of three members who voted for more quantitative easing. So how do you protect yourself?
Bonds
Both government and corporate bonds look dangerous. Treasuries and Gilts lose you money in real terms. Corporate bonds are at record low yields and there is a limit as to how much further they can rally. There is too much risk and not enough potential reward to owning them.
The same is true of all fixed income. Bonds have been in a thirty year bull run. This will have to end when interest rates inevitably rise. The recent Federal Open Markets Committee comments on Wednesday, which raised concerns over continued quantitative easing, suggest this might be sooner than we think. At some point the music is going to have to stop.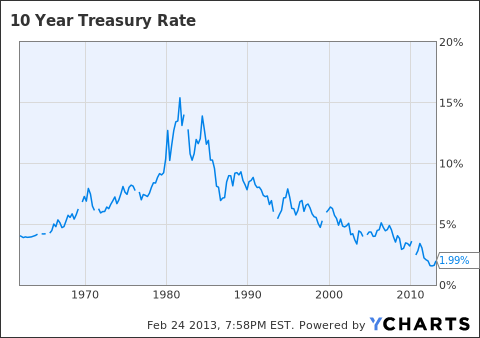 10 Year Treasury Rate data by YCharts
Inflation linked government bonds
A few years ago I bought INXG, the ETF which tracks inflation linked gilts. It has rallied about 50% (including dividends) since then which is a huge amount for a government bond and I've since sold it. Today both TIPS (US government inflation linked bonds) and UK inflation linked bonds have negative real yields.
With the spectre of inflation I can certainly understand an investor who thinks it prudent to own some inflation linked bonds. That said, with the negative real returns this seems to be admitting defeat and there is still a major downside risk. Inflation linked bonds will be devastated by the end of QE and future interest rate rises which will not only force yields higher but will also dampen inflation. (I would still rather own stocks or alternatives (although not gold) as a defence against inflation.
Gold
Gold feels very dangerous at the moment. As I wrote this gold just dipped into the 1500s and is crashing badly (again, this is a result of the FOMC comments about concerns over further QE). Everybody I know has piled into gold in the last few years and it has had a huge run up. Combine this with the fact that there is no real underlying commercial demand for the use of gold, except a little in jewellery and some high end manufacturing, and it could be set for a colossal fall if the retail investor panics.
The main reason to own gold is because it's finite and holds its value. It protects you against inflation and currency devaluation. The Bank of Japan has recently upped its inflation target but other central banks are just starting to talk about a future exit from QE. Incoming Bank of England governor Mark Carney talked about exiting from QE in his meeting with the Commons Treasury Committee and now we have the FOMC comments as well. At some point this quantitative easing is going to have to stop and interest rates are going to rise. This will strengthen currencies value versus gold and lower the risk of inflation. When QE stops there will be nothing to support gold and it could get hit very badly. In my opinion gold is just too risky to own at the moment especially when you add the fact that it doesn't pay you a return. Silver is just the same.
Savings Account
Interest rates from the banks are the worst I can ever remember. The best three year fixed rate I can find in the UK is a paltry 2.8% and I don't think it's any better in the US. You're losing money in real terms and you're locked in and at risk of interest rate rises. That's not a great combination. At the moment I'm holding some cash in an instant access savings account (which earns about 2%) and waiting for better opportunities. It's very defensive but I don't feel comfortable owning any type of bond at the moment. At least this way I'm protected against the inevitable rise in interest rates which can only go up and I'm ready to react.
Another defensive option which I like is a tracker bond, something which my bank is now offering. The tracker bond pays a fixed percentage amount above a base rate. In my case in the UK, the base rate is taken from the Bank of England currently 0.5%. This bond protects you against future interest rate rises.
Stocks
Stocks have been on a parabolic run since the beginning of the year, this despite mediocre corporate earnings and a US economy which actually contracted in the fourth quarter. There are also big concerns for the future. Higher payroll taxes may have a bigger negative impact on the US economy and corporate earnings expected. An email from a Wal-Mart executive said sales were the worst start to a month in seven years. Some of the consumer staple stocks have been performing like a hot tech stock rather than solid long term dividend growers. Companies like Church and Dwight (NYSE:CHD), Reckitt Benckiser (OTCPK:RBGPF) and Procter and Gamble (NYSE:PG) have taken off and are up well over 10% for the year so far. In my opinion this is worrying and does suggest stocks are getting ahead of themselves in the short term. The Sequester is also looming with no deal in sight and gives another reason to sell.
The media has totally forgotten about problems in Europe. Events in Europe over the coming months might cause a correction in stocks. The first of these might be the Italian election. Europe's debts have not gone away and there are still major structural problems. Most major European countries are still running huge deficits and have high unemployment, particularly youth unemployment.
Despite all of this stocks are still not expensive and they're one of the only assets which make any sense to own at the moment. Many stocks still pay a solid and growing dividend which look much more attractive than treasury and gilt yields. I am being very selective in my stock picking and avoiding those stocks which have run up a lot. There are still opportunities in some companies which have missed out on the recent rally.
The money has to go somewhere. If it's not going into bonds, savings accounts or gold it has to go into stocks and that could act as support for the market.
What Action to Take
I've talked a lot throughout this article about my worry about future interest rate rises. One of the ways I'm trying to protect myself against this is by buying stocks which should benefit from an end to QE and a rise interest rates. I believe the banks will do better as they will be able to increase their net interest margins which have currently been forced to very low levels. Net interest margin is the difference between what the bank makes in interest versus what it pays out in interest to its depositors and it tends to increase as interest rates rise. I also own companies like ICAP (OTCPK:IAPLF) which I wrote an article on recently which I believe will benefit from higher interest rates.
A good way to protect yourself in the short term might be to buy some puts against bond and stock indexes. These are pretty cheap at the moment given the low volatility in the market.
Another possibility is to short a government bond ETF such as IEF. This holds US treasury bonds with remaining maturities between seven and ten years. Please note this is not the same as buying one of the ultra short leveraged ETFs. I would never recommend investing in one of those as they destroy value. Even the SKF which shorts financial stocks lost money during the financial crisis. They are only useful for taking a very short term one day view. I would therefore avoid the ultra short treasury ETF TBT.
In my opinion the best opportunities are in emerging markets. These markets have generally underperformed the US market in the last couple of years. I think this trend will reverse this year. The ongoing expansion of the middle class in countries like China will continue to drive growth for years to come. Emerging markets also tend to have better balance sheets than the developed world and they will avoid the coming and continuing austerity in the US and Europe. The iShares MSCI Emerging markets fund ETF (NYSEARCA:EEM) is a good way to play this.
Conclusion
It's tough to invest at the moment. The biggest long term challenge is how to protect yourself against the end of QE. Overcoming inflation is also a major challenge. Traditional defences such as gold and inflation linked bonds are too risky.
The best value is still in stocks although I think it is unlikely the market will go much higher in the short term and there are a number of negative catalysts I am worried about. They also offer some protection against inflation. I expect emerging markets to reverse the trend of the last few years and outperform the US in the near future. I am holding a significant percentage of assets in cash waiting for pullbacks and better opportunities. I'd be very interested to hear if anyone has any better ideas.
Disclaimer: This article is intended as general information only, and is not intended to provide specific advice, or due diligence to be relied on. As such, the information presented in any article does not consider any reader's personal investment objectives or financial situation; therefore, no article makes any personalized recommendations. See full disclaimer here.
Disclosure: I am long PG, OTCPK:IAPLF. I do own a small amount in bond ETFs simply for diversification although I may sell these in the near future. I wrote this article myself, and it expresses my own opinions. I am not receiving compensation for it (other than from Seeking Alpha). I have no business relationship with any company whose stock is mentioned in this article.
Additional disclosure: I am long ISXF (Corporate Bonds Ex Financials)I am long SHYU (High Yield Capped Bonds). I am long many stocks.